Fridge Tour with Emily T.
September 24, 2014
What keeps instructor EMILY TURNER so energized? She opens up her fridge to give us a look at the foods she eats every day…
I grocery shop at the beginning of the week, usually on my day off, which is Monday. I recommend getting into a shopping routine, so you are less likely to ball! I like to buy versatile items that can be used in many different ways rather than buying for a set menu. I prefer to mix and match ingredients (i.e. kale, spinach, chicken, eggs, peppers, onions, avocado...the sky is the limit with these STAPLES of mine)! I also love to buy as many in season produce items as possible, because they tend to be the freshest (helloooo Brussels sprouts on the stem). Shopping and cooking doesn't have to be scary; it should be rather fun and creative!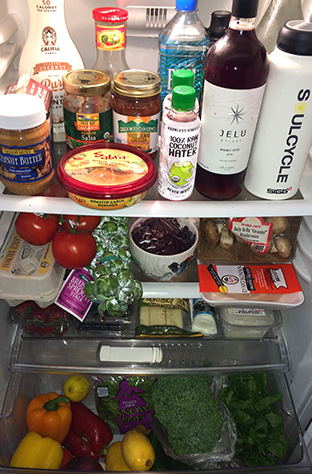 HYDRATION STATION
Living an active (and sweaty) lifestyle means a girl's gotta hydrate. I'm a BIG fan of Harmless Harvest Coconut water for post-class rehydration. It's 100 percent raw and organic and is never heated. It's also yummy and a great addition to smoothies. I like to live my life equal parts water, equal parts wine, so there is always a bottle in the fridge. One of my faves is Jelu Malbec Rose.
SPICE UP YOUR LIFE (SNACK CENTRAL)
Hi, my name is Emily Turner and I'm a chips and salsa addict. No, but seriously, there are usually 3+ different kinds of salsa in my fridge. When I get home from class, I love nothing more than a handful of blue corn tortillas and salsa. Green Mountain Gringo rocks my world. Plus the snack helps fight off that biting hunger while I'm cooking (just don't overdo it)! Hummus with snow peas or carrots is another go-to. I grew up eating Jif Extra Crunchy peanut butter (who didn't?!) so I've found Trader Joe's Salted Crunchy to be as close to childhood as I can (nutritiously) get — a spoonful of that paired with a banana is a definite fave.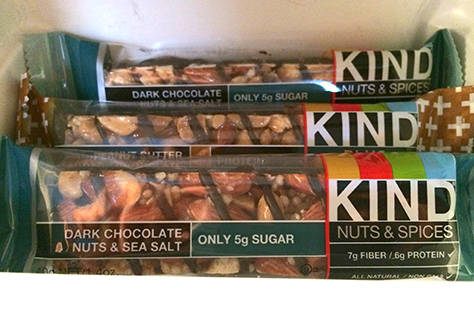 I've never been a big bar eater, but I like Kind Bars because they are simple. I even like to keep them in the fridge and eat them as a post-dinner sweet treat or an on the go snack. They only have 5 grams of sugar are a quick source of fiber and protein.
COFFEE EXTRAS
If you're like me and you need a splash of half and half with your cup of joe, be sure to go for the organic brands. I also use Califia Farms coconut/almond blend milk as a substitute from time to time (and a base for my smoothies).
PROTEIN PLUS
If I were deserted on a stranded island and had to pick one food item, I would probably pick eggs. They have become my best friend since I started teaching SoulCycle because they're packed with nutrients and protein that help to keep me going during the day. My fave way to prepare them is to boil a small amount of water in pan, crack three eggs into water until yolks harden to your liking. Serve with half an avocado, cracked pepper, and salsa. Organic chicken and ground turkey make it onto the shopping list every single week as well.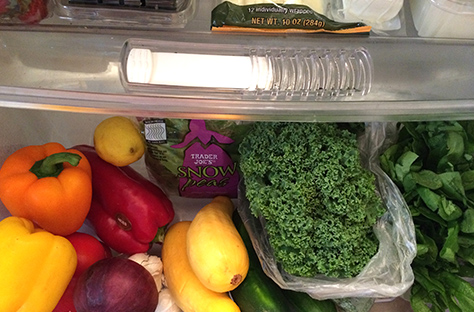 VEGGIE TIME
Beets! These babies go well in salads, smoothies, on turkey sandwiches and more. I like to buy fresh ones and boil, peel, slice, and keep them handy in the fridge. Great for recovery because they boost your stamina and help to fight inflammation.
I heart Brussel sprouts. If you come across these guys on the stalk, be sure to scoop them up as they taste fresher and last longer in their natural state. You can saute them with garlic and onions and eat alone or mix them into a chicken stir-fry.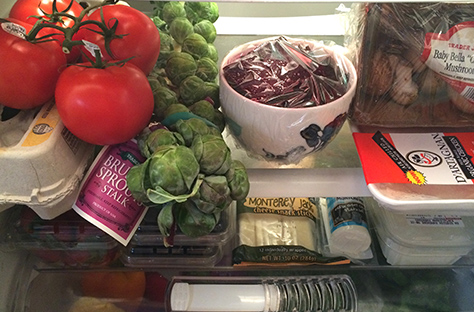 I love berries for smoothies and salads. Spinach and strawberries goes together like peas and carrots, so I pair them often, but you can get creative with your combos. Most berries are in season late spring into the summer so I always stock up! I like to buy fresh ones and freeze them so I have them throughout the fall/winter.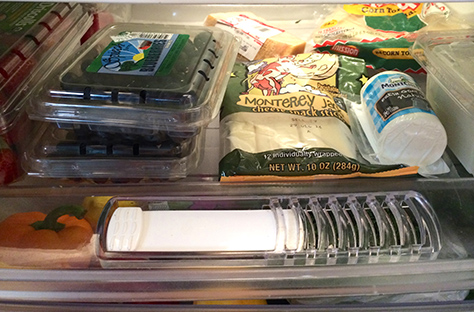 Cheeeeeese! I don't eat a ton of dairy but a few of my faves are goat cheese, fresh feta, and occasionally I love a cheese stick for a quick snack on-the-go. Goat cheese added to balsamic vinegar and olive oil makes one of my favorite dressings for salads. I also make feta, tomato, and cucumber salad as a quick pairing with turkey burgers or grilled chicken.
Basically any meal I make starts with three ingredients, olive oil, onion, and garlic. I like to create natural flavor first to avoid adding salt and a ton of processed flavors later. Multicolored peppers are not only awesome to cook with but they are great for snacking if you slice them up to eat alone or dipped in hummus. Right now it's squash season, so I've been buying it up and simply sautéing in a pan. Spinach, kale, and arugula are my go-to leafy greens.
Catch classes with Emily at Soul East 63rd and Soul SoHo, and follow #EMTeats on Instagram to see how Emily cooks up the foods in her fridge! Questions or comments? Email blog@soul-cycle.com!