Fridge Tour with Elianna
March 18, 2015
NYC instructor ELIANNA SABLE opens up about the food she eats every day — and gives us a peek inside her fridge…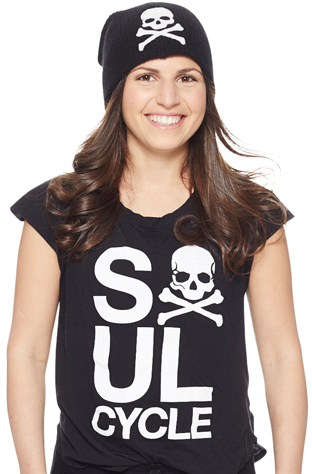 How about we take a SOULful journey into the most important, most exciting and most frequently-visited room in my NYC apartment? It's the room where all the magic happens, so can you guess what it is? Drumroll, please… my kitchen!
And because we're friends, I am going to let you take a peek into my refrigerator! I can honestly say my passion in life is health and fitness, and my hobby in life is food, and yes, they can beautifully coexist. They do in my home!
When I am not at SoulCycle teaching a class, you can probably find me roaming the aisles of Fairway, Whole Foods or any health food market I happen to pass by on the street. I love finding new and exciting healthy foods, and I try my best to keep my kitchen stocked with them at all times. Not to mention, in the bag I carry all day….
So here is the deal… I leave my apartment pretty early in the morning and I come home pretty late at night when I'm usually (always) staaaaaaarving! I like to eat! And I like to eat healthy but if I do not prep in advance and keep my fridge full, that will not necessarily happen. So once a week I try to do a big food shop and then a big prep! Here is what I have in my fridge this week! Lucky for me, I hosted some family and friends for a Friday night (Shabbat) dinner so I do have some great leftovers!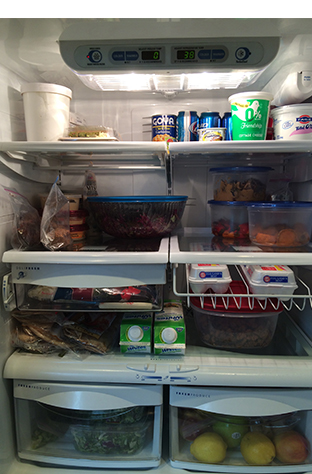 PRODUCE PICKS
Fruits and veggies! When I buy veggies, I cut them up and put them in Ziploc bags so when I want a salad, I don't even have to think or wait — it is already good to go! This week I even got jicama (yes, it's pronounced with an H). If you've never had it, please go buy yourself one and try it! My favorite lettuce mix is kale cabbage, and I've got Brussel sprouts. The fruit I leave whole — there is nothing more satisfying then biting into a big crunchy apple.
CLUTCH CONDIMENTS
In the doors, I keep lots and lots of condiments: Siracha, liquid aminos (which taste like soy sauce), Veganaise, all different types of mustard, and my number one guilty pleasure — please don't judge me — ketchup! I have tried to live without it, but it just makes everything so much better!
NUT MUSTS
Then we have all our nut and seed butters such as all-natural peanut butter, tahini and my all-time favorite: chocolate and regular PB2 (I am not sure why I keep that in my fridge but I do). Last but not least, my dreamy almond milk for smoothies and overnight oats!
PROTEIN STAPLES
On the bottom right (above), you'll see a big Tupperware of turkey chopped meat with sautéed onions (my husband's fave). I make a big batch and then every night I can do something else with it. I usually love it mixed into a salad, and my husband will eat it over a baked potato. Next we have liquid egg whites… I use them for baking and omelets (don't get me wrong: I have nothing against egg yolks… I actually love them!) Moving on we have all different types of high-fiber, high-protein wraps usually for make-your-own pizza night. I keep nutritional yeast that I use as a substitute for Parmesan and, to the right, we have real life chicken eggs… really!
LOTS OF LEFTOVERS
I have containers filled with roasted sweet potatoes, roasted mini sweet peppers and, my all-time favorite, which I can eat every night: cauliflower mash with roasted mushrooms! Having them feels like you're eating mashed potatoes! Next, in that big bowl, is cabbage salad with scallions and roasted sesame seeds; the best thing about this salad is that the longer it sits, the better it tastes — and it never gets too soggy! Next to that, we have hummus. I ordered it from a special store in Brooklyn that makes their own homemade hummus preservative-free!
SWEET TREATS
I forgot to tell you guys that I love dessert. I have a huge sweet tooth… guilty! So I try and do my own healthier baking. In these two little Ziploc bags, I have my indulgences: protein muffins made with Sun Warrior vanilla protein powder, coconut flour and stevia, as well as banana bread made with oat flour, coconut sugar and, of course, vegan chocolate chips! Trust me, it's hard not to eat the whole thing at once. And finally, on the top shelf is Greek yogurt, cottage cheese and my husband's beer (at least it's light, right?)
TAKEOUT
After all this preaching about prep, prep, prep so you can eat your own healthy, awesome food, I am going to have the chutzpah to have takeout in her fridge?? I can explain! After an awesome day teaching three classes, I ended my last class right near my favorite sushi place: Beyond Sushi (all the sushi is vegan) and so yes, tonight I am going to sit on my couch, watch my favorite show, Unique Sweets on the Cooking channel, and enjoy my takeout: miso soup with extra mushrooms and the spicy mango roll!
I can't wait to get to show you my freezer one day! Just think: frozen kale and frozen bananas!
Catch classes with Elianna at Soul East 83rd Street, Soul Union Square and Soul West 77th Street! Questions or comments? Email blog@soul-cycle.com!