Eve's Thanksgiving Recipe
November 26, 2014
Still trying to suss out a smart side for your Thanksgiving feast? NYC SOUL instructor and certified holistic health counselor EVE LYNN KESSNER shares a recipe that's sure to be a winner at your Turkey Day dinner…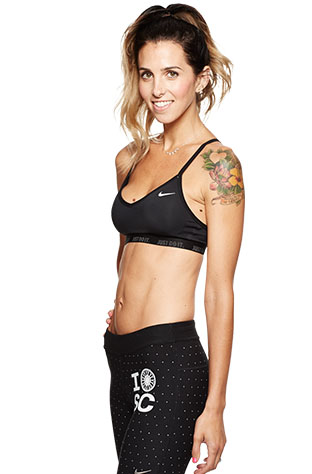 Thanksgiving is one of my very favorite holidays. Family, friends, fall flavors, and not much obligation on top of that… pretty darn perfect if you ask me! Its only major downfall is all the wildly unhealthy options so that are often piled on top of the table. Some of us have a tendency to "throw it all out the window" for this big meal and let go of all that we've worked so hard for. And on the flip side, others avoid eating at all in fear of ruining their hard work.
Neither is the right answer! Balance is always the key. So let's fill our plates with veggies this year. Think charred Brussel sprouts and roasted honey carrots, mashed sweet potatoes and olive oiled string beans! Then a big slab of pumpkin cornbread with a drizzle of honey and a pat of coconut oil and voila!
Try my pumpkin cornbread recipe. It's whole grain, free of refined sugar and flour, and totally moist and delicious!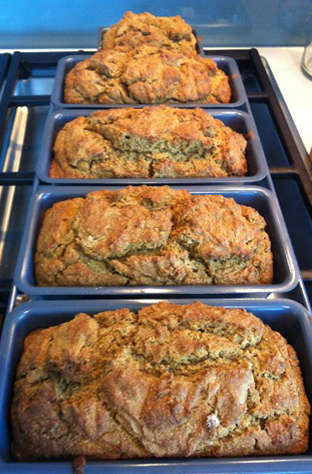 PUMPKIN CORNBREAD RECIPE
Ingredients
1 cup maple syrup
1½ cups coconut milk mixed with 2 tablespoons apple cider vinegar
2 tablespoons flax meal
2 tablespoons wheat germ
1 can organic pumpkin
2 organic eggs
¼ cup coconut oil
1½ cups cornmeal
1½ cups whole wheat pastry flour
1 teaspoon baking soda
1 teaspoon baking powder
1 teaspoon salt
1 teaspoon cinnamon
Directions
1. Preheat oven to 375 degrees.
2. Line a 9×9 or a muffin tin (I use a mini loaf pan because I think it's supercute) with parchment paper then coat with coconut oil.
3. In the bowl of a mixer, combine maple syrup, coconut milk mixture, flax, germ, pumpkin, and coconut oil.
4. In a separate bowl, combine the cornmeal, flour, baking soda and powder, salt, and cinnamon.
5. Add the dry mixture to the wet and mix until combined.
6. Pour into pans and bake for 25 minutes.
7. Serve warm with a bit of coconut butter spread or Earth Balance!
Catch classes with Eve at Soul Noho, Soul Union Square and Soul Williamsburg! Questions or comments? Email blog@soul-cycle.com!