Eve's Healthy Soup Recipe
September 5, 2014
Looking for a light, healthy weekend meal? NYC SOUL instructor and certified holistic health counselor EVE LYNN KESSNER shares one of her favorite recipes...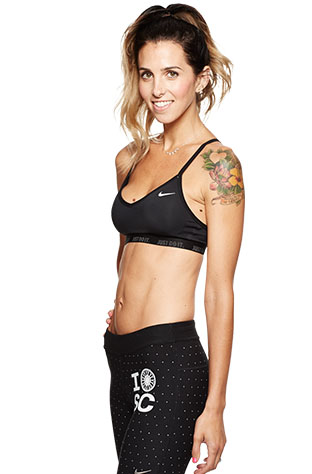 Zucchini soup is one of my all time favorites simply because it is beyond simple and absolutely delicious! It highlights the natural scrumptiousness of the zucchini by enhancing it with just a few ingredients. It's healthy and filling and a no-brainer for either entertaining friends or a post-SoulCycle veg-out (pun intended) dinner in front of the TV.
The beauty of this soup is that as the seasons change, so can your main ingredient. Through the summer, zucchini or summer squash is perfect and as the harvest comes you can transition your squash into a winter version with pumpkins or butternut squash or my favorite favorite ever: kabocha. No need for any spices at all, just some sea salt and good olive oil. But if you want to add a little flair, try cumin for zucchini or cinnamon for winter squashes.
Y'all know soups are my thing. And they're especially fabulous when the veggies are ripe and seasonally appropriate. More often than not, my feeling is the simpler the better. Let the fresh flavors stand out and complement them with the right cooking process and spices.
Last week I needed to throw together a last-minute dinner after coming home late. I took a peak in my fridge and saw the local, organic yellow squashes and green zucchinis I ordered from Fresh Direct with no intention. They were lying right next to some leeks and BOOM: dinner.
I cut them into large chunks, spread them on a sheet pan with some oil and Himalayan sea salt, then popped them in the oven at 425 degrees for 30 minutes until they were beginning to caramelize a bit. Then I stuck them in a soup pot with a carton of no-chicken stock and let it boil then brought it down to a simmer. Next I blended it with an immersion blender and voila!
It was slightly sweet and salty and fresh and summery and filling and delicious! I served it with some sauteed collard greens with sea salt and raisins, then topped with balsamic and sprinkled with toasted pine nuts. It all went perfectly together!
Catch classes with Eve at Soul NoHo and Soul Williamsburg! Questions or comments? Email blog@soul-cycle.com!