Breaking Down The Facts About Breakfast
May 9, 2017
ating in the AM is a top priority for NYC Senior Instructor SYDNEY MILLER, who's creating a healthy life challenge for each month in 2017. For May, her must is having breakfast — and here, she talks about why.

This year, I'm all about healthy habit-forming challenges: Small, attainable goal for each month of 2017, designed to help you reach long-term goals through effective mini-routines—every time you sign up for class. So I teamed up with registered dietitian and Nutrition Director at Good Housekeeping,
Jackie London
to share some (science-backed!) savvy on how to make healthier habits that stick.
This month, I decided to pick Jackie's brain about nutrition—specifically, why she's hell-bent on getting us all to regularly eat breakfast. (Hint: she says it can lead to more energy, better rides, and even weight loss!) Here, my top questions (and her answers!) on why eating breakfast on the reg can set your fitness goals on fire…


Break it down for us: Do we always need breakfast? Even if we had a huge meal the night before?
You always need a first meal of the day—but when you eat depends on your body, your schedule, and what time you wake up every day. But as a rule of thumb: Eating within 30 minutes to an hour after waking up can help you get the day started, even if you did totally overdo it the night before. Establishing a pattern right off the bat of not skipping meals in the morning sets you up to make better choices all day — even if you're not ravenous. The best thing about breakfast, even if you're not riding in the morning: You're not running on an empty tank. It'll help you keep energy up, no matter when you make it to class.


What do you think is the biggest mistake people make with breakfast?
It's not big enough! Or, skipping it entirely — major buzz-kill for the rest of your day. Many of us — especially women —have this tendency to go light on breakfast in order to "save up" for a bigger meal later, or to eat more at lunch and dinner. But what happens is that we opt for things typically lower in calories, and wind up missing a source of either protein, fiber, or healthy fat (a few examples I see a lot: cereal and fruit, scrambled eggs, plain toast/muffin/bagel, or a smoothie… none of which are 'bad' choices, but all are a.) not enough to be filling, and b.) missing a satiety boosting nutrient), which only makes us hungrier later on. Bottom line: Don't be afraid to eat! Breakfast should range between 400 and 500 calories for most of us to feel both full and satisfied — a tricky balance (but easy to do once you know what to look for!).


Got it. So before we get into what to look for: Roosters like me feel like eating breakfast at 5:00 AM is just weird (and also not gonna happen!) Is it a must? Or can I wait until after class? I'm not really hungry so early!
Totally okay to not eat before class — especially in what's basically the middle of the night! More important than eating — especially for you (who's teaching 16 classes a week) is hydrating first thing in the morning. You body can use stored energy during class, but hydration status is depleted through sweat much faster — and unless you're waking up in the middle of the night to drink, you're waking up dehydrated. Aim for 16 ounces (2 cups) of water (sparkling counts! As does tea or coffee!) as your pre-class pregame. Some people feel like they have to eat right away when they wake up, and that's fine too. If your goal is to power through your early workout and then go eat — it's totally cool to make breakfast into a 2-part mini-series. That's why I'd suggest splitting up your breakfast if you're waking up ravenous: Take whichever aspect of it can go with you out the door such as a piece of fruit or handful of berries, coffee + milk, a 1/3 of a bar, or a scoop of some trail-mix (look for ones that have cranberries, tart cherries, or dried blueberries). You'll use the calories — mostly from carbs — right away during class, and can finish off a more protein-rich breakfast later on. The bigger risk of skipping breakfast altogether is the complete kitchen-teardown that happens somewhere between dinner and bedtime. Often, we think that we're feeling hungrier — especially for lunch — when we eat breakfast (which is super common; it's because you've actually revved the engine on your metabolism for the day!). But later at night, you're much less likely to graze on stuff you don't even want or feel like you need all that much. Skipping breakfast can help fight off that "full, but not totally satisfied" post-dinner feeling that keeps us from losing or maintaining weight.


Okay, so let's talk about coffee while you're mentioning it. We've heard mixed things for forever. PLEASE tell us it's good for you? And please say I can continue having my grande skinny cinnamon dolce latté every day!
YES. You definitely can. It's great for you — especially for athletes and early-risers (good news: you're both!). Coffee is the is the glue that holds your ride together. Just skip the sugary bevs like sweetened coffee drinks, sugary plant-based milks (like almond, coconut, soy, etc.) by drinking low-fat or skim milk or asking for unsweetened versions of non-dairy versions. A lot of recent research has linked major health benefits (reduced risk of chronic disease like heart disease, diabetes, some types of cancers, and Alzheimer's disease) to regular coffee-drinking. 300 to 400 milligrams of caffeine a day is the recommedation for most of us (that's about three to four 8-ounces cups), and a cup 30 minutes or so before a workout can help you work harder (aka, burn more) than going without.


Phew! So now that you've OK coffee, what about carbs: Good or bad at breakfast?
Carbs are the best… especially pre-Soul. They'll help you use energy right away. Just skip the ultra-processed forms (like pastries, bagels, baked goods) pre-class. Those can give you a good blood sugar spike immediately, but have you burnt out before you even get to weights. I'm all about a good treat, but as a pre-workout snack. You're better off choosing fiber-containing carbs (like the ones I mention before), since they're just big enough to tide you over and power up your energy, but you're less likely to avoid the complete blood sugar crash by choosing more fiber-filled, nutritious options.


Do you think it's better to eat right away after class? Or is it OK to wait until later?
For regular instructors/regular riders: Timing is everything. If you're riding more than once a day, definitely plan on refueling from a carb and protein rich source, like low-fat chocolate milk, or a skim latte within 30 minutes post-ride. It'll help you keep energy levels up and optimize recover time. The idea is to deliver protein straight to your muscles (which is helped by adding a some sugar (like chocolate milk, a latte + banana, or a lower-sugar flavored yogurt, such as Siggi's dairy) right away. Then, you can move on to your bigger, "real" meal when you've had the chance to stop sweating!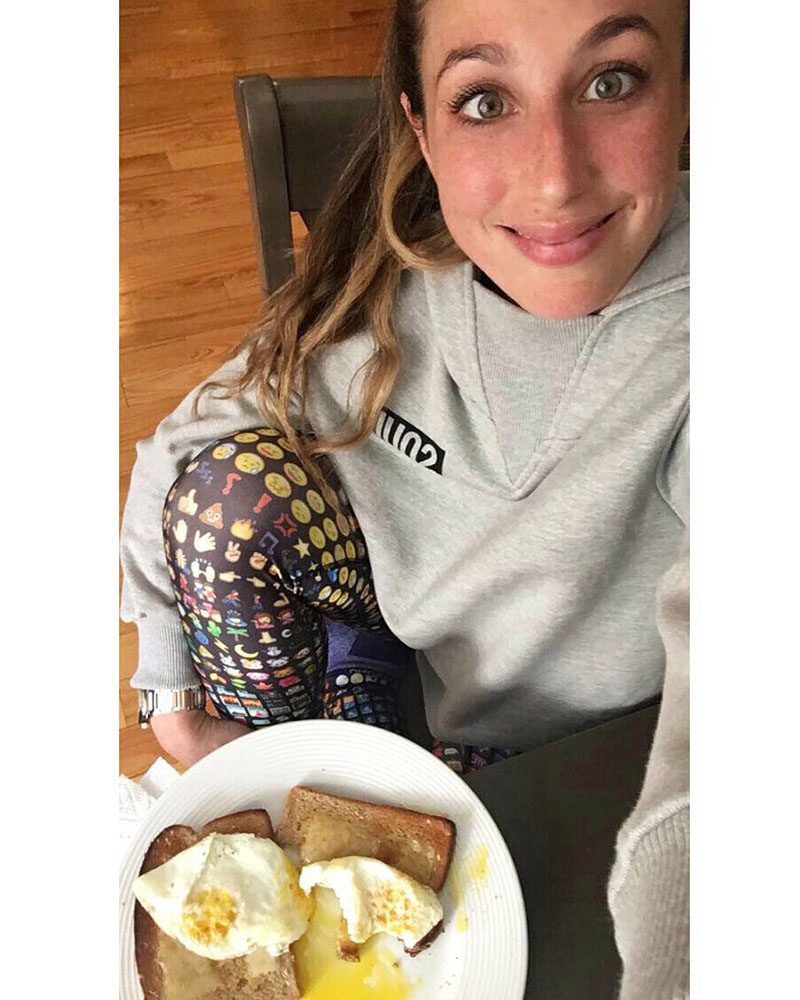 What about smoothies at breakfast?
Eating breakfast = > drinking breakfast. Here's my gripe with smoothies: They're super-refreshing in the moment (especially in summer!), but when you skip that whole chewing thing we're supposed to do when we eat, most people just wind up feeling unsatisfied and craving more actual food… which offsets any of the benefits you got from opting for a fruit-based option. (I mean, if you wanted to drink 800 calories of fruit juice and still be hungry, you'd probably rather go get a McFlurry at McDonald's and call it a day, amirite?). If you love 'em, by all means, treat yourself… just know that sometimes they can be less satisfying than real fruit and veggie-based options. (Fruit with unsweetened Greek yogurt and nuts, or veggies tossed into an egg scramble are both protein and fiber-filled options.)


Some days I'm running straight from class to a meeting, and then another class, etc. How can I make it easier to eat it on the go?
Prep ahead and to-go options. Best bets:
• overnight oats, which you can literally let 'sit' overnight to cook instead of heating in the microwave overnight
• unsweetened Greek yogurt + a piece of fruit + a pack/handful of nuts
• peanut butter and a banana
• a breakfast sandwich on 100% whole-grain (Starbucks makes great ones now!)
Making a nutritious breakfast can be a little game of plug and play, too. Remember, it doesn't have to be perfect! Complete the whole picture by toting 2 hardboiled eggs and combining with toast when you get to the office (prep these ahead for the week!) or a ordering latte or au lait which will help you refuel with about 13 grams protein (in a 16-ounce latte); you can always eat the rest when you get to the office.


What's your take on breakfast bars?
I don't mind them as part of breakfast! Use them as the grab + go "appetizer" pre-class (those should be lower in fat and protein and about 100 calories, since they're easier to digest + absorb carbs right away). The ones you choose post-class should be more in the 200-calorie range and can be filled with more satisfying stuff, such as nuts and seeds. Add some of the other options (eggs, fruit, a 1-2 Tbsp 'pack' of peanut or almond butter) to help you fill up from there.
Some good examples of my go-to's:
BEFORE: Larabar minis or Larabar Fruit+Greens bars, Health Warrior Chia Bars, KIND Pressed, That's it Bar.
AFTER: Rx Bars, Nature Valley Protein Bars KIND Nuts and Seeds, Larabar Nuts and Seeds, or a CLIF, Kashi, Nature Valley or Cascadian Farm Peanut Butter granola bar (like the ones we grew up on!) which are amazing + filling if you add the peanut butter pack on-top...yum!
To review: What should an ideal breakfast look like? And is there a certain number of calories or grams of something I should look for?
Try not to get too hung up on the numbers, but for reference: About 400 to 500 calories total (that includes any morning coffee/tea latte, unsweetened). Ideally, you're going for about 400-500 calories, and a 2:1 ratio of carbs to protein. (For example: For every two slices of whole grain toast, you're having two eggs + some veggies and a slice of cheese). Mostly, you're looking for a combo of whole grains (in the form of toast, two 100% whole grain frozen waffles, a cup of oatmeal, cooked); fruit or veggies added in (top breakfast sandwiches with extra veg, or add fruit to cereals) and protein (yogurt, cottage cheese, eggs, nut butter or nuts, or part-skim cheese. You'll also get some added protein and carbs (which can help you refuel) from a grande (16oz) latte.).
What about avocado toast?
Avocado toast = basic brilliance, since it hits every note on what you need to get the day started: 1 avo mashed onto 2 slices of toast with salt + pepper is my personal heaven right now.
Gotcha. I don't always make it home right after class, though.
There are so many good grab-and-go options just about everywhere right now! Some good go-to's when you're running around:
At Starbucks
:
Any combo of non-fat, soy, or "skinny" latte or misto + a piece of fruit. BYO protein, from: A piece of part-skim string cheese, or a pack nut butter (like Justin's, Wild Friend's, Barney Butter, or Peanut Butter Co.) or nuts (Emerald or Blue Diamond 100-calorie packs, Whole Foods 365 Cape Cod single serve trail mix). Or, grab one of the boxes: Egg and Cheese with Apples and Grapes, PB and J, and Cheese and Fruit boxes.
At Pret-a-Manger:
Five Grain Oatmeal or Steel Cut Oatmeal+ a pack of their nuts or trail mix; Egg Avocado Baguette; Vegetarian Southwestern Breakfast Hot Wrap with a piece of fruit.
At Fresh and Co:
The Florentine, AM Energy, or El Greco wraps with a piece of fresh fruit; any omelet with all of the veggies (aka, whichever ones you like) + cheese, the root veggies and one slice of toast; Greek Yogi Parfait (skip the agave); Hot Cereal Bar with milk + extra fruit (skip the sweeteners).
At Dig Inn:
Any of their breakfast bowls are amazing!
At any deli:
2 slices of whole-grain with a veggie-omelet + piece of fruit
If you're into taking breakfast with you to-go from home or at most delis: Bob's Red Mill (plain) Oatmeal Cups or Earnest Eats Superfood Oatmeal Cups are great options for cereal, and the Good Culture (cottage cheese), Siggi's dairy (any of the flavored yogurts) are some of my favorites. You can add onto these flavors from snacks in the office, crumble one of the bars into there, or even put onto a whole-grain English muffin with fruit (instead of cream cheese—sounds weird, but I promise, it's amazing). And, I'm always a big advocate for having a good hard-boiled egg at the ready so you can grab ready-to-eat protein when you're running out the door (and add it onto toast or eat with fruit, veggies, trail mix later on).


Ok, now how about a rapid-fire round. I'll name some foods about which I've heard conflicting info — you give me a yay or nay and a super quick answer why. Here we go:
Dairy: Yay or nay?
Yay! Such an easy way to get a good combo of carbs and protein without trying too hard to find things you can take to-go. I like unsweetened Skyr or Greek yogurt so that you can add your own flavor in with fruit/nuts/seeds etc.


Protein powder shakes: Yay or nay?
Nay. Eat real food! If you don't want to do without a good shake or smoothie, just look for protein powders with no added sweeteners, or totally random ingredients. The best ones will say whey protein isolate, whey casein-blend, soy protein isolate, or another veggie protein source, like pea protein, hemp protein, or pumpkin seed protein… but that's it! Better off going with the real deal from milk, yogurt, or a tablespoon of nut butter to help you fill up.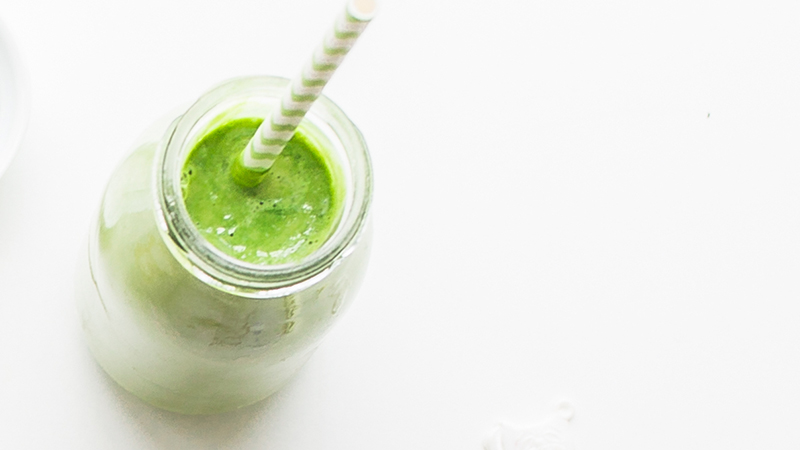 Juice: Yay or nay?
NAY. NAY. NAY. Choose 100% whole-grain bread, real, whole-fruit, and 2 tablespoons of nut butter to get a fruit-filled fix without the blood sugar spike (and subsequent crash).


Cereal: Yay or nay?
Yay and nay. Not all are created equal! Look for single-digit sugars (10 grams or less), 100% whole grain as the first ingredient, and aim for 5 grams each of protein and fiber. I like overnight oats or grab-and-go oats that you can toss in your bag and add water, fruit, milk, + whatever else you like — they're often the most nutritious option that you can make super yummy with minimal effort!


Post-SOUL brunch: Yay or nay?
Overwhelming YAS. See you there? ;)
Love your breakfast? Share it with us during the month of May! Follow @sydmiller @jaclynlondonRD & tag #breakfastsquad to share your go-to morning (and late-morning!) grub. And catch classes with SYDNEY at 19th Street, Bryant Park, NOHO and Union Square. Want to ride? Click HERE to grab a series and book a bike.