A Simple Smoothie Bowl Recipe You'll Love
March 15, 2017
hether for a quick breakfast or a post-SOUL snack, nothing beats a smoothie bowl. Chicago instructor NAZ SANDERS shares one of her favorite recipes...

It's safe to say that I absolutely love a good smoothie bowl. When I lived in New York, I would always stop at
Juice Generation
after class for a healthy treat. I discovered how easy it would be to make them myself and SO much more affordable since a good smoothie bowl is around 10 bucks. I even made a toppings bar in my kitchen! I just got a bunch of mason jars and used chalk tape for the labels. Choose all your favorite toppings and you have a toppings bar!: My toppings bar includes chia seeds, hemp seeds, spirulina, raw sliced almonds, raw unsweetened coconut flakes, granola, bee pollen, matcha powder, maca, goji berries, and I keep some fresh fruit in the fridge for extra delicious toppings.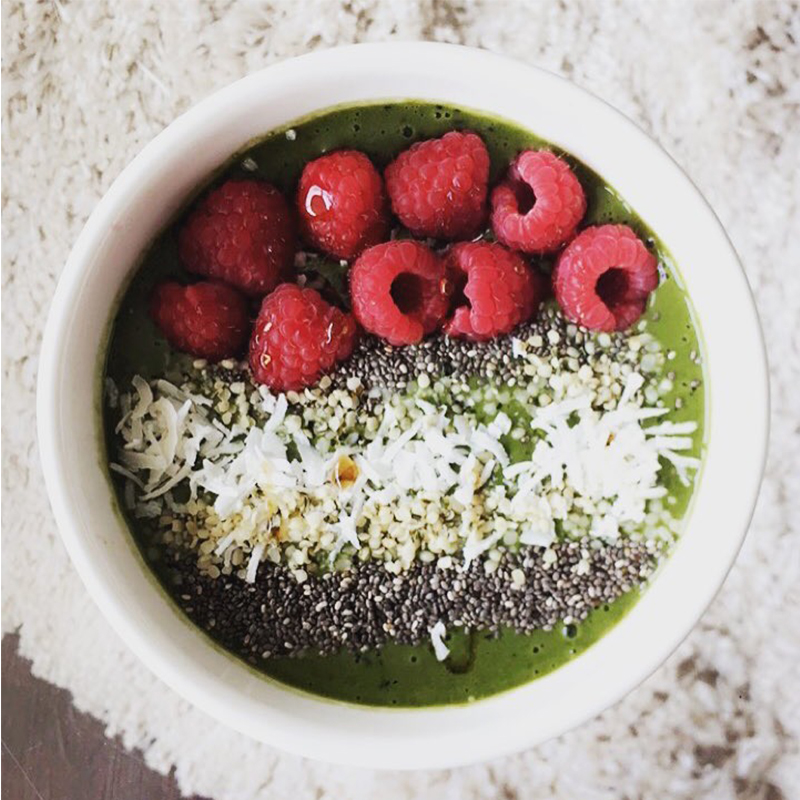 Here's my recipe for a Matcha Avocado Banana Bowl
(toppings: fresh organic raspberries, chia seeds, hemp seeds, unsweetened raw shredded coconut)
INGREDIENTS
1 banana (frozen)
1/2 avocado
2 Tablespoons organize cooking grade matcha powder
1 Tablespoon spirulina
1-2 cups milk of choice (I use unsweetened coconut milk)
1 teaspoon agave or honey
Around 6 fresh raspberries
DIRECTIONS
Mix frozen banana, avocado, agave and milk in a blender. I add a little milk at a time and stir occasionally to get the desired consistency. It should be thick like ice cream. If you add too much milk, it will be too watery. Stir and blend. BE PATIENT. If you have one of those fancy Vitamin blenders, it should be quick and easy. My blender is nothing fancy and I just stir and add milk as needed. Finally top with fresh raspberries, chia seeds, coconut flakes. Eat right away!
BENEFITS
Bee pollen: Excellent source of protein and contains most nutrients used by the human body.
Maca: Increases energy and endurance as it balances hormones. Rich in vitamin B, C and E.
Spiraling: Incredibly good for you and contains all the amino acids our bodies need. Pic in vitamins A, K1, K2 and B12
Chia: Superloaded with fiber, protein, omega-3 fatty acids
Hemp: Keeps the heart healthy and has anti-inflammatory benefits. Loaded with Omega-3 and Omega-6 fatty acids.
Matcha: It's loaded with antioxidants, great for those anti-acing properties! It's got caffeine and theanine so it is more sustainable energy than coffee. You don't crash hard from it. It's rich in cathechins to help boost your metabolism and fight off certain infections. Yassssss, Matcha!