A Healthy Breakfast Bowl that Will Power Your Morning
June 22, 2016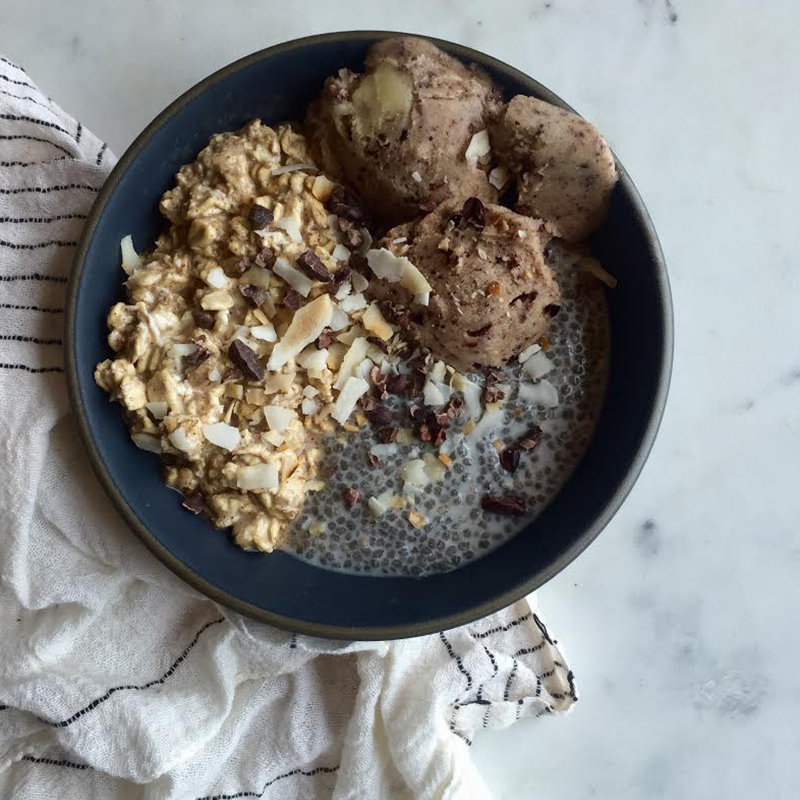 Hey ROCKSTARS — stop everything you're doing. I've got your new favorite, melt-in-your-mouth-delicious breakfast. And if you know me, you know how I roll — not only is this a big bowl of banana-y, chocolate-y goodness, it's also dairy, (refined) sugar and gluten free! Holla!
My husband and I recently went on our honeymoon in Tulum, and ate big bowls of fruity deliciousness the entire time. Not only did it taste amazing, but it left us feeling light AND satisfied. #WinWin
Now that we're back, I'm recreating some of the wonderful flavors we had there. With a little prep the night before, this baby comes together in JUST FIVE MINUTES. Yes, that's correct — cinco minutos, chicos! De nada.
INGREDIENTS
• 1/2 to 3/4 cup oats (depending on how active/hungry you are) and just enough almond milk to cover the oats (for this recipe, I love
this brand
)
• 1 teaspoon cinnamon
• 1 Tablespoon chia seeds and 3 tablespoons almond milk
• 2 tablespoons cacao nibs
• 1 super ripe frozen banana (spotty bananas are perfect for freezing!)
• 1 tablespoon raw or toasted coconut
DIRECTIONS
1. THE NIGHT BEFORE: Prep your oats and chia seed pudding.
• Oats: oats and just enough almond milk to cover, plus cinnamon. Cover with lid.
• Chia pudding: chia seeds and 3 tablespoons almond milk. Let it sit on the counter for 5 minutes, then give it another good stir to make sure seeds are incorporated and cover with lid. Place both jars in the fridge.
• Finally, peel your banana, break up into bite-sized pieces, place in a baggie and into the freezer.
2. THE NEXT MORNING: Grab your frozen banana and place it and 2 tablespoons of cacao nibs in a small food processor (I haven't tried a blender yet, but I think it would work just fine!). Blend until it's a soft-serve like consistency. Now it's time to assemble your dream breakfast!
3. Place oats, chia pudding and cacao-banana mixture in a bowl, top with toasted coconut, cacao nibs and even toasted nut if you have 'em! SAVOR and enjoy!
If know someone who needs a delicious, wholesome breakfast in their lives (hint: everyone) please share! :)
NOTE: For my picture, I actually placed the banana-cacao mixture in a glass lock tupperware in the freezer for a couple of hours — that's what makes it "scoop-able" just like ice cream! It's a great option if you have time AND/OR a great idea for a healthy dessert for your next dinner party!
Catch classes with MOLLI S. at SoulCycle SoMa and Castro and follow her blog HERE! Questions or comments? Email blog@soul-cycle.com! Want to ride? Grab a series HERE and book a bike!
MORE FROM SOUL