8 Instructors Share Their Favorite Sushi
July 24, 2014
Love sushi? Our instructors shared which types they're hooked on…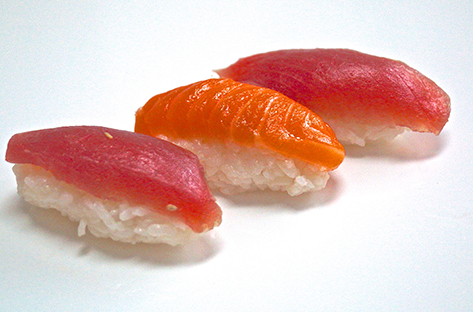 LAURIE COLE
Inside out avocado rolls! I am a veggie! Plus, I love edamame.
MIREYA D'ANGELO
I get tuna sashimi, salmon sashimi, a yellowtail and scallion roll inside out and eel sushi. It's an incredibly satisfying meal with just enough rice so I feel content and happy. Too much rice makes me feel bloated and tired. The eel sushi gives the sweet tooth satisfaction without the need to do dessert.
NICK PRATLEY
Miso soup for energy, then salmon and yellowtail sashimi...nutritious, fresh and just freakin' yummy!
IAN MCANDREW
I'm the most boring sushi date ever! Miso soup to start, two salmon rolls, 1 spicy tuna roll (both with brown rice), and a little bit of sake. The soup just feels so good on chilly San Francisco nights. Salmon/tuna for healthy fats/protein plus I have a mild obsession with spicy mayo (I'm a nutritionist, I swear) and brown rice is a completely different grain than white. Higher protein and fiber. And the sake because... well, why not?
AMANDA KAMM
Anything spicy! Why? I like to keep things spicy!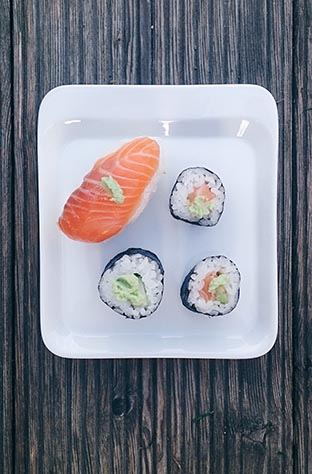 ERIKA SHANNON
Spicy tuna roll, avocado cucumber roll, and a small salad! Salad because I need my greens (and I love the ginger dressing), a tuna roll because 1. It's spicy and delicious and 2. Good protein! Avocado cucumber roll because I'm a pretty picky sushi eater and I know it will always be fresh and tasty. Sometimes I also enjoy a sweet potato roll!
ANNA GAGIE
I love sushi because I'm actually obsessed with soy sauce! I get a spicy tuna roll, steamed veggie dumplings and yellowtail sashimi. I love to go to Momoya and Alpha Sushi. I like my sushi bite-sized… I always ask for my roll cut into eight pieces.
ERIN LINDSAY
I love tuna tartare, seared tuna, smoked tuna… and any roll with a crunch in it!
Questions or comments? Email blog@soul-cycle.com!