8 Instructors Share a Peek at Their Plates!
February 4, 2015
Want some quick and easy ideas for healthy meals? Take a look at what's on the plates of 8 SoulCycle instructors…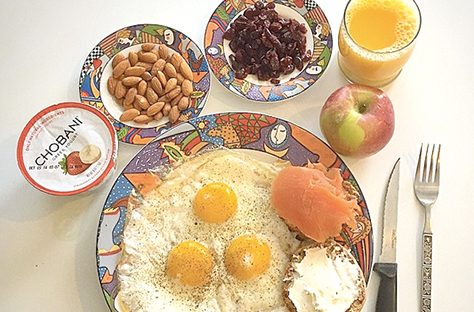 MARK FORKOS
On Thursdays I teach four classes at SoulCycle so I am diligent about replenishing my body with the nutrients that I utilize. I try to eat a meal that balances proteins, carbs, healthy fats, some sort of fruit, and lots of fluids. In this particular breakfast, egg whites, salmon, and almonds provide lots of protein; a whole wheat english muffin, dried cranberries and an apple offer me carbohydrates; and fats come from salmon, egg yolks, greek yogurt, and almonds. The only thing not in this picture is coffee, and lots of water!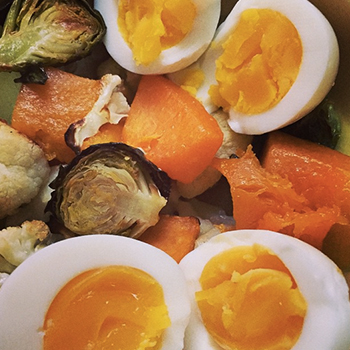 AMANDA MAX
This is one of my favorite lunches! Roasted butternut squash, cauliflower and Brussel sprouts with two soft boiled eggs. It's got everything I need to fill up, refuel and hop back on a bike without feeling sluggish.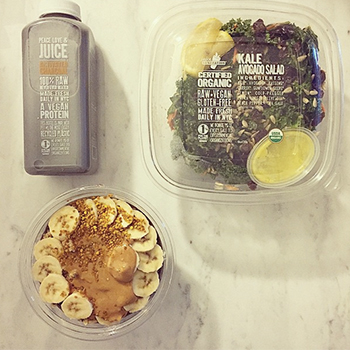 NATALIA MILLAN
They are some of my favorite things from Juice Generation, which I visit every time I go up to NYC to visit my mom. It's:
* Activated Protein juice: raw almonds, raw hemp seeds, dates, vanilla bean, alkaline water, activated charcoal.
* Kale Avocado salad: kale, avocado, carrots, raising, sunflower seeds.
* Peanut butter acai bowl: acai, banana, peanut butter, almond milk (I put bee pollen instead of cacao nibs)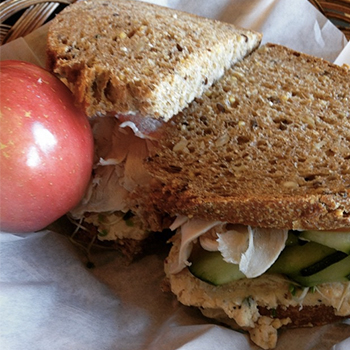 KC SKLAR
Whenever I visit my mom in Tucson, our first stop from the airport is always Beyond Bread, my favorite local lunch spot. We always share the Molly's Crisis sandwich, which is turkey, hummus, sprouts and veggies on fresh multigrain bread. Perfection!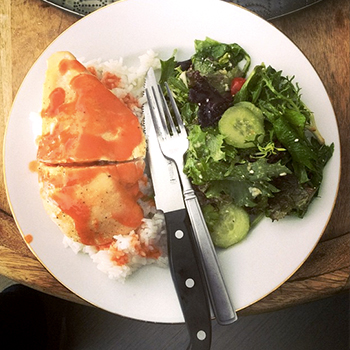 MICHAEL VARA
It's a simple plate but to me simplicity = best results and it's easiest on the schedule! This is 6 to 8 ounces of chicken breast seasoned (with Mikey's special seasoning), 1 or 1/2 cup cooked rice, and hot sauce to heat up this cold winter. Plus, a salad using any and all garden options with the healthiest dressing choice... A little olive oil, lemon and pepper! SoulCycle is a lifestyle, so we must not only worry about the "style" but what gives life! Make smart nutritional choices before and after any SoulCycle class to ensure optimum training results for your body, both inside and outside of both the room.
NAZ SANDERS
This is smashed avocado toast with an egg on top. It's one of my favorite things to make after teaching in the morning for breakfast. Simple, sustaining and delicious! Fellow instructor Paige Howell and I like to meet up between classes and make breakfast/lunch together at my apartment. We share music, fuel up, and just catch up on life.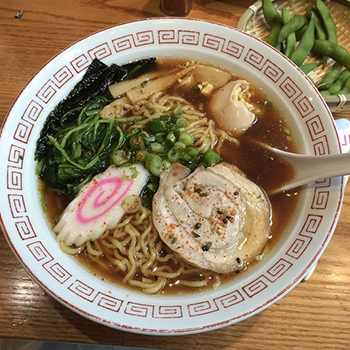 CHRISTINA PEARSON
With all this cold weather, my hubs and I like to go to lunch on my day off at Rai Rai Ken, in the East Village on 10th street. We tried this little gem after it was featured on Martha Stewart's show a few years back. If Martha approves, it must be on point! This is the Shoyu Ramen, and their gyoza is my fave as well.
HEATHER STOHL
This is seared chicken breast sautéed with lemon and finished in the oven wrapped in tin foil with the lemons so the steam infuses flavor and keeps the chicken juicy. The sides are wilted kale with caramelized onions and garlic, and roasted potatoes. It's a nice balanced dinner, and the seasonings are simple as well which makes it so easy for cooks who don't have a lot in their pantry. Salt, pepper, garlic, lemon, and olive oil! That's it. Also, caramelizing the onions first before adding the kale gives a natural sweetness to the side without adding unnecessary sugars.
Questions or comments? Email blog@soul-cycle.com!