3 Quick and Healthy BBQ Recipes
May 25, 2016
Despite the past few weekends of indeterminate weather, I'm 90 percent sure summer is still on its way, which means it's time to start doing one of the greatest summer activities ever established: Eating outside!
You don't need to be a macho caveman to grill — you don't even need to be a carnivore. Grilling food is primal, but it's also a great place to hone (or begin) your cooking skills because you're an eyewitness to the process of cooking food instead of simply throwing it in the oven and setting a timer.
Here are three of my favorite recipes for summertime
I had some amazing grilled corn recently, but I felt indulgent about the amount of glorious cheese melting over it (#WisconsinBoy). So I opted to create a healthier alternative to Elote (Mexican Corn) to cook out on the grill.
Grilled Elote with Fresh Lime and Yogurt Sauce
Grilled Elote
Buy your corn as fresh as possible. The fresher the corn, the sweeter the flavor profile. Is there a tip on how to do this? Maybe to get at farmer's market or something? Now there are several schools of thought as to the best way to grill corn, but my favorite is to shuck the corn out of its husk and grill it "naked" on the grill. It provides for a nice nutty charring of the kernels and a grilled appearance that can be lacking in some other modes of prep. Place the corn over the grill for 10 minutes or until the kernels are noticeably browned. Turn the corn for even cooking.
Yogurt Lime Sauce
1 cup Greek yogurt
3 limes, juiced
1/2 tsp ground cumin
1/2 tsp ground or freshly grated turmeric
1 whole freshly minced garlic clove
1 large bunch freshly chopped cilantro
Dash of cayenne pepper
Salt and pepper to taste
THIS sauce can be prepared up to a day in advance and used in place of cheese or butter on top of freshly grilled corn. It's a delicious alternative to heavier accompaniments.
The second recipe is a take on the BBQ tofu at my favorite lunch spot in East Hampton, Babbette's. I'm not a vegetarian, so I'm just as surprised as you are that I fell in love with this tofu dish. It's hands down the healthiest BBQ I've ever eaten. Here's my interpretation of the dish using a grill instead of baking it in the oven:
BBQ Tofu on the Grill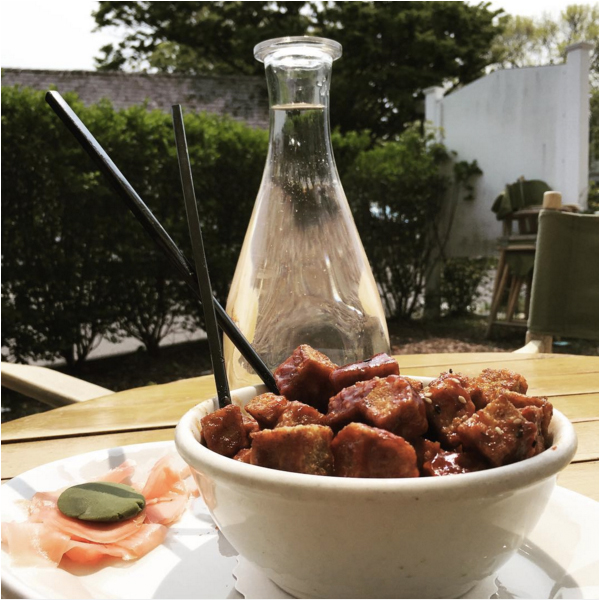 It is totally possible to grill tofu —- you just have to be smart about it. First you need to buy firm tofu and press the tofu for at least 30 minutes to remove excess moisture. While that's happening, turn your attention to your cooking surface. Preheat your grill and after about 10 minutes of heat, it will be very easy to clean off any remnants from cook-outs past with your grill brush. Then oil up the grill rack so that the tofu won't stick to the metal and you're all set!
Ingredients
As much tofu as you want/are comfortable with
BBQ sauce of choice as a marinade
Salt and pepper to taste
The first step after pressing the tofu is to rub in some marinade, salt and pepper and then let the tofu soak for a few minutes. In terms of the sauce, I would stick to something for chicken or fish to keep the flavor profiles complementary. I like Stubb's original Bar-B-Q sauce, but live your own life and make your own choices.
Once the grill is seasoned and ready, you can place the tofu on a cooler side of the grill. If you're burning coals, you should move the coals to one side of the grill and place the tofu on the other. If it's a gas grill then turn the flames to low underneath the tofu. For crispy tofu, a lower heat is needed. Cooking time is about 20 minutes. Turn the pieces 90 degrees about half-way through to lock in the flavor and create the classic grilled criss-cross pattern. Once it's cooked, remove from heat and apply some of the marinade or sauce you used before grilling. It's a great way to bring back some of that flavor and add a saucy texture to the tofu for serving.
Last but certainly not least — I stopped by a local non-profit produce stand out east (shoutout to EECO farm) and picked up the most delicious looking rhubarb I've seen in a long while. Unsure of how to use such a beautiful ruby-colored vegetable, I decided (as I do with most things) to keep it simple and gorgeous with a braised rhubarb dessert in the oven.
Braised Rhubarb
Rhubarb has a very delicate flavor profile so you have to be careful to not overpower it in most dishes. In this dessert, I found that rhubarb is complemented by most traditional baking spices and it doesn't really get lost in the mix —- it contributes and enhances the flavors around it. This is a very simple recipe -- just throw it in the oven and let it do its thang.
Ingredients
1 lb. rhubarb, stalk chopped into 3 inch pieces
1/2 cup water
1/2 cup orange juice
Zest of an orange
1 lemon, juiced
1/4 cup of honey
2 tbsp freshly grated ginger
1 vanilla bean
2 cinnamon sticks
4 cardamom pods
Preheat oven to 400 degrees. Mix all the ingredients together in a baking dish with deep enough sides to hold the liquid. Roast for 20 minutes, stirring the mixture half-way through. Serve on its own or paired with granola or a nice custard for a real summertime treat.
Happy Memorial Day weekend to everyone — I hope these recipes make their way into your summer cooking plans! Bon appétit!
MORE FROM SOUL