3 No-Guilt Healthy Dessert Recipes to Make Tonight
September 21, 2016
ertified health coach and recipe creator NEDA VARBANOVA of HealthyWithNedi.com shares three of her favorite healthy dessert recipes to satisfy her sweet tooth without the guilt…
I have a bit of a sweet tooth and love making these low-guilt desserts at home. I make sure to use fresh, whole ingredients and natural sugars to keep them as healthy as possible. Each one of these recipes has dark chocolate, which contains antioxidants that may help
protect against heart disease
and also lower blood pressure. Dark chocolate is also high in fiber, iron, magnesium and potassium. I'll take my heart-healthy vitamins in chocolate form any day!
FLOURLESS CHOCOLATE BANANA BREAD
This flourless chocolate banana bread makes an impressive party dessert. The walnuts add an incredible crunch and it tastes even better with a dollop of almond or peanut butter! Yum…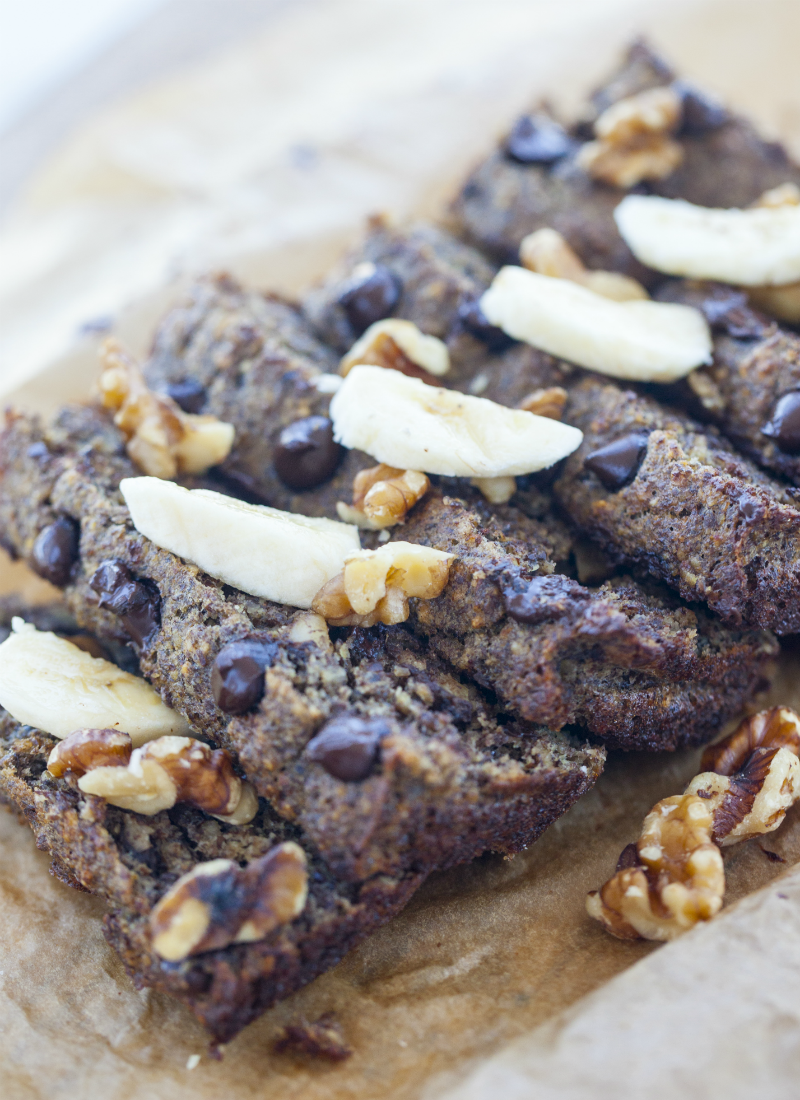 Serves 6

INGREDIENTS
3 ripe bananas, mashed
3 eggs, beaten
1 tablespoon honey
1 tablespoon vanilla extract
3/4 cup flaxseed finest ground
1/3 cup oats
1/3 cup almond meal
1/3 cup walnuts, chopped
1 teaspoon baking soda
1 teaspoon cinnamon
1/4 cup dark chocolate chips
DIRECTIONS
1. Preheat oven to 385 F.

2. In a food processor, blend the bananas, eggs, honey and vanilla extract.
3. In a large mixing bowl, mix the rest of the dry ingredients.
4. Add the wet mixture to the dry and stir until mixed thoroughly.
5. Line parchment paper in a 9-inch by 5-inch baking dish and grease with coconut oil.
6. Pour mixture into pan and bake on 385 F for 25 to 30 minutes, until a toothpick comes out clean.
7. Allow the bread to cool for 30 minutes before serving.
8. Serve with your favorite nut butter and enjoy!
RASPBERRY CHOCOLATE CAKE
I love the combination of raspberries and chocolate… it's so yummy! This cake is free of gluten and dairy and is paleo-friendly. It's super easy to make and will soon become your favorite chocolate cake.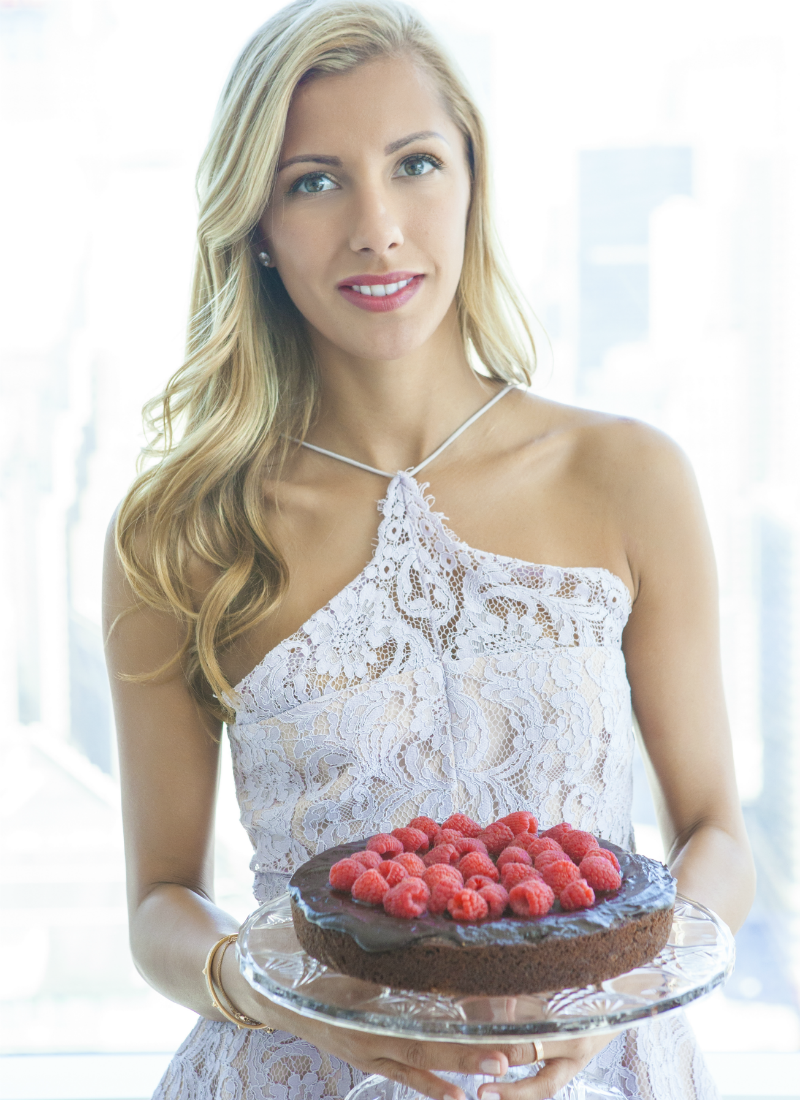 Serves 8
INGREDIENTS
For The Dry Mixture:
3 tablespoons coconut flour
2 cups almond meal
3 tablespoons raw cacao powder
5 tablespoons coconut sugar
1 teaspoon baking soda
1/4 teaspoon sea salt
For The Wet Mixture:
1 cup raspberries, plus 1/2 cup for topping
1/2 cup coconut cream or milk (I prefer the cream, it's thicker)
1/3 cup coconut oil, melted
3 tablespoons raw honey
2 teaspoon vanilla extract
1 teaspoon apple cider vinegar
2 eggs, whisked
For The Chocolate Ganache:
100g dark chocolate, melted
5 tablespoon coconut cream (or full fat milk)
DIRECTIONS
1. Preheat oven to 350 F.
2. Grease an eight-inch cake pan with coconut oil and place a piece of parchment paper on the bottom. I cut the paper to fit exactly in the pan.
3. In a large mixing bowl, combine all of the dry ingredients and stir them well with a spatula.
4. In a food processor, combine all of the wet ingredients except the eggs. Blend well.
5. Add the wet mixture to the dry and gently mix the batter.
6. Whisk the eggs with a mixer (if you don't have one, by hand is okay, too). Add the whisked eggs to the cake batter and gently mix them to combine.
7. Spread the batter evenly into the cake pan and bake for 20 minutes.
8. Take the cake out and allow it to cool. In the meantime, make the chocolate ga-nache. Combine the melted chocolate with coconut milk and cool for 2-3 minutes.
9. Top the cake with the ganache and extra raspberries. Enjoy with coconut ice cream!
NUTTY CHOCOLATE BARK
Dark chocolate is known for its antioxidants, which helps to support heart health. This is a healthy alternative to dessert, and it can be really fun to make with the kids. Once you spread the melted chocolate on a baking tray, let them be in charge of decorating the bark with their favorite toppings.
Serves: 8

INGREDIENTS
10 ounces dark chocolate chips, melted
2 tablespoons almonds
2 tablespoons pistachios
2 tablespoons cranberries
1 tablespoon pumpkin seeds
1 tablespoon sunflower seeds
1 tablespoon walnuts
1/2 teaspoon sea salt
1/2 teaspoon hemp seeds
DIRECTIONS
1. Preheat the oven to 350 degrees F. Line a cookie sheet with parchment paper.
2. Place the chocolate in a wide bowl and set aside. Place all of the nuts on a cookie sheet and toast them in the oven for 10 minutes, being careful not to burn them.
3. Place chocolate over a double boiler and melt completely.
4. Using a rubber spatula, spread the chocolate over a baking sheet lined with parchment paper. Sprinkle on the toasted nuts and the remaining of ingredients.
5. Place in the refrigerator to cool and harden for 30 minutes. When solid, cut into pieces and serve.
Neda Varbanova is a certified health coach and recipe creator who believes that healthy eating, fitness and a positive outlook are the key to realizing true health. Neda's food philosophy is inspired by her mother, who has always prepared fresh daily meals with nothing short of simple, wholesome ingredi-ents. When Neda arrived in New York during high school, she discovered that the American diet was lack-ing fresh foods and has been dedicated to inspiring others to incorporate healthy foods into their lives ever since. Neda is a certified health coach through the Institute of Integrative Nutrition, has a certificate in Culinary Nutrition from the NaturalGourmet Institute and is enrolled in the Master's Program in Food Studies at NYU Steinhardt. Find recipes, nutrition tips and more at healthywithnedi.com
Photography by
Neda Varbanova