3 Easy Chocolate Recipes That Are Actually Good for You
July 7, 2017
raving a sweet treat but want to keep it healthy? Check out three easy recipes from CHARLEE DYROFF, the food blogger behind Life Through Chocolate...
Want something sweet but trying to eat healthy? It's always difficult to maintain a balanced lifestyle when we're surrounded by so many treats at the office, the grocery store, and in the checkout line. With these three recipes, you can indulge in something sweet without breaking your healthy habits. Each recipe offers a chocolate dessert that is not loaded with sugar but rather made with ingredients that are beneficial for your body. So yes, these desserts are the answer to all of your prayers: delicious and healthy!
Rich and creamy, this chocolate mousse gets all of the health benefits that avocados have (think omega 3, etc. etc) without even tasting the avocado. Research indicates that avocados can help maintain healthy cholesterol levels to keep your heart in good condition, antioxidants that help with vision, vitamin K for healthy bones, and a high level of folate which can help reduce the risk of depression. Apparently, avocados have it all! With one easy step you can grind everything together into a delicious mousse.This recipe is a sure-fire way to satisfy that sweet tooth without binging on tons of sugary treats. Find the full recipe HERE.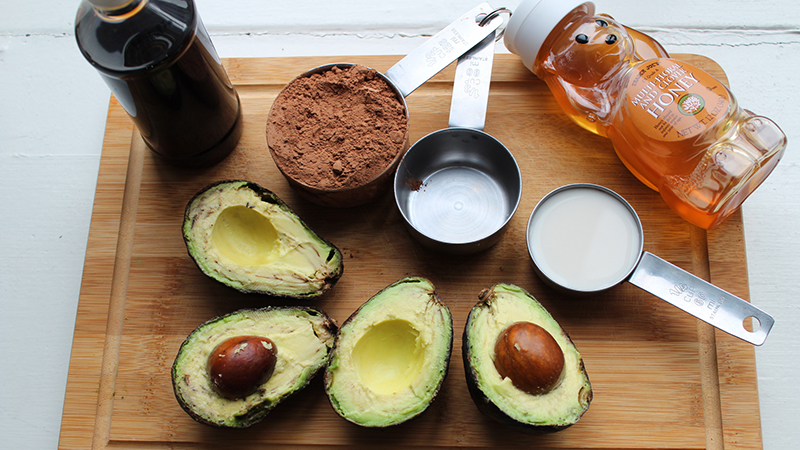 Carry these no-bake energy bites with you anywhere to refuel after a workout or get energy during a long work day. You can roll them into bite-size treats that are filled with flavor to help curve cravings for junk food. The walnuts are filled with fiber, protein and omega 3s and the peanut butter also adds protein to keep you full for longer. There are a few variations on this recipe including leaving out the coconut if you're not into it. Find the full recipe HERE.

Chia seeds and cacao are two of the healthiest ingredients to add to any recipe. In this easy Chia Seed pudding, we combine both of them to create treat great for breakfast, snacking or dessert. The rich chocolate of the cacao soaks into the chia creating a rich flavor in each bite. The best part of this recipe is adding the toppings. You can really customize your chia pudding to be whatever you'd like. I love adding sliced bananas, cacao nibs, pumpkin seeds and coconut to give it a little crunch. Find the full recipe HERE.

Try out one of these easy recipes to satisfy your sweet tooth without breaking your healthy routine. Don't be fooled: While it might feel like you're indulging, these dessert recipes are actually filled with healthy ingredients to secretly give you the nutrients you need to maintain that healthy lifestyle.
Find more recipes and healthy eating ideas from Charlee at Life Through Chocolate. Ready to ride? Click HERE to purchase a series.