29 Healthy Lunch Ideas
February 3, 2016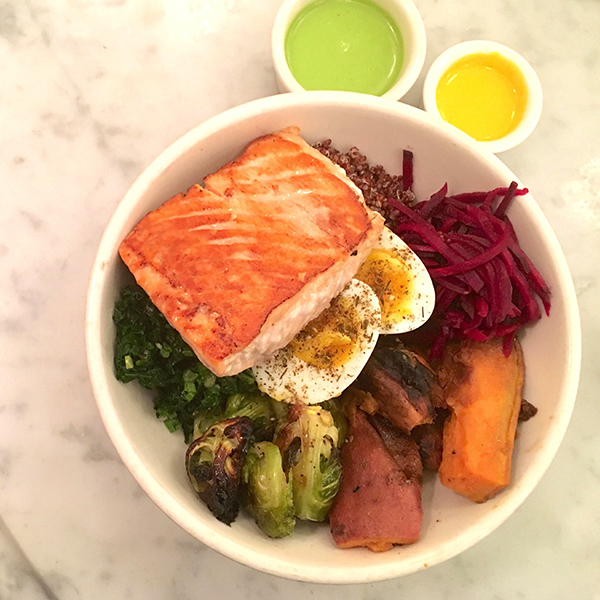 MOLLI SULLIVAN
If there's a Whole Foods nearby, I hit the salad bar. Or, I just grab 1 of at least 3 mason jars I have on me at all times — likely holding a green smoothie and overnight oats!
HALLIE WILSON
A Bistro Box from Starbucks — they're quick, easy and balanced!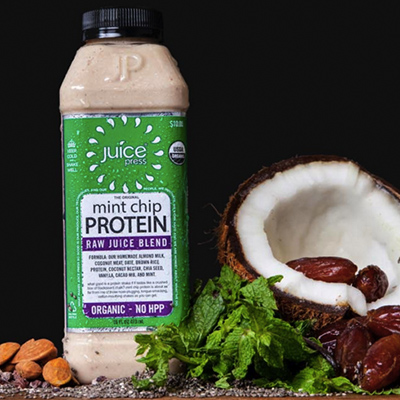 STACEY GRIFFITH
Favorite on-the-go lunch is the Mint Chip Shake from Juice Press. It's hearty, fills you up and does the trick without making me full, so I can still teach and bounce around.
TIFF CHEN
I love grabbing a smoothie from earthbar right by the Union Street studio. My go-to is the Chocolate Supreme with peanut butter!
KALEY SKOGLUND
Sweetgreen! I die for their quinoa bowls. Healthy, filling, local and organic. DONE.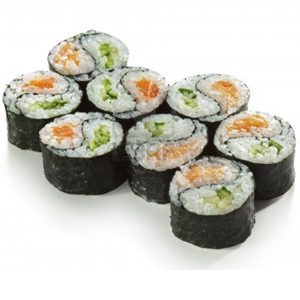 DREW BEREZOWITZ
I eat sushi all the time and my favorite grab-n-go situation is at Whole Foods. Very good quality fish and it doesn't weigh me down in between classes.
AYA MURAMATSU
I love having a protein smoothie (protein powder, almond milk, almond butter, spinach, chia seeds, strawberries, banana)
ANDREW STINGER
I'm essentially turning into a walking vessel for oatmeal these days. When I'm teaching afternoons without much time between classes, I pack an extra mason jar of overnight oats (1 packet quick cook oats, 1/2 cup almond milk) with blueberries, bananas and protein powder mixed in. Before eating, I throw on some granola and honey for some crunch and quick calories and energy. I usually slam a Quest Bar for dessert, but if I'm REALLY in need of a shot of energy, Haribo Gummy Bears get me where I need to be before my next class!
STEVIE SANTANGELO
I get a pint of soup from either Hale & Hearty or Whole Foods and then I add a bunch of lean protein to it like crumbled salmon, shredded turkey or chicken. I finish it off with a handful of a baby spinach leaves. And I can't forget dessert: I oven roast (or toaster oven) seasonal apples and pears to keep on hand. I heat one up then pour raw honey and almonds on top. Satisfying. Warm. Fresh. Nutritious. #winterwhat
PIXIE ACIA
My fave lunch is a green smoothie made with my Vitamix! Game changer! Kale, spinach, romaine, grapes, apple or pear to sweeten, powdered greens, probiotics, flax seed, chia seed. Sometimes I add a nut butter to make it heavier and fuller in flavor, and when I want it more refreshing, I just add half a lime or a few leaves of fresh mint!
NINA RUTSCH
Acai bowl: Anywhere, anytime is my go-to, on-the-run meal.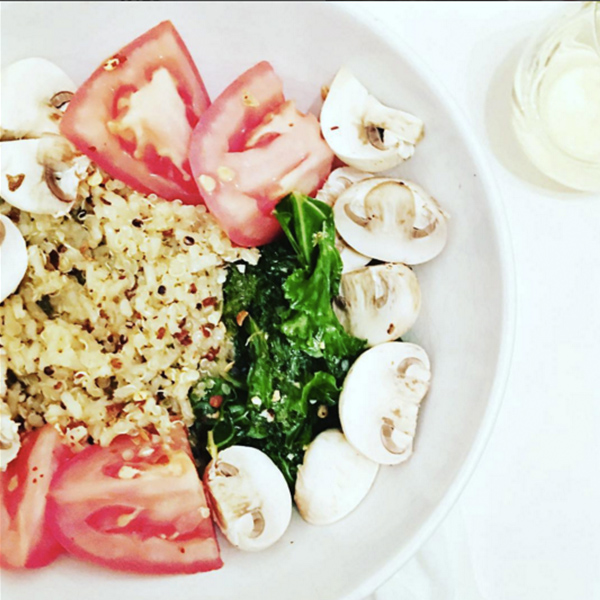 MEGAN KELLY
My favorite on-the-go lunch is usually some mixture of quinoa, veggies and tofu. The fun is experimenting with different spices like fenugreek, ginger, tumeric and cayenne!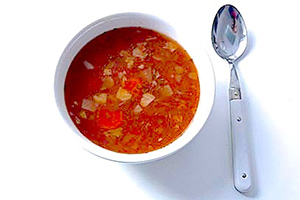 SARAH HEALY
Lately my on-the-go lunch has been a cup of soup or half a turkey sandwich! It is filling but doesn't weigh me down.
MEGAN SPARKS
My favorite on-the-go lunch is a piece of fruit like a banana or apple and a Think Thin bar in Creamy Peanut butter flavor.
ANANDAH CARTER
If I am grabbing something from my fridge in a pinch, I'll throw a Gravity from Juice Press in my bag with a Pink Lady apple (super crunchy and sweet) along with Parmesan Reggiano -— several slices right off the wedge.
ROBERT PENDILLA
Nature Works! Anything from there is so good!
ELIANNA SABLE
I love to have GGs (Scanndinavian fiber crackers) with honey mustard and thinly sliced Munster cheese. I use four crackers and make them into two little sandwiches! Or I have an Ezekiel English muffin with Peanut Butter & Co. Crunchy peanut butter!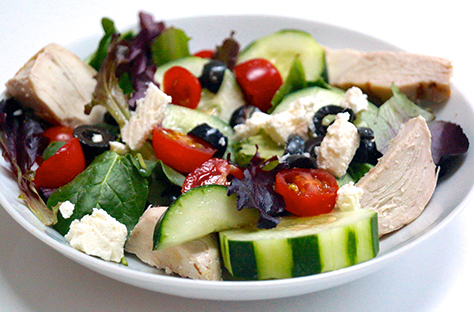 JUSTINE SCHWARTZ
My on-the-go lunch chicken salad with craisins and grapes made with non-fat Greek yogurt!!
BETHANY LYONS
Lulitonix green blend: GLOW! It is easy, fast, great energy and clean! Raw, organic yumminess.
LINDSEY SIMCIK
I microwave a sweet potato for 7 to 8 minutes and stuff it with salsa and guac! Quick, easy, yummy!
SAM YEARSLEY
Midday lunch: acai bowl
LIZZY WASHINGTON
My favorite on-the-go lunch is honestly peanut butter and jelly on a whole wheat or seven-grain toast with an apple to go along with it. I also carry a small jar of peanut butter to put some on my apples.
OLIVIA AMATO
Smoothie with Fage 0% Yogurt, 1 scoop of almond butter, 1/2 banana, 4 strawberries, a hand full of blueberries and a tablespoon of cinnamon!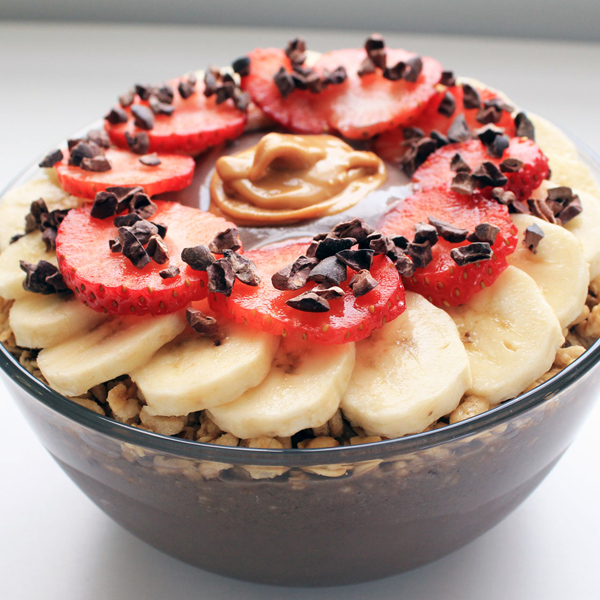 PAIGE HOWELL
I just love peanut butter acai bowls and would eat them for every meal if I could.
ROXIE JONES
I've been making egg white frittatas. Basically I sauté onions and veggies and bake with egg whites. I cut these up into squares and eat it throughout the week. I usually have it with an Ezekiel English muffin. Perfect grab and go!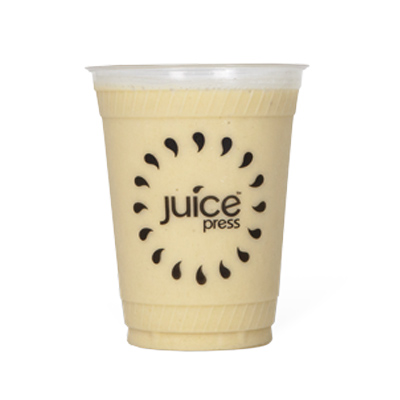 MIKKI HOMMEL
My favorite on-the-go lunch is either the Nori Salad from Juice Press or the "Peaching to the Choir" smoothie also at Juice Press. That smoothie is incredibly delicious!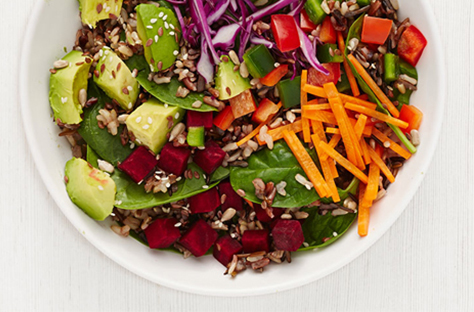 MADELEINE STARKEY
A Sweetgreen grain bowl is always a good option when I'm running from studio to studio. They're filling, nourishing, and portable if need be. A new location just opened up next to our Union Square studio so it's an easy option when I'm on the go.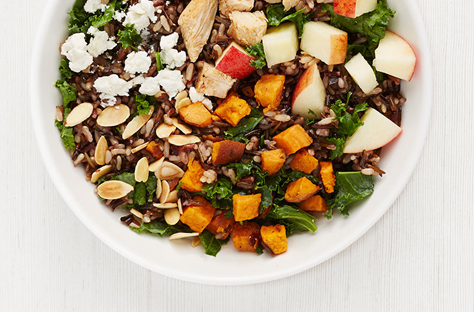 LISA BOCCUZZI
My favorite on-the-go lunch is the Harvest Bowl from Sweetgreen. It's a rice bowl with kale, chicken, goat cheese, apples, and sweet potatoes. It's super healthy and really filling!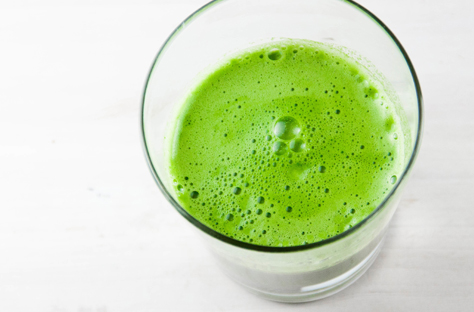 ALLIE FELL
My favorite on-the-go thing to eat midday is a green smoothie. Spinach, almond milk, a scoop of peanut butter, ice and a banana. Blend it all together and take it to go!
Questions or comments? Email blog@soul-cycle.com! Want to ride? To book a bike, grab a series HERE then book a bike!

MORE FROM SOUL