19 Easy Thanksgiving Recipes
November 25, 2015
Searching for something yummy to add to your holiday meal? 19 instructors shared their all-time favorite Thanksgiving recipes...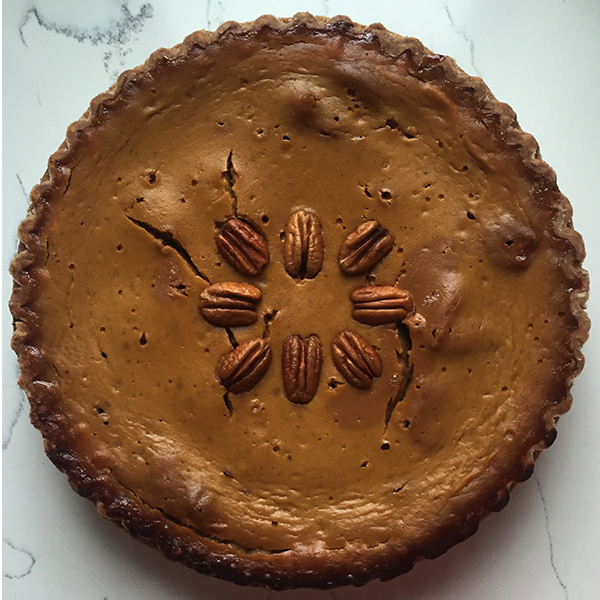 EVE LYNN KESSNER
Not gonna lie, I love my sweets. But not all sweets are created equal! And as I've healthified my life over the past 10 years, my sweet tooth has morphed, not necessarily diminished, but changed along with my palate. Refined sugars, fake sugars, processed sweeteners all taste pretty terrible to me! But that doesn't mean I don't crave desserts (cardio all damn day will to that to a girl).
After I had my second daughter, I stopped denying my desire for something sweet and decided to combat the issue by creating recipes that suited my new diet. I found that I liked my newfound dessert repertoire better than my old haunts and so did my body. They didn't make me crazy then crash, they smoothed out cravings as opposed to squashing them, and they didn't bloat and burn my stomach.
This sweet potato pie is far from what you should use as the vegetable at your Thanksgiving table, but more than a suitable dessert. Serve it with some whipped coconut cream and I guarantee you'll be star of the table.
INGREDIENTS
1 can organic pureed sweet potatoes (you can absolutely steam and mash your own, but I'm a sucker for a shortcut #momlife)
1 1/2 cups coconut cream
1/2 cup raw agave (I prefer the taste of agave, but you can use honey or maple syrup here, both good options)
4 organic eggs
1 tablespoon vanilla (always use pure, high quality extract, it makes a huge difference)
1 teaspoon cinnamon
1/2 teaspoon nutmeg
1 frozen whole wheat (or spelt) pie crust (shortcut winner! I like Wholly Wholesome brand)
Toasted pecans (how many? your choice)
SUPER SIMPLE HOW-TO
1. Preheat the oven to 350 degrees.
2. Mix all the ingredients minus the pie shell until smooth.
3. Pour the mixture into the shell.
4. Place it on a tray.
5. Bake for 35 to 45 minutes (or until cooked through)
6. While warm, top with toasted pecans in the design of your choice.
Cool.
Eat.
Love.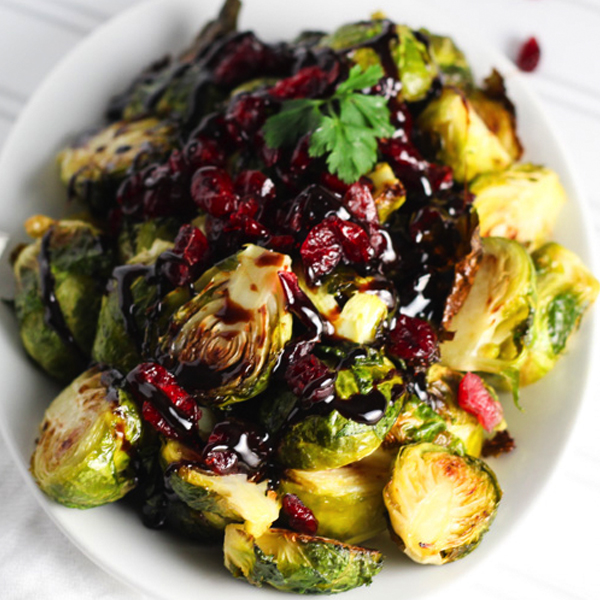 STRING
One of my favorite vegetables is Brussels sprouts. And perfect for the holidays is my recipe for roasted Brussels sprouts made with a maple syrup and balsamic vinegar reduction, topped with pecans and cranberries to give it that festive look, and, if you're a the cheese lover, you can top it with goat cheese. This recipe is definitely #stringapproved
INGREDIENTS
1 pound Brussels sprouts, trimmed and cut in halves
1/3 cup dried cranberries
1/3 cup chopped toasted pecans
1/2 cup balsamic vinegar
2 tablespoons brown sugar
1 tablespoon olive oil
salt and pepper
HOW-TO
1. Preheat oven to 375 degrees.
2. In a bowl, toss Brussels sprouts with olive oil and add a pinch of salt and pepper.
3. Roast for 20 to 25 minutes or until brown. Remove from oven.
4. As Brussels sprouts roast, whisk together balsamic vinegar and brown sugar in a small saucepan over medium high heat. Bring to a boil, then reduce the heat to low. Simmer until glaze is reduced to half. Stir frequently, and be careful not to burn the reduction. Remove from heat.
5. Combine the roasted Brussels sprouts, cranberries, and pecans in a serving dish. Drizzle the balsamic glaze over top.
NABILA VALENTIN
I love roasted veggies all the way! I cube up a mix of sweet potatoes, butternut squash, parsnips, fennel, Brussels sprouts, onions, fresh garlic, rosemary sprigs and toss them all with olive oil, sea salt and pepper. I roast at 475 degrees until the veggies are nice and crispy and the fennel and onions have caramelized. Super-easy and healthy plus this recipes makes for great leftovers to serve cold with greens and toss with a light vinaigrette — then you've got a winter salad!
ANDREW STINGER
If you show up at Thanksgiving with a tray of bacon-wrapped dates, everyone thinks you're a fancy pants chef when in reality you just followed a super easy recipe. (I like the one below from The Food Network courtesy of Ree Drummond.) I use almonds as the stuffing, but if you're not hanging with a lactose intolerant crowd, they go crazy if you stuff these bad boys with cream cheese or goat cheese!
INGREDIENTS
35 to 40 pitted dates
70 to 80 salted roasted almonds
HOW-TO
1. Preheat the oven to 425 degrees.
2. Stuff each date with 1 to 2 almonds. Wrap each date with half a piece of bacon and secure with a toothpick.
3. Bake, turning the dates halfway through so the bacon is evenly cooked, 15 to 18 minutes. Serve warm or at room temperature.
JOEY COPPEDGE
When I was about 10, my Mimi (grandma) taught me how to make deviled eggs. We're from the South so there is never a holiday without deviled eggs. Ever since, I make them for ever dinner party I host or attend and every time I add something creative to make them different. My favorite part is when someone else brings deviled eggs too and I see mine disappear first!
HOW-TO:
I mash up the hard-boiled yolks and then add:
Vinegar
Mayo
Mustard
Relish
Tabasco
Salt and Pepper
PLUS an extra ingredient or two to make the special.
Neatly drop that mix into each hard-boiled egg white and voila! I used to try to make them cute with paprika or by piping the mixture in neatly, but I've found that the more organic (ugly) they look, the more delicious shock value you get when they are eaten!
BARI ROBINSON
The most DELICIOUS holiday recipe (from Fully Raw Kristina) is a Simple Raw Vegan Apple Pie! YUM!
INGREDIENTS
Approximately 10 apples of your choice (Fuji or Honeycrisp)
3-4 pounds of pitted dates
Dried figs
Cinnamon
Nutmeg
HOW-TO
1. For crust: In a food processor/blender, combine the dried figs and dates until it reaches a cookie dough consistency. Press this crust into the bottom of your pie pan dish.
2. For filling: Blend 3 apples with approximately 1 pound of dates, cinnamon, nutmeg, and a bit of water until it reaches a thick, smooth, filling consistency. Thinly slice the rest of the apples with a knife or with a mandolin and alternately layer the apple slices with your pie filling.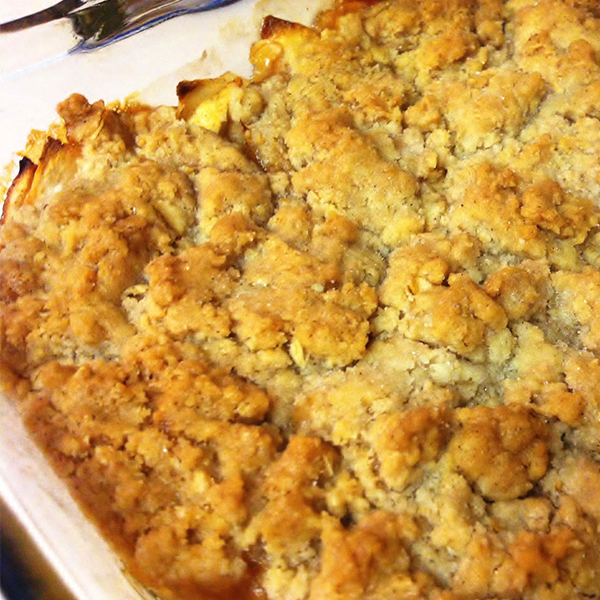 ANANDAH CARTER
Most people don't know this, but I LOVE to bake. I always make my Grandma Claire's Apple Crisp for Thanksgiving no matter how many classes I'm teaching on Thanksgiving. The Sunday before Thanksgiving I go to the Farmer's Market next to the Museum of Natural History and stock up on Winesap apples. They are super crisp and slightly tart. You want a crisp apple for baking and tart so your crisp doesn't taste too sugary.
Here's the recipe!
INGREDIENTS
Filling
4 cups tart apples
2 tablespoons lemon juice or kirsch
Topping
1/2 cup all-purpose flour
1/2 cup packed brown sugar
1/4 cup butter
1/2 teaspoon salt, if butter is unsalted
1 teaspoon cinnamon
HOW-TO
1. Preheat oven to 375 degrees.
2. Prepping your apples: Core, peel and slice apples to your desired thickness, but not thin. Place in a bowl and toss with the lemon juice. The lemon juice will keep the apples from turning brown. Put in a 9-inch pie plate or dish for baking. I use my favorite Le Creuset.
2. For the topping: Work the flour, brown sugar, butter, salt and cinnamon like pastry with finger tips. The mixture must be lightly worked so that it does not become oily. Spread these crumbly ingredients over the apples.
3. Bake 50 to 55 minutes until brown and apples are soft. But I keep checking after about 45 minutes. I always serve with vanilla bean ice cream!
JUSTINE SCHWARTZ
I'm so thankful for my family and my favorite holiday is baked Brie topped with jam and pecans in a puff pastry and antipasto… I'm Italian! Here's my recipe:
1. Let the puff pastry defrost.
2. Place Brie in the middle.
3. Top with any choice of jam and nuts.
4. Lift sides of pastry to meet in the middle then twist together, wipe egg wash all around the outside and top
bake accordingly to puff pastry's directions.
5. Enjoy!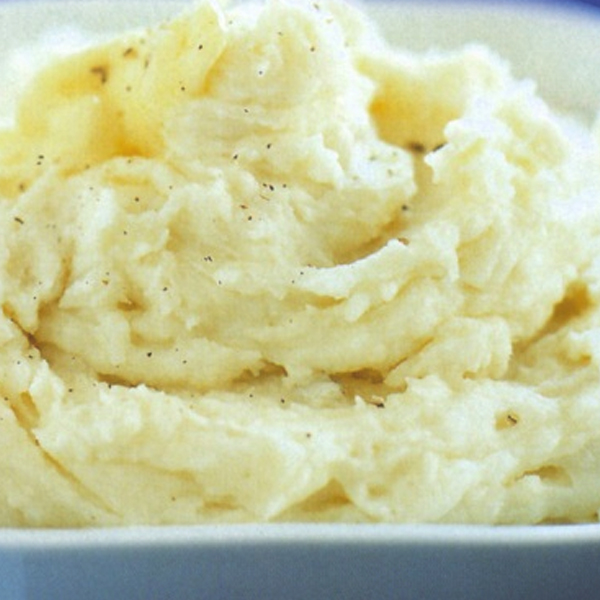 MANDY BROOKS
Our family loves Thanksgiving. The kids adore the mashed potatoes the most. Mashed potatoes, mixed with butter, sour cream, salt and pepper. Delicious!
INGREDIENTS
3 pounds Yukon gold potatoes, peeled and cut into small pieces
6 tablespoons unsalted butter
3/4 cup sour cream
3/4 to 1 cup whole milk
salt and black pepper
HOW-TO
1. Place the potatoes in a large pot and cover with water. Bring to a boil and add 2 teaspoons salt.
2. Reduce heat and simmer until potatoes are very tender, about 20 to 25 minutes. Drain the potatoes and return to the pot.
3. Add the butter, sour cream, 3/4 cup of milk, 1 teaspoon salt, and 1/2 teaspoon pepper to potatoes; mash until smooth (add the rest of milk if needed).
ELIANNA SABLE
I love getting into the Thanksgiving spirit for breakfast! So after I take or teach a Turkey Burn, I like to make a pumpkin pie smoothie! Here's my recipe:
INGREDIENTS
1 cup unsweetened vanilla almond milk
1 scoop of vanilla protein powder (I like Sun Warrior)
1/4 cup of pumpkin puree
half of a frozen banana
1 teaspoon of maple syrup extract (the taste of maple without the calories)
Pumpkin pie spice to taste
lots of ice
HOW-TO
Blend well then pour into a nice big cup! Top with extra pumpkin pie spice and a sprinkle of PB2 (powdered defatted peanut butter) or a little bit of peanut butter… and it's the best Thanksgiving breakfast ever!
JAMES LEWIS
There's a 'Candy Yam' dish that goes around at my Dad's. It's just sweet potato or a yam cut into thin slices, covered in honey, butter, brown sugar, pecans, and little salt and pepper, baked for 45 minutes at 350 degrees. Once you take it out, pop marshmallows on top and put it back in the oven, uncovered. Once it has a golden char and the marshmallows are melted nicely, take it out and DIG. IN.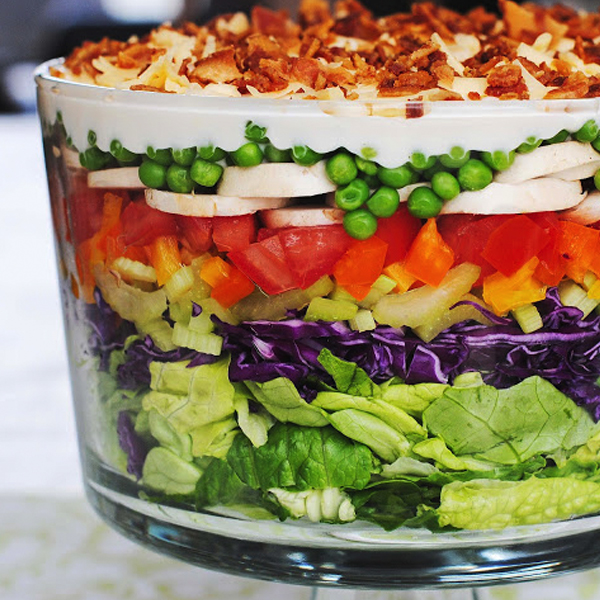 GUNNER
Growing up, my favorite Thanksgiving dish was my Grandma's Seven Layer Salad. Here's the recipe:
INGREDIENTS
1 head of iceberg lettuce
¼ cup chopped celery
10 ounce package frozen peas
1 tablespoon sugar
¼ cup peppers
¼ cup onion
1 cup miracle whip
4 to 6 oz mild cheddar cheese
Bacon crumbled
HOW-TO
1. Layer lettuce, peas, onion, peppers, celery, bacon bits and Miracle Whip twice. On the final layer, no miracle whip only grated cheese.
SAYRE MASTERS
Being pescatarian for 5+ years, Thanksgiving has always been less about the turkey and more about the SIDES! Here is one of my favorites: Holiday Roasted Brussels Sprouts and Butternut Squash. Not only is it delicious and easy to make, but its healthy, gluten-free, vegetarian, and packed with fiber! WOOHOO!
INGREDIENTS
Roasted Brussels Sprouts
3 cups Brussels sprouts
3 tablespoons olive oil
Salt to taste
Roasted Butternut Squash
Butternut Squash — Enough for about 4 cups cubed
2 tablespoons olive oil
3tablespoons maple syrup
1/2 teaspoon ground cinnamon
Other Ingredients
2 cups pecan halves
1 cup dried cranberries
2 to 4 tablespoons maple syrup (optional)
Instructions
Roasted Brussels Sprouts
1. Preheat oven to 400º F and lightly grease a foil lined baking sheet with 1 tablespoon olive oil.
2. After washing the Brussels sprouts, trim the ends, cut each in half, and remove any yellow leaves. In a medium bowl, combine the Brussels sprouts with 2 tablespoons olive oil and salt (to taste). Place cut side down onto the lined baking sheet and roast in the oven for 20 to 25 minutes. After the first 15 minutes, turn them over for even browning. The cut end should be charred but not blackened.
Roasted Butternut Squash
3. Preheat oven to 400º F and lightly grease a foil lined baking sheet with 1 tablespoon olive oil.
4. In a medium bowl, combine seeded and cubed (1 inch cubes) butternut squash with 1 tablespoon olive oil, 1/2 tablespoon ground cinnamon, 3 tablespoons maple syrup, and toss to mix.
5. Spread squash on the greased, foil covered baking sheet and roast in oven for 20 to 25 minutes. Rotate the cubes once during baking time so that they cook evenly.
Assembly
6. Combine Brussels sprouts and butternut squash in a large bowl with 2 cups Pecan Halves (sometimes I like to toast these too!), and 1 cup dried cranberries. VOILA! You can also add 2 to 4 tablespoons extra maple syrup for more sweetness — but make sure to add it slowly and test the sweetness as you go. Personally, I think it's perfect without. I like to save my sweet tooth for when it's needed most... PIE!!!
NINA RUTSCH
Sweet and Spicy Brussels Sprouts
HOW-TO
1. Preheat oven to 350
2. Rinse Brussels sprouts and cut into quarters
3. On a cooking sheet, drizzle 2 tablespoons of extra virgin olive oil, then add sea salt and cracked black pepper.
4. Place in oven for 15 minutes.
5. Remove and toss Brussel sprouts, then drizzle with honey and Sriracha.
6. Bake 15 minutes.
7. Eat!
JULIE ANNE QUAY
Chocolate Mousse! Here's my recipe:

INGREDIENTS
4 1/2 ounces bittersweet chocolate, finely chopped
2 tablespoons (1 ounce) unsalted butter, cut into pieces
2 tablespoons espresso or very strong coffee
1 cup heavy cream
3 large eggs, separated
1 tablespoon sugar
HOW-TO
1. Whip the cream to soft peaks, then refrigerate.
2. Combine chocolate, butter, and espresso in the top of a double boiler over hot water, stirring frequently until smooth. Remove from the heat and let cool until the chocolate is warm.
3. Once melted chocolate has cooled slightly, whip egg whites in a medium bowl until they foam and start to hold a shape. Sprinkle in the sugar and beat until soft peaks form.
4. Stir yolks into chocolate, then add in about one-third of the whipped cream. Fold in half the whites just until incorporated, then fold in the remaining whites, and finally the remaining whipped cream.
5. Spoon or pipe the mousse into a serving bowl or individual dishes.
6. Refrigerate for at least 8 hours.
CAT CROWE
A holiday recipe we love to make in my family is Apple Pumpkin Curry Soup! Seasonal and savory and whatnot, it consists of butter, onion, celery, apples, pumpkin, curry powder, heavy cream, honey, and chicken broth. Served hot and topped off with sour cream and pumpkin seeds. Here's a recipe:
INGREDIENTS
1 tablespoons butter
1 cup chopped onion
1 cup chopped celery
1/2 large apple, peeled, cored, and chopped
2 teaspoons mild curry powder
3 cups chicken broth
1 1/2 cups solidly packed pumpkin mash or canned pumpkin
1 whole bay leaf
1/3 cup heavy cream
2 to 3 tablespoons honey or maple syrup
Sour cream and pumpkin seeds for topping
HOW-TO
1. Melt butter in a pot. Stir in the onion, celery and apple. Partially cover the pot and sauté ingredients over medium-high heat until the onion is clear, about 8 minutes. Stir in curry powder and sauté the mixture for another minute. Stir in 1 cup of chicken broth and cook it for 1 minute more.
2. Pour the contents of the pan into a blender or food processor, add the pumpkin, and puree the soup until smooth.
3. Pour it all back into the pot, then stir in the remaining chicken broth, the salt, and the bay leaf. Set the soup over medium-high heat and bring it to a simmer, stirring occasionally.
4. After 5 minutes, stir in the heavy cream and 2 tablespoons of honey. Taste soup: add more salt or honey if needed.
5. Simmer 2 minutes more, remove the soup from the heat, and serve it hot.
6. Garnish with sour cream and pumpkin seeds.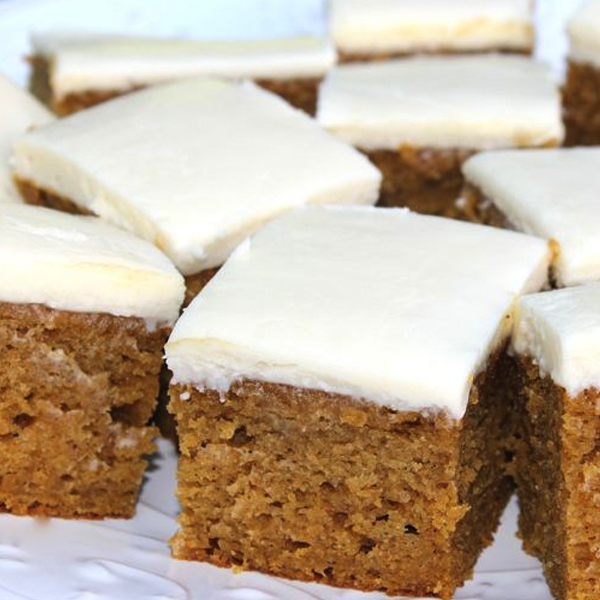 LEAH LIFE
Frosted Pumpkin Squares! Best. Dessert. Ever. Here's the recipe!
INGREDIENTS
Batter: 4 eggs, 2 cups sugar, 1 cup vegetable oil, 16 oz. pumpkin puree (1 can), 2 cups flour, 2 teaspoon baking powder, 2 teaspoon ground cinnamon, 1 teaspoon baking soda, 3/4 teaspoon salt.
Frosting: 8 oz. package of cream cheese, 1 cup butter (melted), 2 teaspoon vanilla extract, 4 cups confectioner's sugar.
HOW-TO
1. Preheat the oven to 350.
2. Use an electric mixer to combine eggs, sugar, oil and pumpkin until light and fluffy.
3. Stir together flour, baking powder, cinnamon, salt and baking soda.
4. Add the dry ingredients to the pumpkin mixture and mix at low speed until thoroughly combined and the batter is smooth. 5. Spread batter into a greased 13 by 10-inch baking pan. Bake for 30 minutes.
6. Allow to cool completely before frosting and cutting into bars.
To make the frosting, combine the cream cheese and butter in a medium bowl with an electric mixer until smooth. Add sugar and mix at low speed until combined. Stir in the vanilla and mix again. Spread on cooled bars.
BRENT LOCEY
Mashed potatoes are my favorite part of the Thanksgiving feast, but I like to infuse some cheese into them. I either add cream cheese of gouda to taste into the mixing bowl to give it a little extra punch.
MARTHA KAPLAN
My favorite Thanksgiving recipe is Roasted Rosemary Sweet Potatoes. Here's how to make it:
INGREDIENTS
3 medium sweet potatoes, cubed
3 fresh rosemary branches, chopped
2 garlic cloves, chopped
1/4 teaspoon sea salt
1/4 teaspoon fresh ground pepper
3 tablespoons of olive oil
HOW-TO
1. Mix potatoes and ingredients in a plastic baggie or bowl.
2. Place in baking dish and bake at 400 degrees for about 25 minutes.
3. Remove from oven and toss with spatula. Bake for another 25 minutes. ENJOY!
JOYCE FRANCO
I love making mulled wine. Here's how I do it:
INGREDIENTS
4 cups of apple cider
1 bottle of red wine
1/4 cup honey
2 cinnamon sticks
1 orange, zested and juiced
4 whole cloves
3 star anise
HOW-TO
Combine all the ingredients in a pot, bring to a boil, and then simmer over a low heat for 10 minutes....and it's ready to serve!
Easy to make, warm to drink, and super festive!
Happy Thanksgiving, SoulCyclists! Questions or comments? Email blog@soul-cycle.com! Want to ride at SOUL? Grab a series HERE and book a bike.
MORE FROM SOUL