17 Instructors Share Their Healthy Post-Workout Meals
December 9, 2015
eed some ideas for what to eat post-workout? 17 instructors give us a peek at the healthy foods that pile their plates.
TIFF CHEN
I'm a huge fan of acai bowls! Acai berries are packed full of antioxidants. They boost the immune system and energy, and they help promote healthy digestion. I love adding a little bit of peanut butter, topping with a favorite fruit and a bit of granola and honey, and I'm good to go!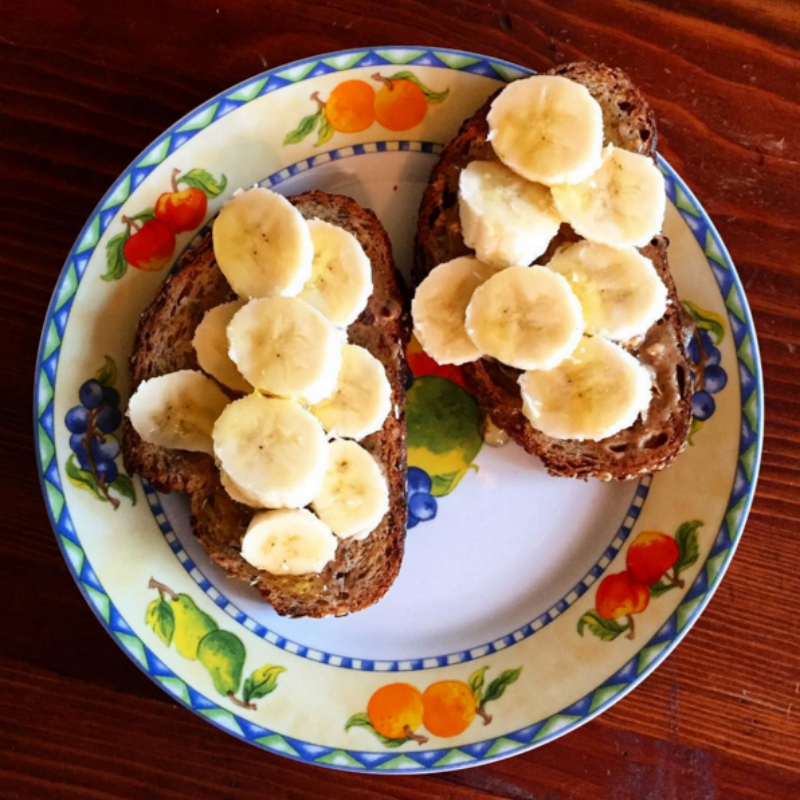 KATHLEEN KULIKOWSKI

I've been trying to remove protein or granola bars from my diet. This is a simple solution and really easy. Whole grain bread, almond butter, banana, and a little bit of honey. It's also a great pre-workout option.
AYA MURAMATSU
This recipe is super-easy to make and it's a great post-workout meal that fuels me for the day! Here is the recipe:
Combine:
Rolled oats
1 egg over easy (or sunny side up, whatever you prefer)
Shredded cheddar cheese
1/2 an avocado
Hot sauce
Add salt + pepper
Done!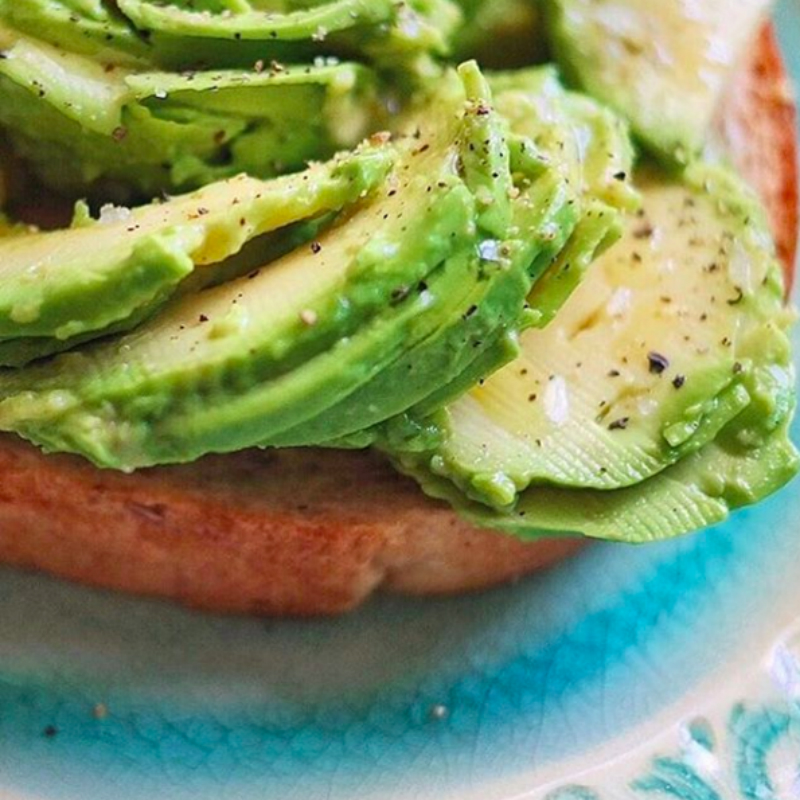 ALLI FORSYTHE
There is nothing I love more than avocado toast. If there is one thing that could MAYBE replace pizza, it would be a good slice of fresh, whole grain bread with crushed avocado, chives, red pepper, a little bit of salt and olive oil. Healthy fats and whole grains are good fuel. The coffee, that can never be replaced! And if it's brunch, there better be a mimosa!
ALEX KANTER
Right now I'm obsessed with the tropical paradise acaí bowl from Equinox D.C. It's my fave sweet treat and it's a great option when I need a little extra fuel!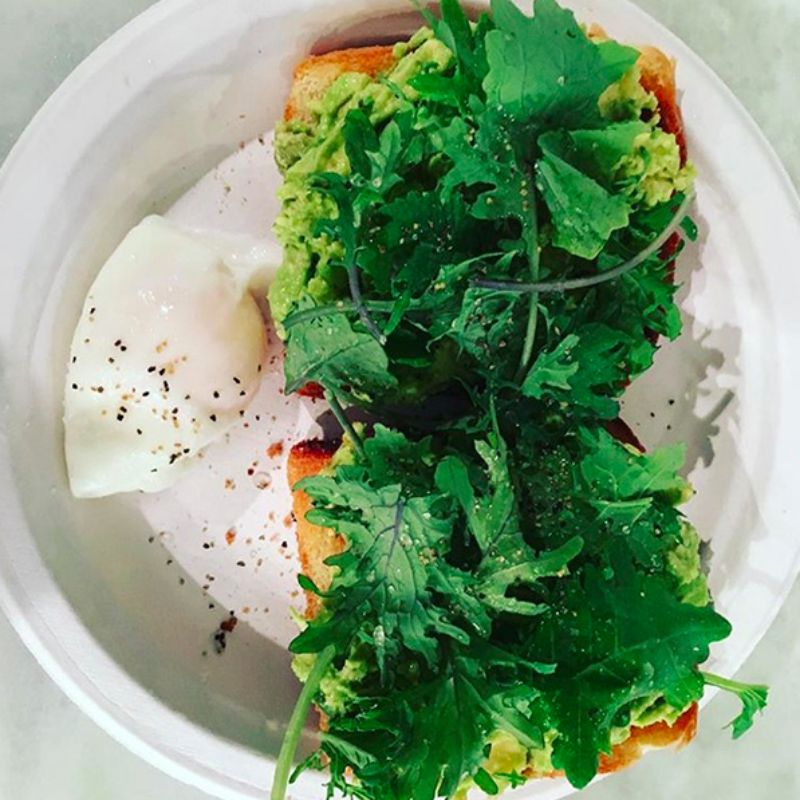 JANINE CRECCO
This is my staple meal after basically every morning SoulCycle class. Avocado toast topped with kale and a squeeze of lemon with a poached egg on the side. The bread gives me the fast-digesting carbs I need to spike glucose for muscle recovery along with the "good fats" avocado and protein from the whole egg (yolk and all!) which are necessary for healthy bodies in constant motion… shocking I know. Nutritionally, it's on point, but really I eat it every day because it's DELISH!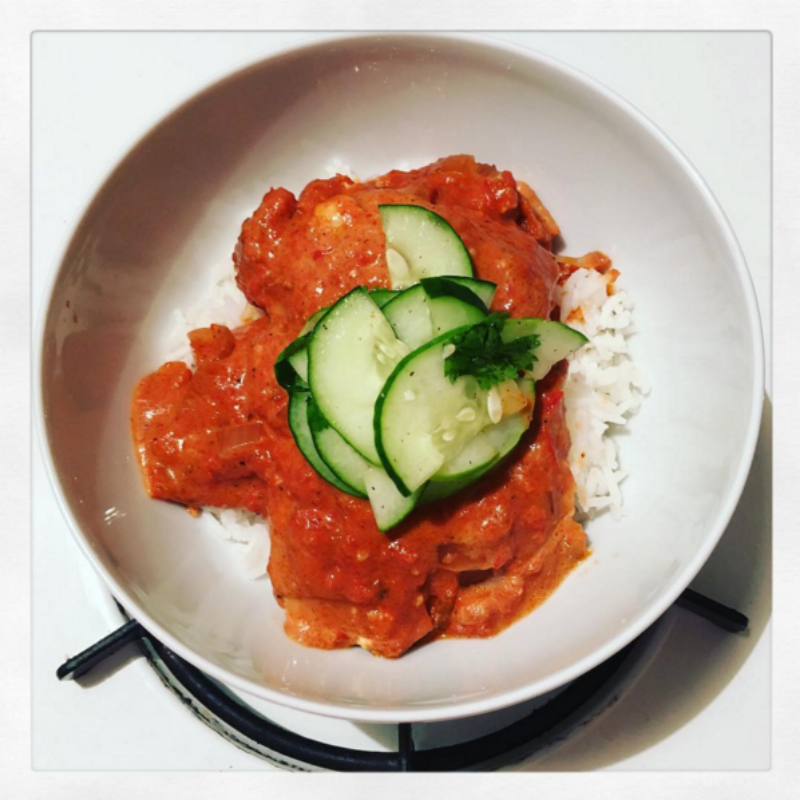 SAL SABELLA
My boyfriend is such an amazing cook that I was inspired to take some chances in the kitchen myself. I bought a crock pot because I thought… what could go that wrong with a crock pot? This chicken tikka masala with a cucumber cilantro relish is my second creation... and it was so delicious! I've realized that my fear of failure — or burning the apartment down — was keeping me from creating something delicious and amazing. And now that I've tasted success, I'll be doing a lot less eating out... like only 4 nights a week now.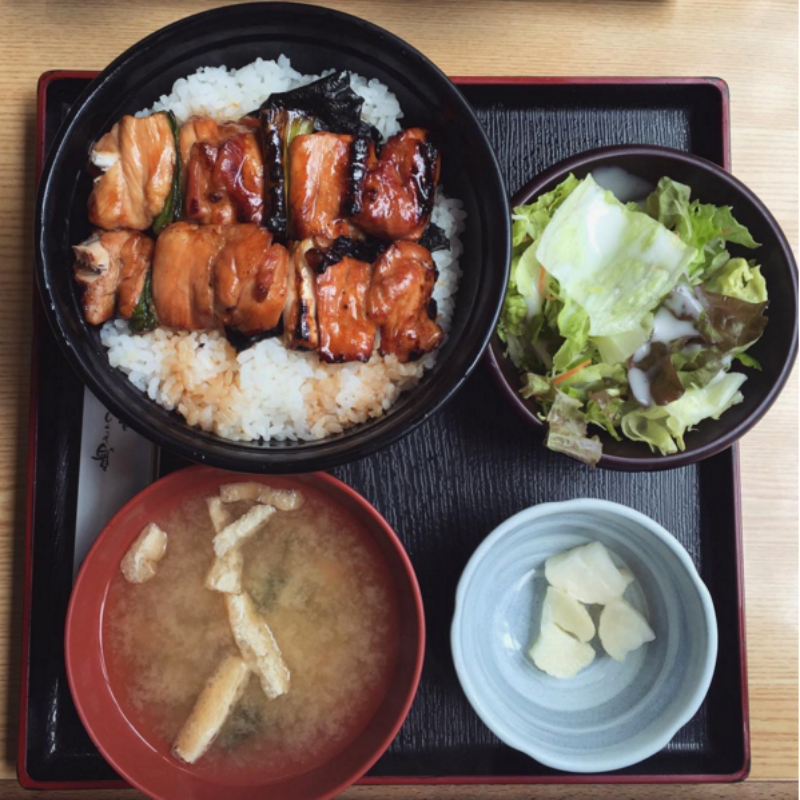 ERIN THOMAS
This is Japanese yakitori from a restaurant in Tokyo. Yakitori is Japanese style chicken skewers. I love it because 1.) I love all Japanese food! I crave the flavors. 2) It is quick, easy, and hot — a perfect on a cold day and 3) protein! Apparently protein is a good thing for those of us who work out 15 times per week. Side note: some really good Yakitori in NYC is at Bar Chuko in Brooklyn!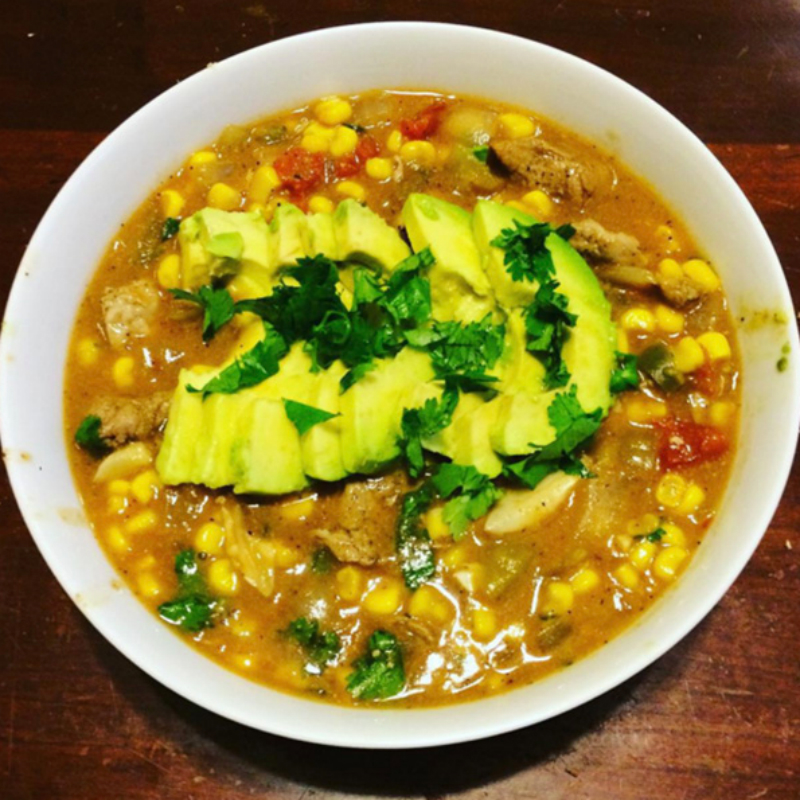 BRENT LOCEY

This is Mexican Pork Stew with Salsa Verde. The end of fall/start of winter is the perfect time to warm up with some soups and stews. I really like making this one because it packs great sources of protein and has a nice spice kick to it.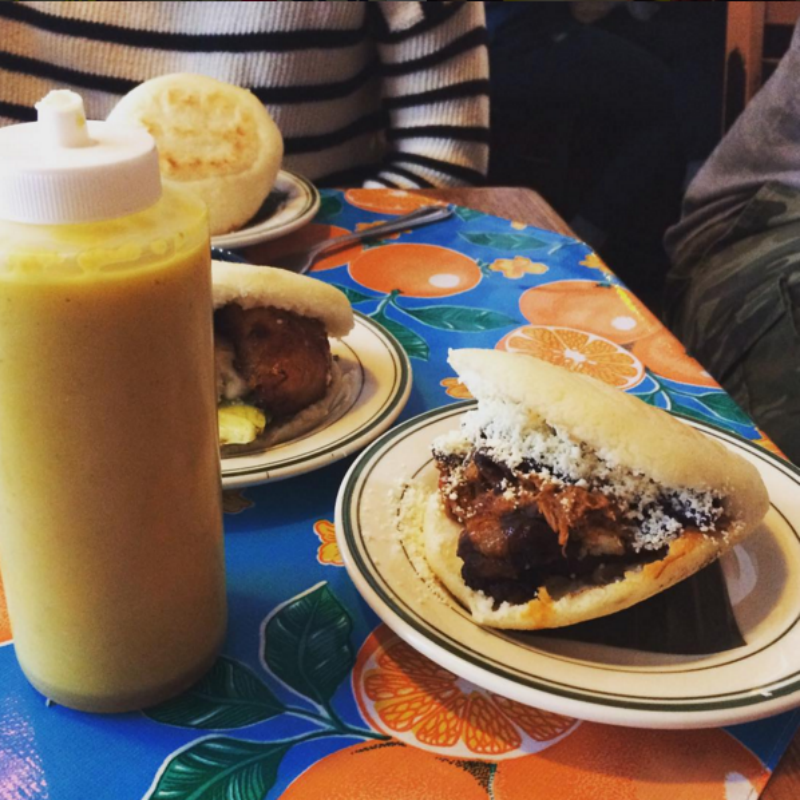 STEPH PETERS
One of my favorite meals of all time is an arepa from a restaurant in NYC called Caracas. It's a Venezuelan cornmeal patty filled with things like marinated shredded beef or chicken, beans, cheese and plantains. The secret sauce is insanely good too. It fills you up after a hard class and tastes SO AMAZING! I miss eating these all the time since we don't have a Caracas in San Francisco!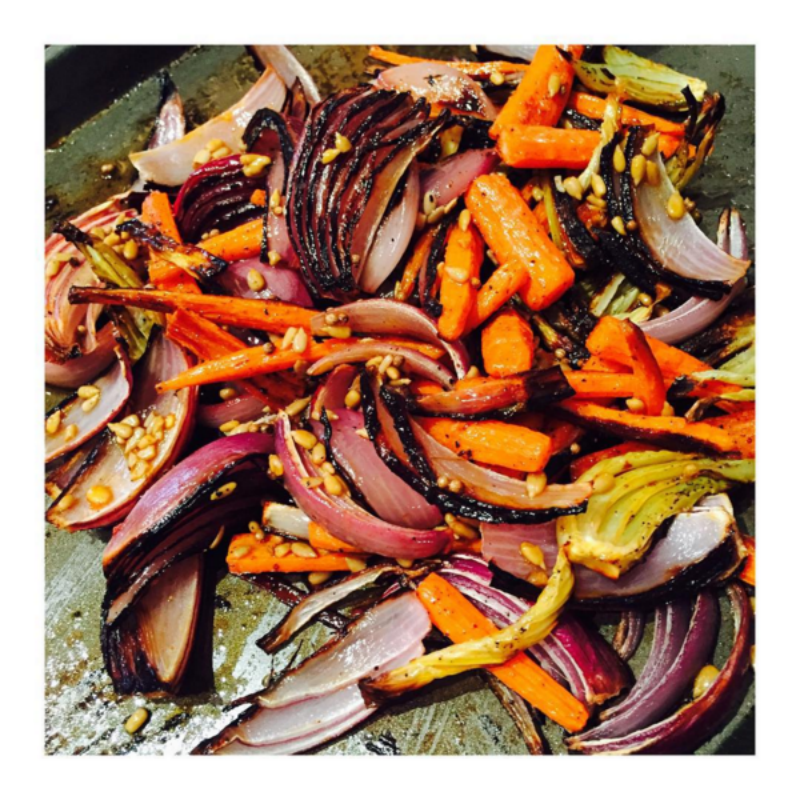 MADELEINE STARKEY
This was my contribution to Thanksgiving this year. As a vegetarian, I'm always asked to prepare the side dishes (read: veggie option) and this was roasted carrots, red onions and fennel in a paprika red wine vinaigrette. To bring out the flavor in the fennel (an awesome vegetable for roasting), I simmered some raw sunflower and coriander seeds in the olive oil that I ultimately used as the base for the vinaigrette. I love the smokiness from the paprika to round out the natural flavor of roasted vegetables.
JENNY CANALES
This is pan seared salmon and farro salad with Brussel sprouts and apple! I've been getting Blue Apron delivered after [Master Instructor] Sue Molnar sent me a free trial week and I love it! I've been learning how to really cook delicious meals, spending far less money than eating out, and my home feels nice and cozy.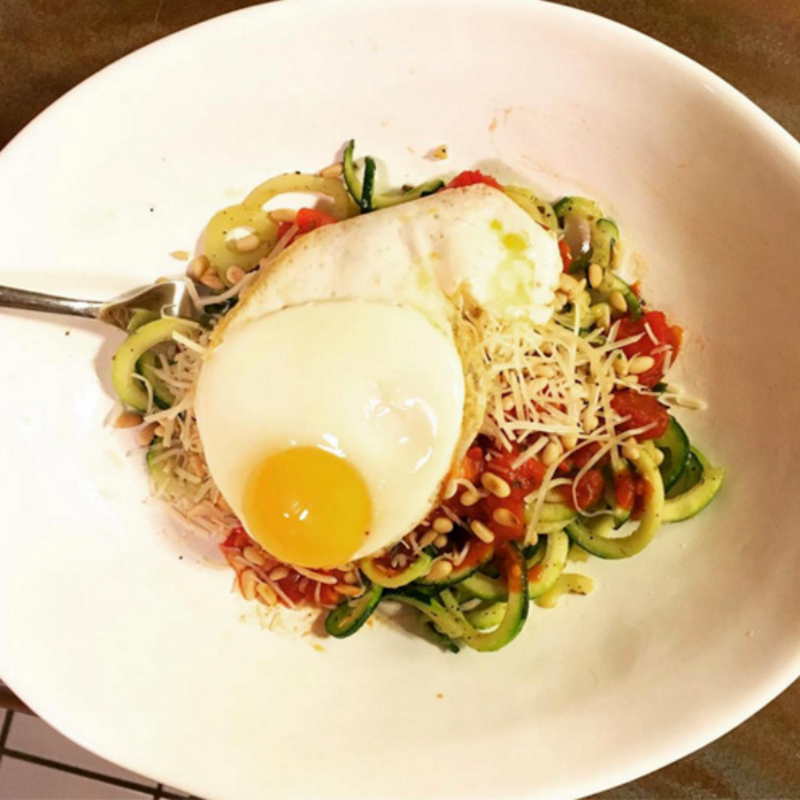 KRISTA BONURA
I made zucchini pasta with tomato sauce. For crunch I toasted some pine nuts and made a sunny side up egg for protein. Super-filling and delicious.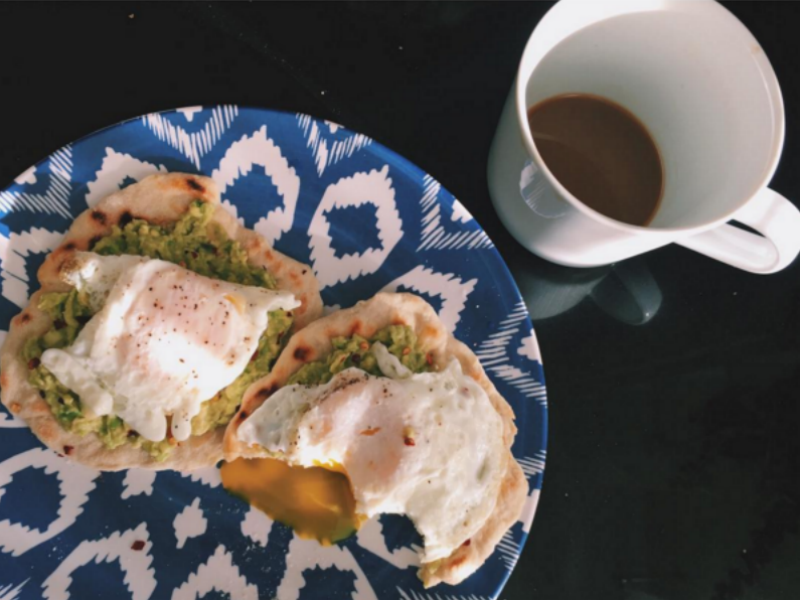 BEA DEL ROSARIO
My favorite breakfast is also quick and easy. Avocado toast with an over easy egg! For this version, I made homemade flour tortillas because I didn't have any bread that morning. I make my avocado simply with salt and pepper, a squeeze or lemon or lime wedge and red chili flakes.
SELENA WATKINS
This is a breakfast of champions! Not my everyday meal, but what I would eat on a day I'm riding three to four times. I love avocado for taste and because it has healthy fat. I like to spread it on my toast instead of jelly. Eggs are a great source of protein as well as the meat inside. Omelets are the bomb! The other stuff on my plate was just a treat!
ALLIE FELL
This is whole wheat toast with almond butter, blueberries, and half of a banana. It's packed with protein and fills me up after my morning double!
JAMIE GLASSMAN
My friend took my to By Chloe the other day and it was amazing. It's an all vegan restaurant in Greenwich Village. This is a picture of our Taco Salad. SO GOOD
Questions or comments? Email SOULlife@soul-cycle.com! Want to ride at SOUL? Grab a series HERE and book a bike.