14 Quick and Healthy Smoothie Recipes
September 25, 2015
ourteen instructors reveal recipes for their favorite smoothies, perfect for an easy breakfast or post-ride refueling. Tap back and drink up!
ANANDAH CARTER
I make a Berry Protein Bash Green Smoothie. Protein burns slower than carbohydrates, so adding it to smoothies helps prevent blood sugar spikes and hunger pains! I blend together in a Vitamix:
1 cup spinach, fresh
1 cup almond milk, unsweetened
1/2 cup strawberries
1/2 cup blueberries
1/2 banana
1 scoop whey protein
A few ice cubes
TIM MCGARRIGAL
I make a smoothie every morning! I blend together:
1 1/2 cups of almond milk
1 cup of blueberries
5 or so strawberries, sliced
Peanut butter
1 whole banana
1 handful of spinach and/or kale
1 scoop of Vega One Protein powder
LIAH MALLEY
My go-to smoothie recipe is:
Blend together:
1 cup almond milk
1 banana
1 tablespoon of peanut butter or almond butter
1 tablespoon of cocoa powder
1 scoop of chocolate protein powder
5 cashews
4 ice cubes
SUMNER WELDON
I make my smoothie with kale, banana, blueberries, almond butter and almond milk
BRENT LOCEY
My favorite smoothie recipe is:
1 banana
1 cup frozen mixed berries (strawberries, raspberries, blackberries, blueberries)
1 scoop Vanilla Whey Protein Powder
1 Tablespoon chia seeds
Saturate ingredients with Pom Juice, then blend and drink!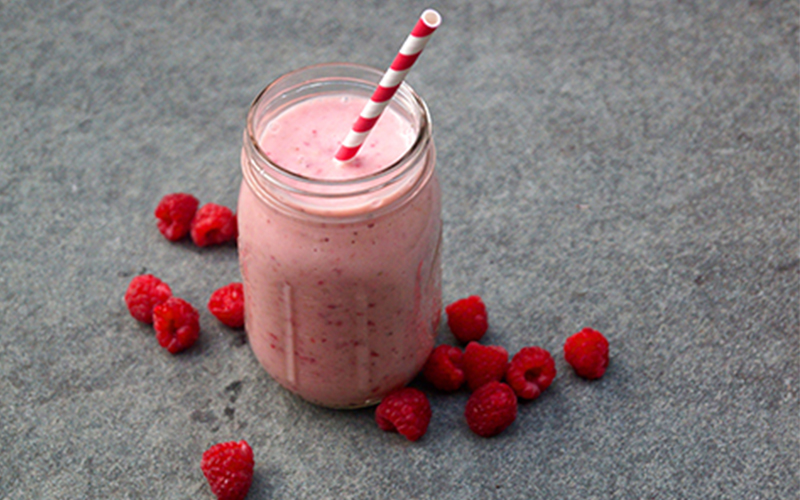 PAULA MARKEY
I love making smoothies! Here's my go-to recipe:
1/2 cup frozen bananas
1/2 cup frozen blueberries
1/2 cup frozen strawberries
1 cup fresh kale or spinach
2 cups almond milk
2 tablespoons chia seeds
2 tablespoons almond butter
I don't always measure out the ingredients! I just kind of throw things in there and it's always delicious!
ANTHONY FRANJOINE
Peanut butter
A Scoop or two or protein (depending on physical life that day)
Almond milk
Half of a banana
Blueberries or mango chunks
Raw oats for my carb moment
Blend and voila!
NAZ SANDERS
Smoothie bowls are the best! I make mine with:
1 frozen banana
1/4 cup frozen blueberries
1/2 avocado
1 handful of almonds
Hemp Protein Powder
1/2 cup almond milk (add more if the smoothie's consistency is too thick)
Top your smoothie bowl with sliced black mission figs, chai seeds and hemp seeds.
ERIC BOURNE
My go-to smoothie consists of bananas, almond butter, alkaline water and chocolate whey protein. With two or three classes a day, I need the alkaline water to balance my body, bananas for the potassium, and the protein to nourish my muscles throughout the day. Also, with all the cardio, my body's metabolism needs as much protein as possible.
ASHLEY ROE
My go-to smoothie is 100% vegan and coconut lover certified. I blend together acai, frozen blueberries, coconut meat, coconut sugar, vegan vanilla protein powder, almond butter, almond milk, and frozen spinach! It's so yummy!
JAMES LEWIS
I like to make things as quick and easy as possible. Hectic schedules can be another reason to not eat as healthy, but with this quick recipe anyone can do it in NO time! I buy all the ingredients from Trader Joe's, and call it the PB&J!
1 Tropical Blend Frozen Fruit Package
1 Frozen Blueberries & Raspberries Frozen Fruit Package
Strawberry or Coconut Greek Yogurt (2 scoops)
Any 100% Fruit Juice (your choice — apple, orange, pineapple, etc.)
Peanut butter
Any protein or health food/vegetable that you've been skimping on! Throw it in the mix, you won't even taste it!! :)
Green Tea (optional)
Add all of these ingredients in the blender. Pulverize until you can see the texture you want the smoothie to be, then drink up! It's the best way to get all that you need for your day in the quickest amount of time. Enjoy!
ALEX KANTER
I like keepin' it simple with crushed ice, banana, almond milk and a little whey protein!
JARED LEE
It's not technically a smoothie but here is my green juice recipe:
Kale
Baby spinach
Cucumber
Granny Smith apple
Ginger root
Orange juice
LANCE MOONEY
A fall smoothie for the change of season.
1 cup almond milk
1 red apple
1 pear
1 teaspoon honey
2 teaspoons cinnamon
2 tablespoons almond butter
dried cranberries
Blend until smooth and top with the dried cranberries.
Questions or comments? Email blog@soul-cycle.com! Want to ride? Grab a series HERE and book a bike!