14 Drinks to Warm You Up This Winter
January 14, 2016
Cold weather has finally struck, so we asked our instructors to share their favorite seasonal drinks that keep them warm all winter long…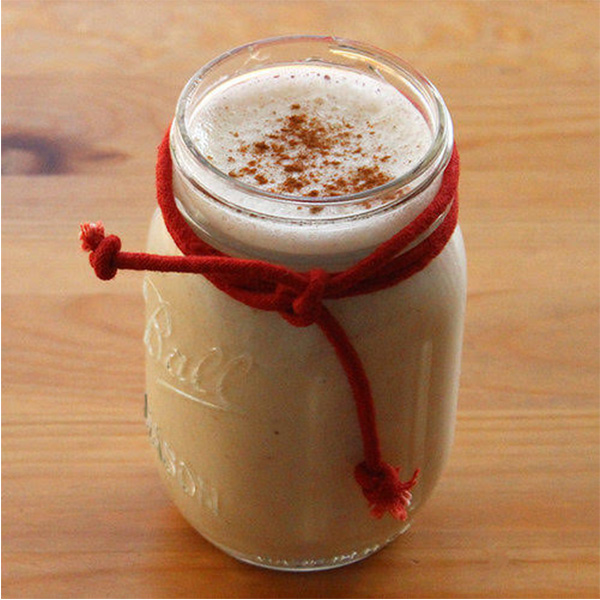 JENNA GUADAGNI
I'm obsessed with a raw, vegan, No-Egg Nog.
½ cup raw almonds (soaked overnight)
1 ½ cups almond milk
2 frozen ripe bananas
1 pitted date soaked for about an hour
¼ tsp natural pure vanilla extract
¼ tsp ground nutmeg
¼ tsp ground cinnamon
pinch ground cloves (literally a pinch!)
pinch of sea salt
NICK SPADARO

I do enjoy a nice hot toddy around the holidays. It really warms me up in the cold weather.
ANDREA TUCKER
I love to drink tea (never coffee) all day long — especially on rooster mornings! Lately I have been drinking Electric Lemonade from David's Tea. It's a fruity green tea that I enjoy straight-up (no milk or sweetener) that has both a caffeine kick and satisfies my sweet cravings.
I just recently bought a teapot with a bottom dispenser. It makes steeping loose tea so easy. I bought mine at a tea store but they are available on Amazon and come in different sizes. When the tea is ready, you place teapot over your cup and tea drains from bottom and the mesh filter keeps your leaves out of your mug.
CIARA WILLIAMS
Since I was young, my grandma would make cinnamon tea to warm us up, and now I make it myself! I bring 2-3 cinnamon sticks in water to a boil, then let it simmer on the stove for 5-10 minutes depending on how patient I am. I pour it into a mug and sometimes add a little almond milk. It's heavenly to drink and makes my apartment smell wonderful, too!
ROSS DAYS
Moroccan Mint Tea from Toby's Estate, a Dirty Chai (Chai Latte with a shot of espresso), or lemon, honey and hot water!
DANIELA DIB
Chai tea latte with soy milk from Starbucks!
WILLIE HOLMES
When I lived in New York, I found myself sniffling A LOT. As a result I grew very fond of the hot toddy very quickly.
I combine:
Half of a lemon,
honey,
1 cinnamon stick
1 ounce of bourbon
Tea bag (I prefer peach flavored greet tea). Pour hot water (not too hot) to fill and enjoy!
AMANDA KAMM
A chai latte! And if I'm not recovering from (or prepping for) class, a whiskey on the rocks!
COLE WILLIAMS
I love hot unsweetened cider with fresh ginger and molasses.
BEA DEL ROSARIO
My favorite healthier, wintery drink would have to be organic spiced apple cider!!! I love it by itself or try it chilled with sparking rose or kombucha mixed in. COLD? Try it served warm with a splash of rum and a cinnamon stick. Delicious!
AUSTIN COPE
My favorite winter drink is always a Double Tall Cappuccino from Starbucks!
SARA SILK
I'm a huge fan of hot green tea! It gives me a little jolt of energy from the caffeine, but not too much that I drop after (like coffee), and I usually add some honey to it to help my throat and vocal chords!
Questions or comments? Email blog@soul-cycle.com! Want to ride? Grab a series HERE and book a bike!
MORE FROM SOUL