13 Paleo Breakfasts to Power Your Day
May 18, 2016
hether you're digging the caveman diet or just looking for some fresh ideas for your morning meal, check out 13 healthy Paleo breakfasts that power our instructors day after day…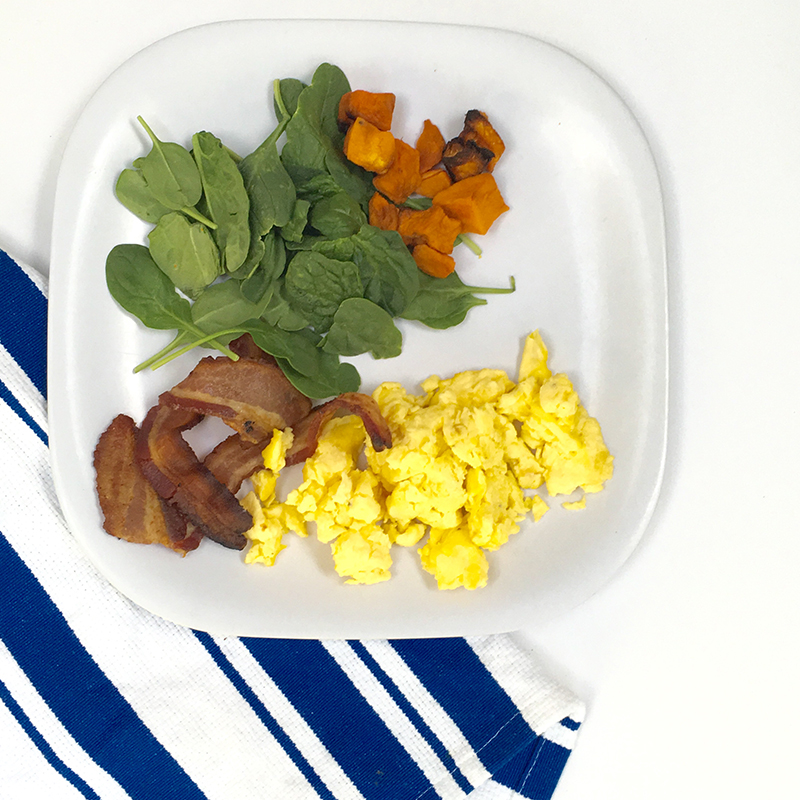 ELLE CASCINO
It starts with the Paleo basics...
Eggs and bacon!
Eggs: Cage free organic fried over easy in organic coconut oil! Season with sea salt and pepper.
Bacon: Un-cured, no sulfite-added bacon! Fry it all by itself.
Side: Sweet Potato Hash browns
Peel an organic sweet potato and shred using the large holes on a cheese grater or use a mandolin! Put shreds in the microwave for a minute or two to soften.
Sauté chopped organic sweet white onion and fresh organic red pepper in coconut oil or clarified butter on low heat until onion is clear.
Once the onion and peppers are cooked, add the sweet potato shred, mix together, kick the heat up to medium/high and let cook till crispy on one side. Then flip and cook until the other side is too!
Brunch beverage: "Kind of" Paleo 007
Booze is NOT Paleo. But what is brunch without booze?!?!
1.5 oz Titos Vodka 1
1 oz fresh squeezed organic Orange juice
1 oz San Pellegrino sparkling water
Combine over ice… slam!
J. LEE
I love making eggs and a sweet potato hash. I use my Veggetti spiralizer to make the hash!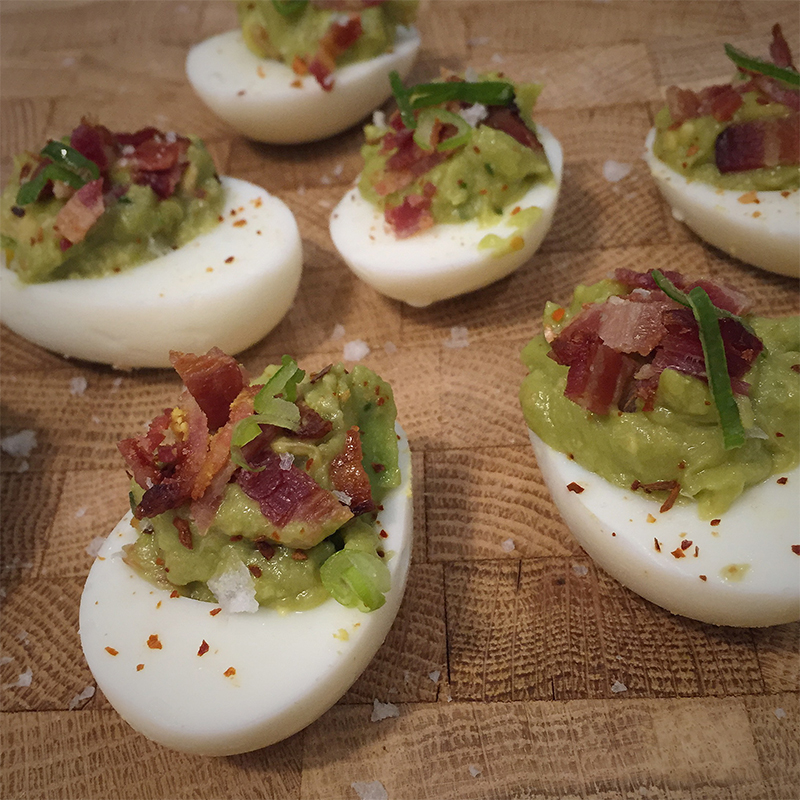 JULIANNE MULVEY
I love to cook, but I also am incredibly busy on the weekends with three sports-obsessed kids and the insanity that comes with that. We like to squeeze in having people over as often as possible in between practices and games, so I have a few simple go-to recipes that are ridiculously easy to make. Both of these recipes are Paleo, but you could definitely add cheese to the muffin recipe if you want:
Guacamole Eggs with Candied Turkey Bacon
This is more assembly than cooking. Hollow out the yolk of hard boiled eggs and fill with guacamole then top with crumbled turkey bacon that you have drizzled with Maple Syrup prior to broiling. WHEN I really want to get fancy, I add lump crab meat on top of these as well. Season with crushed red pepper, sea salt and scallions.
Omelette "Muffins" with Chorizo and Veggies
Mix together 8 eggs, 2 tbsp water, 5 ounces of diced and cooked chorizo (lean turkey breast works too), 1 cup diced red pepper, 1 cup diced onion, 1/2 cup of shredded spinach, 1/4 tsp salt and 1/8 tsp black pepper. Pour into muffin cups and bake for 18-20 minutes at 350 degrees. This recipe is incredibly flexible. You could really throw just about anything you want in there veggie-wise! As an added bonus, you can also freeze the "muffins" and reheat them for sleepy kids on school days — or yourself on early mornings!.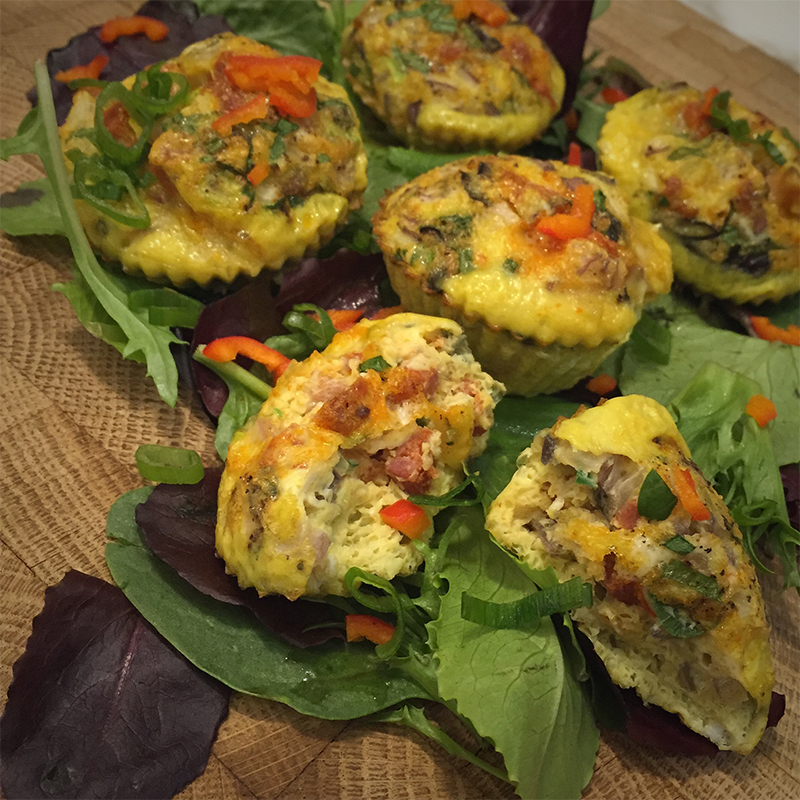 CAT CROWE
My favorite Paleo breakfast is a scramble with eggs, tomato, chicken, ham, peppers and onions! I first had it whilst brunching at Breadwinners in Dallas and it's now my favorite breakfast in the world - the fact that it's Paleo is a bonus!
SAM SCAFFIDI
My go-to Paleo breakfast is bacon, eggs and sweet potatoes. If I'm out, I can order this nearly anywhere, but my favorite spot for all meals Paleo is Hu Kitchen! Also, overnight chia seeds with coconut milk are amazing and easy to make!
GARRETT SCHOLSSER
My favorite healthy Paleo breakfast is the Energy Breakfast from my favorite restaurant Commissary. It's a mix of egg whites, spinach, mushrooms, tomatoes and grilled chicken, and it's YUM YUM YUMMMYYYYY!
OLIVIA AMATO
I love the Paleo Primal Breakfast Sandwich from HU Kitchen. It's organic egg, pork sausage, organic kale and house-made ketchup on Paleo/ grain free HU bread. It's really good and satisfying while not being too heavy or greasy.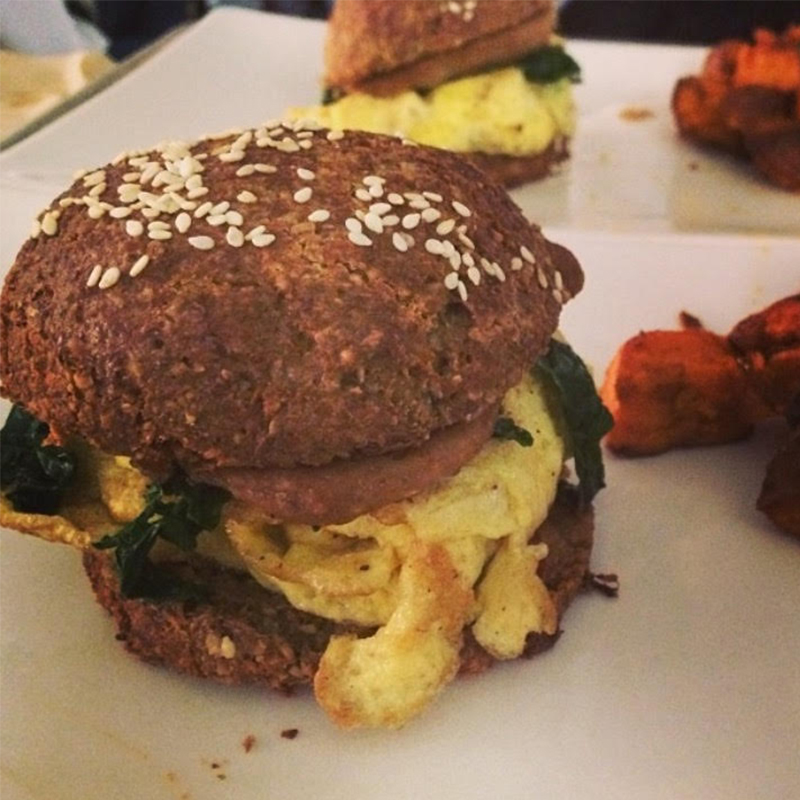 NINA RUTSCH
A smoothie of almond milk, coconut water, ice, almond butter, chia seeds and frozen blueberries, raspberries and strawberries! It's hydrating, full of fiber and protein, and it's light enough to have before morning classes and tastes like a PB&J! And of course, I take my coffee strong — Americano with a touch of soy milk.
Questions or comments? Email SOULlife@soul-cycle.com! Want to ride? Grab a series HERE and book a bike!