13 Instructors Share Their Protein Bar Picks
May 28, 2014
Protein bars are an easy way to fuel up fast, but with so many options, how can you choose what's best for your body? We asked 13 SOUL instructors to share which ones they grab on the go…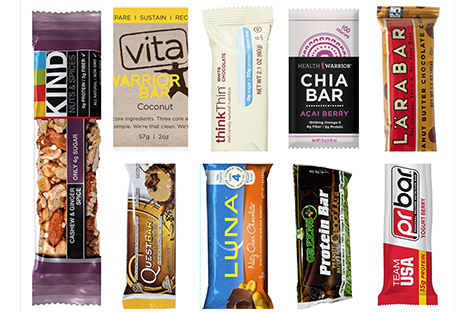 My favorite protein bar is the Quest Protein Bar.... preferably the chocolate peanut butter flavor. It's the perfect post-workout snack because it has 20 grams of protein and less than 2 grams of sugar! It's a perfect snack when you're craving something sweet!
AMANDA MAX
I'm a LARABAR Peanut Butter Chocolate Chip girl. It's made of actual food (dates, peanuts, unsweetened chocolate chips, etc... It's also a non-GMO product, gluten Free and it's yummy!!! I always have one in my bag for when I'm running in and out of classes.
MOLLY SCHREIBER
Luna Bars in Nutz over Chocolate or Lemon Zest. They feel lighter than other bars to me so I don't feel weighed down while I teach.
MIREYA D'ANGELO
Chia Bars! They come in several flavors; my favorite are coconut and acai berry. It's only 100 calories so it's a perfect snack and it gives you an incredible amount of energy. I tend to have half a bar in between classes when I teach a double. I'll have an entire bar as a snack with a small green juice, thus having a total of approximately 150-160 calories. The only negative... some chia seeds get stuck in your teeth so ! always check in the mirror before going back to teach class!
ROGER SMITH
Quest bars are great. I love the way they taste and the lack of sugar.
LOVE
If I eat a bar it's usually a Kind bar. Fruit & Nuts or the Ginger Spice Cashew.
CHRISTINA PEARSON
I love the Vita Organics' Warrior bars from Vita Organic Foods in Summit, New Jersey. There is absolutely no filler and nothing to hide in these bars. PLUS, they are made by Short Hills rider Jen Meister! You can get these at their store in Summit or at several Whole Foods locations. LOVE.
MANDY BROOKS
My favorite protein bar is the Luna Protein Chocolate Peanut Butter bar! It has 12 grams of protein, and it's gluten-free and absolutely delicious!
LAURA THOMAS
I love Larabars or PR Bars... Great flavor, lots of nutrients but not too filling so they're ideal between workouts. Plus most are gluten free!
ERIKA SHANNON
I love the Coconut Warrior Bars from Vita Organics in Summit, New Jersey. Owner Jen Meister rides in my classes and I'm totally hooked on those (and the peanut butter ones are great too). They are super-satisfying without being chalky or heavy like a lot of bars.
PIXIE ACIA
I'm actually not a fan of bars. I feel like if it can live that long in a bag, it's not good for me. I'll grab real food first or a Kind bar with no dairy.
CHRISTINE D'ERCOLE
I LOVE Greens Plus Protein Plus Chocolate bars.
ZACK HELD
A thinkthin white chocolate bar has a ton of protein.
Questions or comments? Email blog@soul-cycle.com!