11 Simple Hacks to Make Meals Healthier
November 4, 2015
ooking for easy ways to make a hearty meal even healthier? 11 Instructors share some simple hacks they swear by...
I'm a big fan of breakfast, namely breakfast sandwiches/toasts. Instead of something like a bacon, egg and cheese on a bagel (which I love) I sub out the bacon for something like avocado or tomato, and the bagel for whole wheat toast. I feel like I'm eating a hearty breakfast sandwich, and its filling, but without all the empty calories.
I make a great scramble with tofu instead of using eggs. I use a block of tofu (firm or extra firm), turmeric, a pinch of cayenne, salt and pepper, with either a little bit of Earth Balance butter alternative or a mild flavored oil like safflower or sunflower to lightly cover the pan I am using. Extra or just firm tofu crumbles up and cooks with all the spice looking very similar to scrambled eggs. One egg has the same amount of cholesterol as one Big Mac (it's in the yolk!) so it's nice to switch it up and have a tasty alternative to one of our favorite morning yummies. There are so many ways to use fresh herbs and spices to flavor it — even garlic is great to throw in — and turmeric gives it the yellow color like scrambled eggs :)
My husband and I LOVE Italian food, and a great way to make it a little healthier is spiralizing vegetables! I love to use my spiralizer on zucchini and squash with a fresh tomato sauce just like you would put on regular pasta!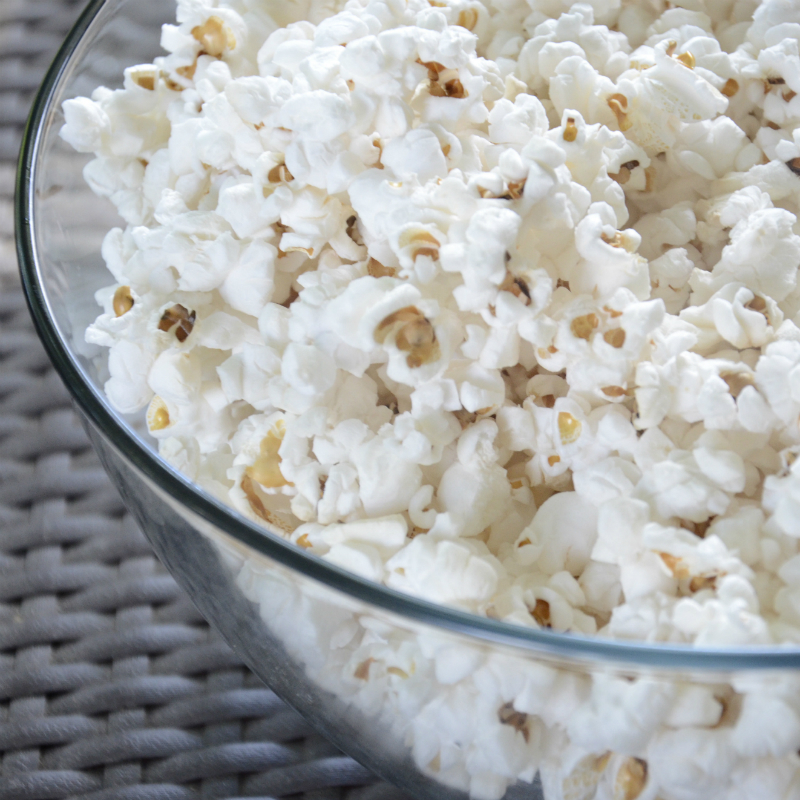 Occasionally I splurge on a giant bowl of movie-theatre style, cheesy popcorn. But when I'm looking for way to satisfy my craving with less guilt, I use my Orville Redenbacher air popper. Spray olive oil to coat, then mix with pepper
and parmesan. Simple, yet effective.
I have a major thing for frozen bananas!! They are an amazing alternative to ice cream. Cut up ripe bananas and store in the freezer. When it's ready to use, put one banana in food processor and pulse until it comes to a creamy consistency. Add some honey, almond butter or peanut butter for a little added oomph! It's super creamy and feels decadent while still healthy.
I go lighter on the cheese while making the ever-so-comforting food that is the mighty nacho plate.
When I'm craving spaghetti, I like to make zucchini noodles instead of using pasta. Throw on your favorite sauce and BOOM!
I put strawberries and bananas in peanut butter and jelly sandwiches.
My comfort food is pasta! And though I don't really feel you get the exact same experience, I use a spiralizer to make zucchini noodles as a spaghetti noodle replacement. I'm able to eat zucchini "noodles" often and feel less guilty about the amount of cheese I put on top!
I love pasta, and to make it healthier I just ADD instead of subtract. Rather than switching to whole wheat or gluten-free pasta or some other nonsense, I throw in a bunch of vegetables. It builds out the amount of pasta I eat by adding a lot of good things in.
There is nothing better than CHEESE and crackers! Swap out the crunch of the crackers with fresh cut apple slices and you won't only save up on calories but a TON of unneeded sodium!
Questions or comments? Email SOULlife@soul-cycle.com! Want to ride? Grab a series HERE and book a bike!