11 Instructors Share Their Healthy Meals
August 12, 2015
Looking for some healthy ways to fuel up? Take a peek at what 11 SoulCycle instructors are eating right now…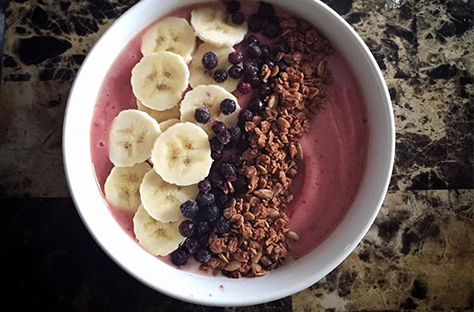 BEA DEL ROSARIO
Smoothie bowls! Exactly what it sounds like: smoothie in a bowl. I made this at home with frozen cherries, blueberries, bananas and acai berries. You can use store-bought frozen fruit or I like to freeze mine for things like smoothies or a cold snack. Consider adding avocado or leafy greens into the mix as well. In a blender (the Ninja is amazing!), add 1/3 cup or one scoop of raw, vegan, allergen-free, plant protein powder and almond milk. Blend until smooth and top with your favorite healthy toppings (coconut, more fruit, nuts, granola, nut butter). Great for post-SoulCycle recovery eats! This takes your smoothie to the next level and creativity flowing, and even better… it's like having an ice-cream sundae. This is my go to meal between two classes before noon.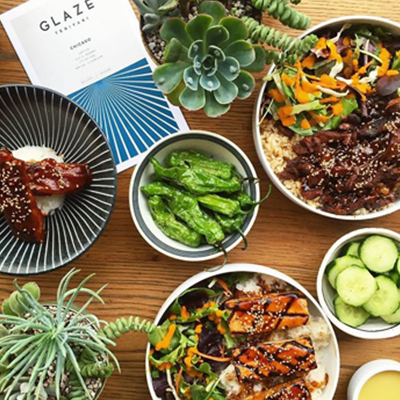 HALLIE WILSON
GLAZE Teriyaki Grill — a New York City staple that just opened in Chicago — is my new post-class go-to. Everything on the menu is fresh, natural and totally customizable. It strikes the perfect balance between sweet and savory!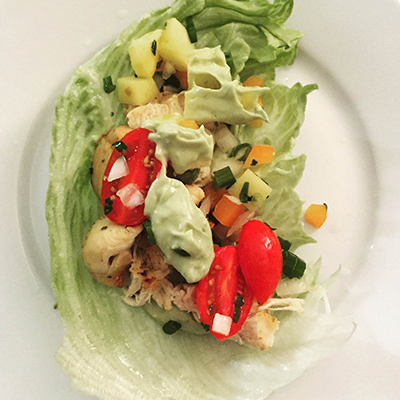 RYAN PIGNATIELLO
Cayenne Chicken Lettuce Tacos! Grilled chicken with tomatoes, grilled pepper and pineapple salsa and a homemade Avocado Lime Cilantro crème, all on a lettuce taco shell!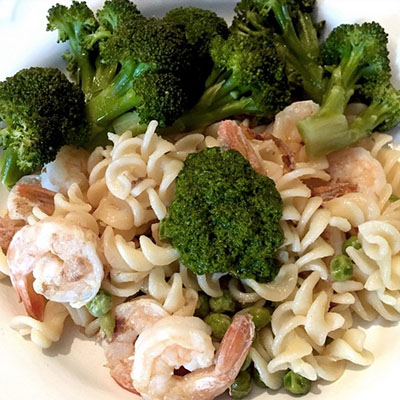 EVE KESSNER
Pasta is totally essential for me. It may sound silly, but it's true. The comfort and culture of it are a big part of the need. And since food is so much more than it's nutrient parts, the spiritual component in feeding your SOUL is major to me. But like anything else in life, there are good and bad ways to do pasta. I do my best to include a dark leafy vegetable, stick to organic and whole-grain or gluten-free pasta (my family prefers the texture of the gluten-free brand I buy). I use high grade, extra virgin olive oil and sea salt on top and do my best to add a protein (most often fish). This pasta was a super quick, thrown-together-from-what-I-had-in-my-fridge-kinda dinner. I steamed the broccoli and salted and oiled it after cooking. I cooked the organic, frozen peas with the pasta. I sautéed the shrimp in olive oil and garlic, sprinkled with sea salt and finished with a squeeze of lemon. I piled it all on a plate and ate two servings!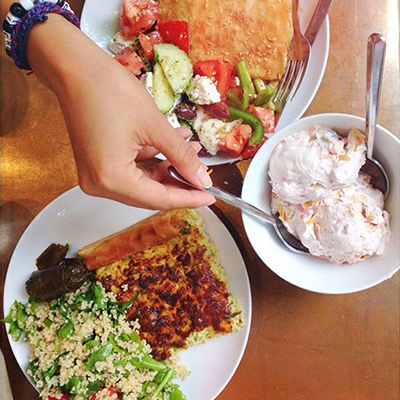 ROXIE JONES
I usually like to wait to eat breakfast after my 6:00 AM class. When I do, I like to take a trip over to Pi Bakerie on Broome and West Broadway since it's one of the few places open at 7:00 AM. I can't go a week without having a bite of their baklava and sour cherry Greek yogurt. Everything is made the day-of and nothing disappoints!
ISABEL YERKES
I loved finding Joni's in Montauk! They had lots of gluten-free and vegan treats, plus healthy salads, wraps, etc! Also I love Runa teas, which give you energy but have no artificial sweeteners or sugar. This one especially is super yummy and tastes like minty lime goodness!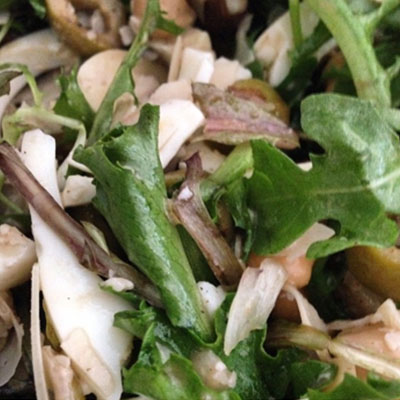 KC SKLAR
I like a salad that has lots of flavor, texture, and enough protein to keep me full. I used egg whites for protein in this one, but tofu is another go-to ingredient.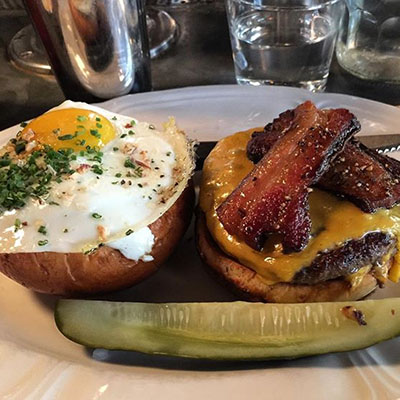 ANTHONY MCCLAIN
This meal at Au Cheval was delicious! So good that they should put me on a VIP list! That can be my weekly cheat meal. Or one of them at least!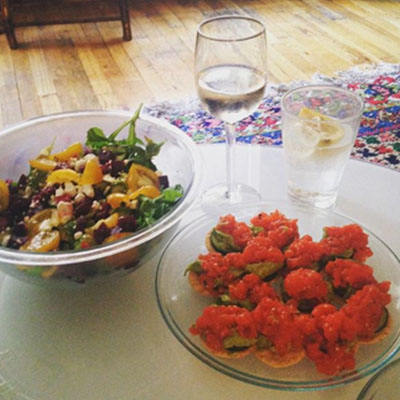 GRACE RAO
Wild king salmon tartar with sesame and accompanied with a lime/avocado purée on a rice cracker. That paired with a goat cheese beet walnut yellow tomato salad. Summer night bliss!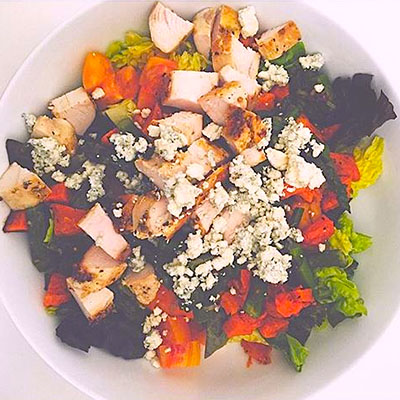 AYA MURAMATSU
Almost everything in this salad was leftovers. A great way to reinvent leftovers (veggies/protein) is to throw them in a salad!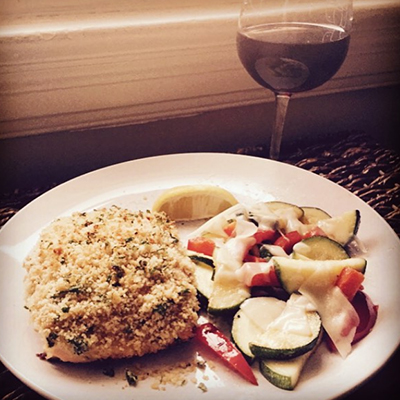 MICHELLE POLERA
Panko crusted salmon is quick, super easy, and pretty darn tasty! The Barefoot Contessa has a great recipe
HERE
.
Questions or comments? Email blog@soul-cycle.com!