11 Healthy Instructor Breakfasts
November 5, 2014
Looking for a smart way to fuel up this morning? The energetic instructors who lead the SOHO AM pack reveal which breakfasts and snacks they swear by…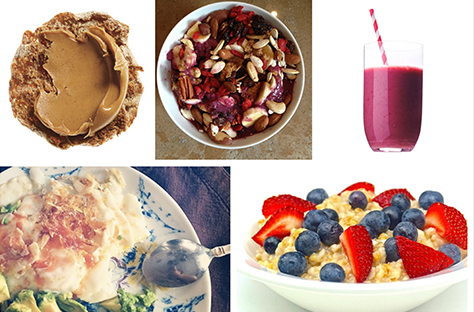 ANNA GAGIE
Hard boiled eggs! Super tasty, super easy to make, and easy to eat on the go!
AKIN AKMAN
Depending on the day and what time I teach I will mix up my breakfast snack before the 6:00 AM and 7:00 AM classes. I try to have a chocolate milk because it is one of the best protein-carb combos and it gives me enough energy while not filling me up. Or I'll just have a coconut water and coconut meat as a snack between the 6:00 AM and 7:00 AM. My favorite coconut water and coconut milk drinks are from Juice Press in SoHo.
Then in my break between my 7:00 AM class and the 9:30 AM class, Ill have either a yogurt with honey and walnuts from the Chobani store in SoHo, or ill grab an acai bowl with almond butter from Juice Generation. I do this because when it comes to cardio, the key is to replace both carbs and electrolytes lost during a workout.
After my morning triple or sometimes quadruple + few morning strength training sessions, Ill have eggs (any kind) usually I'll get a spinach and goat cheese frittata + sausage from Gemma on 4th & Bowery or Ill get a breakfast quesadilla from The Grey Dog.
I eat this because my energy needs replenishing with a carb-rich snack or meal — good carbs and fatty acids create your energy for aerobic exercise. Also for my strength training, I need protein and carbohydrates to help repair my muscles, replenish glycogen stores, and prevent soreness in my muscles so I can be 100 percent when I teach again in a few hours.
EMILY TURNER
Eggs and avocado with hot sauce all the way or a banana with almond butter and gluten-free toast. And coffee with either half and half or almond milk — depends on the day. I choose these options because they fill me up without giving a "too-full" feeling and pack in necessary nutrients to support a very active day!
ERIN THOMAS
My go-to breakfast food is a toasted English muffin with almond butter and jam! I like it because the portion is small enough to not fill me too much before teaching, but it feels like REAL food — I am not a bar person.
JAWS NELSON
If I'm not running late, I have oatmeal with fruit. If I am pressed for time, I have a green juice. And either way, I always have a banana! And coffee!
MICHAEL VARA
Egg-white omelette with four egg whites, chopped tomatoes, sliced avocado, any source of protein to compliment and hot sauce.
PARKER RADCLIFFE
My go-to breakfast is a hard-boiled egg and a protein shake. I am an early-morning teacher and have to eat small portions throughout the morning, focusing on what my body has time to digest and use for the next class that small amount of time.
RACHEL LOEBS
My go-to always is black coffee and recently Chobani Oats (with steel cut oats). Since I was a bartender for years, I still have issues waking up early in the morning. The coffee gives me a little jolt to wake me up. I don't do well on an empty stomach but also don't like to eat breakfast too early. The oats yogurt is just enough to get me through class till I can eat some eggs!
SAMANTHA JADE
Before a morning class, I drink lots of water to prevent dehydration and I have a banana and an iced green tea to keep my energy up. Immediately after class, I have an egg white omelet with spinach, mushrooms and turkey or a PB acai bowl from Juice Generation, when I feel I deserve a treat because they're my FAVORITE!
SARA SILK
Lately I've been really into oatmeal smoothies - it might sound gross, I know, but they're actually really good. I make the oatmeal at night, put it in the fridge until the morning, then add vanilla almond milk, greek yogurt, peanut butter and chocolate whey protein powder into a blender and done! It's super-filling but also doesn't feel too heavy to start the day.
STEPHANIE PEARL
I love a slice of Ezekiel flax toast with a little smear of almond butter and some sliced banana....at least an hour before class! It's delicious and the carb and protein combo is great for energy and recovery!
Catch classes with in the AM with these well-fueled rockstars at Soul Soho! Questions or comments? Email blog@soul-cycle.com!