Why I Celebrate UNSQ: Riders Share Their Stories
February 6, 2016
As the studio turns five, riders open up about what makes the UNSQ community so special…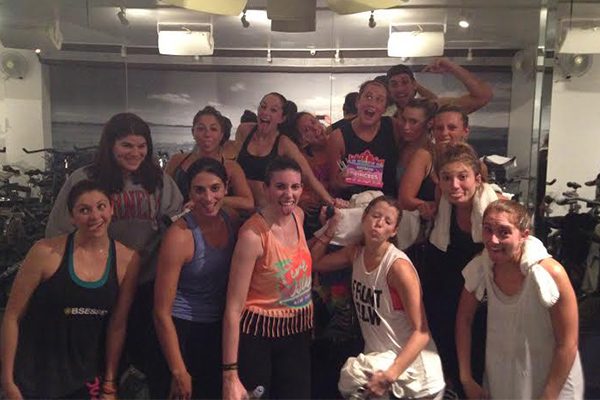 ALI HOROWITZ
I genuinely look forward to my alarm going off on Wednesday mornings at 6:20 AM - weird, I know. For the past three years, I've been a loyal 7:00 AM Wednesday morning Sydney Miller rider. Everything about my 7:00 AM experience is just perfect. I'm greeted with smiles, laughs and excitement from an amazing staff (I have no idea how they're so energetic at that hour of the morning, considering they've been up since 4:00 AM).
A few callouts to some people who have left The Square but have left a lasting impression on me - Kathleen, Steph White, Matt Miller, Jen Cahn and some recognition for the two faces that keep me motivated now-a-days: Thomas and Helya. From the moment I step into Union Square, I know it's going to be a great ride and an even better day thanks to the bouncers at the door.
When I walk into the room, it's like a completely different universe from the crazy NYC world outside. I've know Sydney for over eight years now - yes, we were friends wayyyy before SoulCycle - and I can confidently say this is her calling! It's like that bike was made for her! Her class motivates and inspires me. It gets me ready for my day (no she did not pay me to write this). Sydney's class is like going to a ginormous party - in the morning. She's truly great at what she does, and I love my Wednesday morning routine.
I have to say my favorite thing about Union Square and my SoulCycle experience at this location in particular is the friendships I've made. I'd say 90 percent of my closest friends are people I've met inside that room or reconnected with inside that room - shout out to Sydney Borman who asked me to be her bridesmaid at SoulCycle because that's where we met. I don't know if I have Sydney Miller to thank for these friendships, or the music, or SoulCycle the brand itself, but I guess it doesn't really matter - what matters is that my life is better, more positive and more exciting thanks to my 7:00 AM Union Square experience.
Happy birthday SoulCycle UNSQ! You deserve all the post-ride cupcakes in the world! I am forever grateful to you.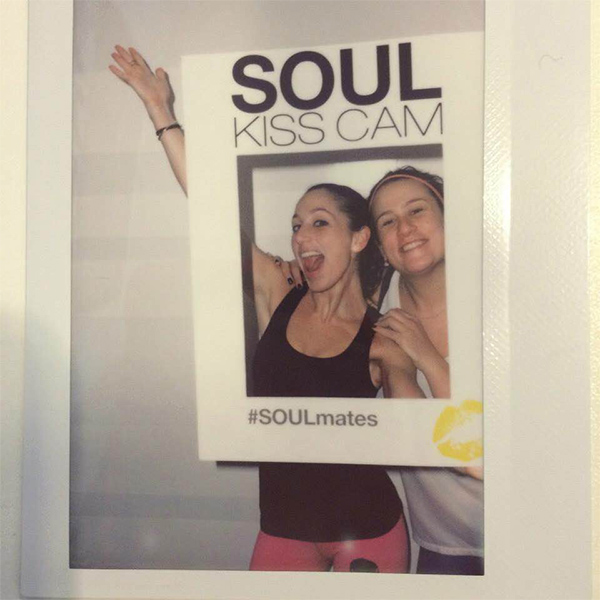 ASHLEY MA
My first ride at UNSQ was September 25, 2012 with Lauren Bruker. Since then, I've spent so many hours in this studio that it's almost impossible to pick a favorite memory. So many of my "rider milestones" happened at UNSQ (first rooster ride, first double, first time riding the podium), but I've also watched so many others' amazing milestones as this community has grown and "grown up": Madison getting engaged and then married; Joey and Matt Miller moving from front desk to podium; rider engagements, weddings and birthdays.
There are the friends (and my boyfriend) whom I've convinced to come try a ride, then watched as they built up the strength and courage to ride front row center. But so much of my love for UNSQ is built on the day-to-day experiences we share as riders: starting the morning with Thomas's, Manasa's and Helya's smiling faces at the front desk; sharing holiday plans and music tips with other riders as we wait to clip in; the moment when the front row double-times in synch as you find the beat of an amazing Odesza remix and the moment when you and the guy across the room make the same mistake during arms and laugh.
Over the last five years, UNSQ has created such an incredible core community that supports each other on and off the bike, and it literally inspires me to get out of bed. I'm a healthier, stronger and slightly less stressed human because of SOUL and this studio. In a city I'm proud to call my hometown and over my last three and a half years as a rider, UNSQ has become a second home for me.
RACHEL SCHWAB
Danny's birthday ride a few years ago is still the most epic ride I have ever been in. Danny, LB and Charlee all taught while wearing the most wild SoulCycle onesies. The whole gang was there and the energy was through the roof. It was the best way to celebrate the awesome person that Danny is! If there are any pictures from that event still kicking around, they are definitely worth seeking out.
LULU LERNER
There is something special about the UNSQ staff that feels like home more than any other studio. Despite management changing, the caliber and warmth are always top notch. The quote that comes up would be more like the theme song to Cheers - "Where Everyone Knows Your Name" - and in fact, I often feel like Norm from Cheers as the front desk calls out "Lulu" when I walk through the door. Instead of beer or alcohol, it's the front desk staff and the instructors that I find intoxicating.
I always say instructors at SOUL are like ice cream — it's always yummy, but we have a favorite flavor that is based on personal preference. I just realized even my favorite instructors have passed through UNSQ at some point, and now I have to visit other studios to still get classes with them. Perhaps the SOUL (pun not intended but applicable) of the UNSQ studio is like the sugar and cream base that is at the core of the yumminess in all ice cream and everyone that passes through. My favorite co-riders started in UNSQ too (and I've ridden in lots of the studios!).
One of my favorite classes was when Danny taught a Ru Paul ride and many of us dressed up. But I just have to say, riding at UNSQ last night (2/5) was a new highlight. The energy in the studio was electric. Of course, Danny and Lauren were beyond delightful, but the best part was that it felt like a family reunion — aside from some of my favorite UNSQ riders, original UNSQ staff/management (Kathleen Toth, Laura Mozur and Stephanie White) joined the ride.
JULIAN CHUNG
There is so much that is inspiring about SoulCycle and the staff at UNSQ that it's hard to think of any one favorite moment. I would have to say that the best thing about UNSQ is that the staff is like family — they're always happy to see you and free with the hugs and smiles, no matter how long it has been since my last ride there. Just walking in the door and seeing them brightens my day, with the class being the cherry on top! I'm sure other studios are great too, but it seems like everyone knows how special the UNSQ staff is because they keep shipping them off to other studios!
One other favorite moment is when I fell in love with Danny. In one of the first classes I took with him, Black Swan had just come out and he did arms "Black Swan, White Swan, Black Swan, White Swan." Danny's classes are always a mix of workout, showmanship and extreme fun! That's when I knew SoulCycle was really different from other indoor cycling studios.
LIZZIE HORNICK
I don't think that it's serendipity that all of my favorite instructors (Charlee, Danny and Parker) have at one point or another called Union Square their home. The gritty intimacy that defines this compact space brings souls together and has proved to be fertile breeding ground for rockstar instructors.
We city-dwellers find comfort in small spaces and organized chaos. But it's the caring staff that makes this studio so appealing. Doesn't matter which Kathleen (Toth or Epling) is manning the ship; UNSQ has always been an efficiently run, rider-friendly studio.
My first trip to UNSQ was on a lark. The word of mouth on Parker was off the charts and so, on a bright summer day in 2013, my friend and I set off for a late afternoon SOUL class. I am a risk-taker, and on this particular day I threw caution to the wind and sat front center bike 12. Parker's class was completely different and so exciting. This was my first introduction to house/alternative music, and I loved feeling the strong bass deep in my pedal stroke. I quickly discovered that strong beats made riding in sync fluid and natural. Parker opened up a whole new universe of music for me to love and appreciate. In his class I feel safe knowing that in the heat of the journey improvisation is welcomed and encouraged.
I ride regularly at Union Square with my SOUL master of the universe, Danny Kopel. Sometimes a random ride that is part of my weekly SOUL routine strikes a chord or helps me work out a challenging day. Other times a carefully crafted theme ride can prove intense and meaningful. This past Spring, Danny's Ru Paul ride moved me in so many unexpected ways. As a quirky, somewhat eccentric individual, fitting in has never been part of my DNA. I loved that that this particular SOUL journey, in a sense, honored the outsider or marginalized individuals. Danny's powerful message of love and acceptance struck a deeply personal chord. I wear that SOUL ride in my heart today and always.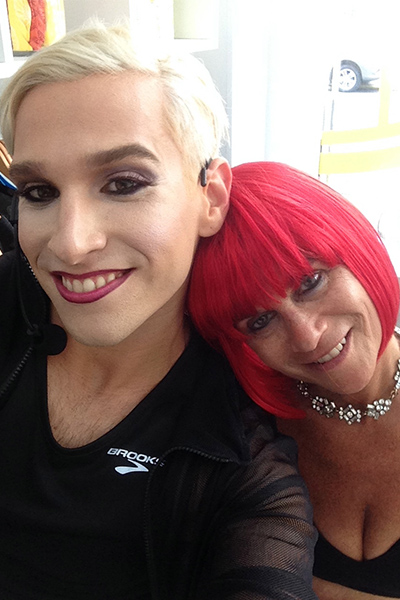 ARI ROSMARIN
My short answer to why I love going to SoulCycle UNSQ would be "Eat. Sleep. SOUL. Repeat."
It's about the staff and the instructors (shoutout to my #sydsquad). It's a place where everyone knows my name and would want to know yours. They're the reason I wake up at 5:00 AM and shlep all the way down to union square, even though I live and work in Midtown.
It is more then a place to workout, it is a place where I've found and reconnected with life long friends. Without SoulCycle, I'd have half the self-confidence, half the songs on my Spotify playlist, and most importantly, half the amount of Instagram likes.
MEGHAN LAPIDES
People say you never forget your first, and for me, UNSQ will always hold a special place in my heart. While that space on 18th Street became a home base for me five years ago, the collective group of people that have come through its doors are what make it truly special. I've met most of my favorite people at the UNSQ studio — riders, staff and instructors alike. Within those walls I've cheered for promotions, congratulated people moving to corporate or across the country, celebrated birthdays and cried at community rides of staff becoming instructors - you celebrate milestones with people who are your family, and that is what UNSQ represents: family.
I remember just as clearly walking in the door that first time five years ago as I do walking out tonight after class, I ride at many studios and in many cities, but there is no place like home and there are no people like my #soulfam. I can't count the special memories we've all created together over the last five years both in the studio and outside, but I don't need to count them because we continue to create moments and hopefully will for a long time. I won't lie that the vibe and the staff were very different five years ago, but I wouldn't change what it has evolved into and am endlessly grateful for who works and rides there today.
JANET CHU
UNSQ has become a second home to me. Whether I'm in a good mood or a bad mood, seeing familiar faces, the best staff who treat me like family (I love you all!), instructors, friends and regular riders just brightens up my day. This studio may not be the flashiest or have the fancy USB chargers in each locker or the most amount of space between bikes but it's filled with memories of so many star instructors who started out there, staff who have moved on to bigger roles and for me, some of my favorite instructors have taught and is teaching there (shoutout to Parker, Danny, Madeleine and Hayes!). I took my first SoulCycle class there, I rode front row for the first time there and I met some of my best friends there. In the end, it's home. Happy SOULiversary!
MARGIE STRAUSS
UNSQ was the very first studio I went to and where I began my SOUL addiction! I began riding when I turned 50 years old, was recently diagnosed with MS and was looking for a way to have fun while exercising. I never expected it to become for me what it has – a haven!
I travel to most of the downtown studios, but UNSQ really has the "best of the best" staff members and instructors and they set the pace for what SoulCycle really is and should be. I think my first ride was with either Marvin or Danny and they both are still two of my favorites!! Some of the staff members who've worked there over the years are truly second to none – they're all pretty great, but some of the best have been: Kathleen Toth, Mike Fabbri, Steph White, Max McCurdy, Matt Miller and Thomas Charlton, and they make everyone feel welcome, respected and excited for the experience. I feel lucky and honored to be a member of the SOUL family!
Questions or comments? Email blog@soul-cycle.com! Want to ride? Grab a series HERE and book a bike!
MORE FROM SOUL