What's Inside Instructors' Summer Skincare + Makeup Bags?
July 10, 2014
SoulCycle instructors always look cool when it's hot, so we asked a few to share which products they rely on when temperatures rise. BETHANY LYONS, LAUREN MCHALE, SAMANTHA JADE, PAULA MARKEY and LAUREN JOHNSON revealed the staples they stash all season long...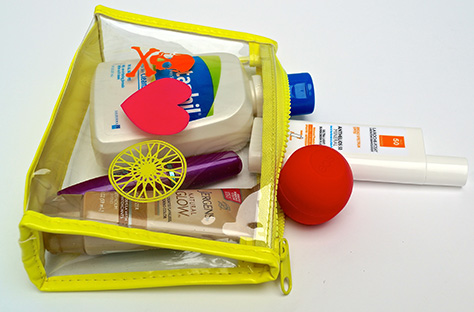 BETHANY LYONS
My Summer Must-Haves:
1. MIO Workout Wonder invigorating muscle gel
It stimulates and cools, pre and post-workout. And it smells good!
2. Evian Mineral Water Spray

Moisturizes, refreshens and HELLO! Sprinkler In Your Hand!
3. LaNatura Watermelon Shea Butter Lip Balm

Made in the USA, cruelty-free and TASTES LIKE SUMMER!
4. Sunglasses

To prevent squinting! Mine are Peppers Polarized Eye Ware in Electric Blue.
5. La Roche-Posay Anthelios 50 Ultra Light Sunscreen Fluid
6. Origins Multigrain Pressed Bronzer
Glow without the sun-damage!
7. Origins GinZing Brightening Mascara
Awesome.
8. Origins GinZing Refreshing Eye Cream
Iridescent, like the inside of a shell.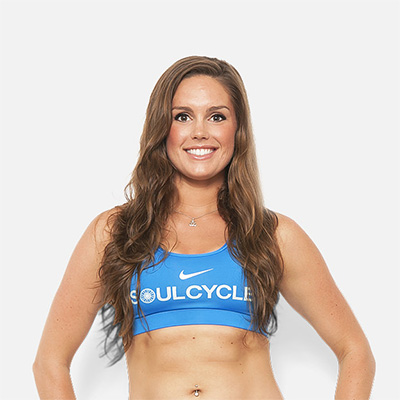 LAUREN MCHALE
Inside my summer makeup bag you will find EOS Lip Balm (Summer Fruit is my favorite), Neutrogena Pink Grapefruit Oil-Free Cleansing Wipes and Neutrogena Healthy Defense Daily Moisturizer with SPF 50 to keep my skin clean, soft and protected between and especially after classes. I don't like wearing heavy makeup in the summer so I usually just carry some mascara (Maybelline Volum' Express The Falsies Washable Mascara in Very Black) and MAC lipstick. Soft skin looks great on everyone so I also carry some Jergens Natural Glow Lotion. It might not necessarily be a beauty product but there are always a few packets of Emergen-C lingering in my bag as well for a quick energy/vitamin boost when I'm on the go.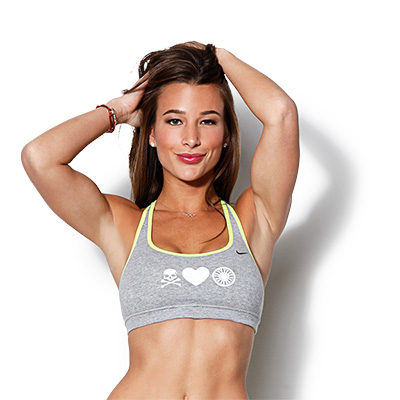 SAMANTHA JADE
During the summertime, I like to let my hair and my skin recover from the harsh winter by leaving everything all natural and clean. I have been using the same two skincare products for over a decade now! Cetaphil to cleanse my face and Susan Ciminelli Power C Moisturizer to follow. I have always been loyal to my products because they're gentle enough on the skin to use as often as you need without leaving your skin feeling dried out or damaged. I make sure to always carry the little travel-size Cetaphil around with me; I'm a girl on the go! With a moisturizer, it's important to always make sure there is at least an SPF 15, even in the winter! Preserving our sexy means taking care of ourselves at all times! For my lips, I use The Lip Scrub by Sara Happ once a week. This is a heaven sent product that I discovered… You massage it right on top of your lips while dry, and it peels any dead skin right off once you wipe it away with warm water! To complete my regimen, there's my YSL Volupte Sheer Candy Glossy Balm. Non-sticky, with just a hint of the right color! Keeping it simple for summer is my best advice because we're all sweating so much, whether we're on or off the bike, and our skin absorbs EVERYTHING! I also recommend taking a break from the hair dryers for the summer! Go grab Moroccanoil Intense Hydrating Mask, put a dime-size amount throughout your hair right after it's been washed and you've got your natural beach waves!
PAULA MARKEY
For summer skincare, I always make sure to have Evian Mineral Water Spray on hand! It provides a quick pick-me-up for your face on-the-go. I maintain a youthful glow with Ole Henriksen Truth Serum Collagen Booster with Vitamin C. Post-serum, I'll apply Kiehl's Ultra Facial Cream to seal in all the moisture! Basically, I love the fresh face feeling! Not really into makeup but if I want an even tone I will go for Laura Mercier Tinted Moisturizer. Skincare is something I love chatting about and I'm always interested in hearing about new fantastic products or tricks!
LAUREN JOHNSON
Here's what's in my bag at all times:
* Oscar Blandi dry shampoo powder
* Revlon Colorburst Balm Stain in Lovesick and Sweetheart… I ALWAYS wear hot pink lips!
* Maybeline Volum' Express mascara (my other ALWAYS staple!)
* Travel size of Mediterraneo Eau de Toilette by Carthusia. Super fresh!
Questions or comments? Email blog@soul-cycle.com!