What's In Alexa's Gym Bag?
October 23, 2015
Snacks? Check. Shoes? Yup. Supplements and shampoo? Got 'em. Instructor ALEXA OSSIPOFF — who leads the pack in Manhattan Beach, Newport Beach and Santa Monica — showed us everything inside her bag...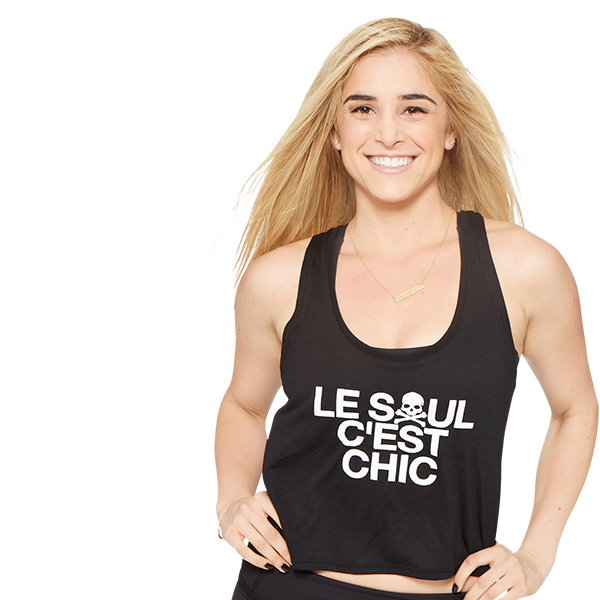 THE BAG
It all starts with a good bag, lightweight, durable, organized and timeless. Lululemon has the best gym bags and they work perfectly for traveling, too.
SHOES, SUNGLASSES AND CASH
I start with my daily essentials: my wallet and sunglasses. I also always have my black and pink Pearl Izumi shoes, which still look brand new after a year of wearing. If (and when) your shoes start to stink, try washing them or sticking laundry sheets inside them overnight.
EARPLUGS
Dubs earplugs are always with me, in case my ears are feeling sensitive that day. I pop them in to protect my ears and reduce the volume without drowning the clarity or sound.
SUPPLEMENTS AND SNACKS
BCAA (Branched Chain Amino Acid) supplements help support lean muscle and recovery. You can take them before or after class, and can be purchased at Whole Foods. I also keep my absolute FAVORITE bar in there: Cookie Dough Quest Bar! You can't beat protein and fiber and tastes just like cookie dough — it's a treat without cheating, and the perfect snack!
HEADPHONES
Beats By Dre are always with me to prep and plan my epic playlists before class! Love them because I can tune out completely from everything around me and focus.
SOUL GEAR
Since I often teach multiple classes, I need dry SoulCycle gear to change into for doubles or triples. I usually stock up with a sports bra, tank, socks, crops and Dove deodorant (absolutely necessary!)
BEAUTY MUSTS
I keep Neutrogena's makeup remover cleansing towelettes in my bag — the absolute best ones on the market. I have tried countless waterproof mascaras and finally found the ultimate one without smudges or racoon eyes after class: Make Up For Ever Aqua Smoky Extravagant from Sephora! I also always need Burts Bees chapstick. Any one — vanilla, original, carmel daisy — it's just something I cannot live without!
HAIR HELPERS
To freshen up my hair, I use Detox Dry Shampoo by drybar. It works fabulously for all the hair on top of my head. Since I teaching around 10 classes a week, I can't wash my hair everyday! But speaking of my hair, power ponytails are my thing, if you've taken my class. I have to wear two to three rubber bands to hold all my hair up (#hairflipsfordays).
GUM
Orbit (the Bubblemint flavor) is always refreshing after class!
COMPUTER
Finally, my laptop is my WORLD. I have had this computer since Day One of college and all throughout college(that's five years!) which means it's been dropped, poured water on, lost, and so many more freak accidents, but after finally buying an external hard drive and downloading the newest software, I love my ancient, heavy Macbook Pro. Also, Apple Music is Life Changing and as an instructor who spends hours on hours a day every week finding and learning new music, it's incredible.