We're Talking Turkey Burns
November 24, 2014
Are you ready to celebrate Thanksgiving… on the bike? Come share a SoulCycle tradition and do a Turkey Burn! Our signature 90-minute rides are happening in all studios this Thursday and Friday. Before today's signups, Senior Master Instructor LAURIE COLE and Master Instructor KYM PERFETTO explain what these rides are all about…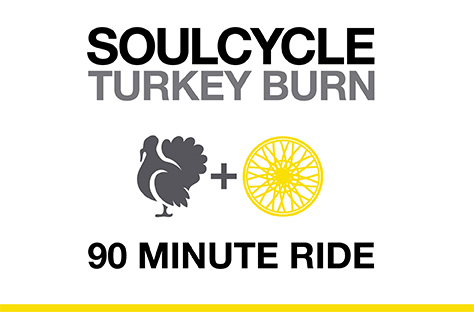 So what is a Turkey Burn anyway?
KYM: Turkey Burns are rare opportunities to clip in and ride for 90 minutes uninterrupted. The workout will challenge your endurance and your will.
And what makes them so special?
LAURIE: Well, I started doing this ride the first year we began and it's really one of those days that has zero stress and is the best way to enter into the holiday season with a clear head and break a deep sweat.
What's the difference between doing a Turkey Burn and doing a double?
LAURIE: Doing a Turkey Burn is actually much easier for the body than doing a double because it's 90 straight minutes — versus the traditional 45-minute class with a 15-minute break followed by another 45-minute class. It typically takes more energy to get back into the class after a break. With a Turkey Burn, the moves and choreography don't need to be so condensed so we can marinate and take our time.
What would you tell someone who's nervous about doing a Turkey Burn?
KYM: Anyone who's nervous about it can take comfort in knowing that in a 90-minute class, the intervals are spaced farther apart, with more climbing. And when all else fails, you can always sit down, slow down and hydrate.
Why do you like leading the pack in these Turkey Burns?
KYM: The best part of leading a Turkey Burn is getting to see the breakthrough happen. That moment when riders get over the fatigue and tap into their reserve strength. I love it when we are able to surprise ourselves and push further than we ever believed ourselves able to. It introduces all these new possibilities to our world.
What do you love most about Turkey Burns?
LAURIE: For me, Turkey Burns are the best example of our community and the dedication that our riders possess year in and year out; I don't even remember Thanksgiving without starting it off with my all of my favorite people inside those four magical walls.
Don't miss our 90-minute Turkey Burn rides in all studios this Thursday (11/26) and Friday (11/27)! Need more info? Email blog@soul-cycle.com!