Turn It Up Story: Sharon Roberts
September 6, 2014
"I'm in the best shape I've ever been," says SHARON ROBERTS, who rocked the Turn It Up 20 challenge at Soul Greenwich this summer. She shares her Soul Story…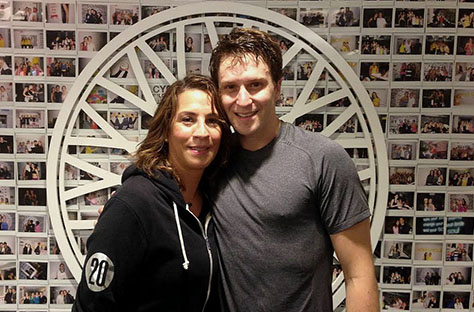 Sharon with Soul instructor Zack Held
What first brought you to Soul?
I routinely took indoor cycling classes at my local gym but the bikes were old and the series were redundant and boring. I heard about SoulCycle NYC from my daughter's friend who had taken a class and loved it. When Soul opened in Greenwich, I jumped at the chance to try a class. Of course, after just 45 minutes, I was hooked and knew Soul would be a perfect addition to my life.
What inspired you to do Turn it Up 20?
Truth be told, at first I really wanted the sweatshirt! I was already obsessed with SoulCycle and hardly needed a reason to go more frequently. My business keeps me on the road various times during the year and I knew I'd be in town during the challenge. The perfect time for me to focus on getting in as many classes as possible and even take two classes in one day. Turn It Up 20 gave me another reason to take more classes from Zack (one of my favorite instructors). Of course I love several other instructors, but Zack's classes are a party on the bike. His music selection and choreography combined with his dance moves brings indoor cycling to the level of entertainment. It's like going to the Zack show and 40 minutes feels like 15 minutes!
Do you think that Turn It Up 20 took your riding to the next level?
Yes. During my Turn It Up 20 rides, I discovered that my form was not always correct so I was able to perfect my ride. That helped me handle more challenging rides. I was also exposed to more instructors and different ways of enjoying SC. Don't get me wrong, I still have my favorites but I jump at the chance to change it up now and enjoy new ride experiences.
And you got your sweatshirt!
To me, my Turn It Up 20 sweatshirt is a badge of honor. I am super protective of it (some might say even a tad bit neurotic). I'm always avoiding stains and shrinkage. Of course, everyone that sees it wants to get their hands on it. In fact, my daughter is constantly negotiating with me to borrow it. It's a coveted item that everyone wants but no one but me is allowed to wear! I always say that the Turn It Up 20 sweatshirt is probably the most expensive one in my closet but worth every penny.
Would you encourage others to do the challenge?
Absolutely! It's a great way to up your game at SoulCycle. I would generally characterize myself as someone who is always looking to improve mentally, spiritually and physically. Owning a business comes with a fair amount of stress. Sometimes when I feel like I can't solve a problem, riding at SC clears my mind and helps me get "unstuck." Zack has a mantra during his rides that really works on me: "You're only going to get back what you put into it! If you put in nothing, you get nothing. If you put in something, you get something back." Simple but it really does apply to my health, wellness and work life.
That's awesome. Anything else?
I'm in the best shape I've ever been and I credit SC for a large part of getting me where I am today. When someone compliments my legs I say, "These are my SoulCycle legs!" It keeps me in good shape, and I absolutely love the Greenwich team — they're fantastic! I hate to cook or bake but I make the SC Greenwich team gluten-free cookies and brownies because I know how much they love them. SC is a community, with a synchronicity that propels us through our rides.
The Turn It Up challenge kicks off in Marin on September 8. Sign up
HERE!
Do you have a Soul Story to share? Email blog@soul-cycle.com!