The Riders Who Traveled 800 Miles for SOUL
October 27, 2015
Three SoulCycle Rye Brook rockstars open up about how tapping it back with instructor Anthony M. brought them together, transformed their lives and inspired them to take a journey to Chicago to ride with Anthony once again. The best part? Anthony paid them back and swung into New York to lead the pack this past weekend!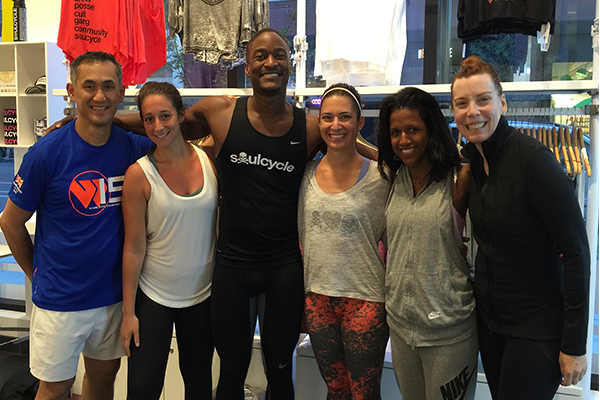 DAVE NGUYEN (above left)
SoulCycle healed me. Seven years ago, I couldn't lift a bread basket with my right arm or run a lap around a track. Diagnosed with spinal stenosis, I underwent spinal disk fusion to stop further damage to my spinal cord. Over the next three years, I struggled with physical rehab and my tennis game was decimated. Nothing seemed to work.
One day, my wife, Laura, came across a magazine article about SoulCycle and suggested we try it. She knew I loved road cycling so it was an easy sell; plus I thought the class would be a breeze. We took our first class on May 5, 2013 at the Greenwich studio. After ten minutes, I realized the breeze was more like a typhoon of sweat. I was hooked. As I became stronger and healthier, single classes turned into doubles and then on occasion triples.
I still remember riding with Anthony for the first time in Greenwich. Back then, no one doubled and for Laura and I to double was a surprise even for Anthony. He suggested riding in Rye Brook. We did so and found much more than a great workout; we discovered each other and formed a community of like-minded, outstanding, genuine, driven, good people who appreciated and recognized Anthony for his superlative instruction. Through Anthony's example, we continue to motivate and inspire one another, even in his absence.
Symonne, Keith, Anne-Marie, Laura, Rachel, Ronnie, Amanda, Dan, Mary, Ellie, Karen, Howard, Nick, Nina, Debbie, Monica, Charlie, Carol, Darlene, Donna, Catherine, Giovanna, Jessika, Joe, Sharmila, Michele, Meg, Amy, Tiffany, Taylor, etc… their commitment, our commitment to SoulCycle and to one another because of Anthony keeps us connected. His method and manner inspire us to be stronger and we in turn inspire each other through his example.
Three years and more than 950 classes later, I'm 45 pounds lighter, healthier, stronger and happier than I've been in ten years with a great group of friends I now call my #SoulFam.
"Try, fail, try again!" and "Strength is a choice!" Anthony connects with us and encourages us in meaningful and positive ways. He makes us see our inability to keep up with the pace as success, not failure! Only when we've reached our physical limits can we push beyond them to become stronger. We choose to crank up the resistance and challenge ourselves to the point of failure. We choose to be like Anthony and it keeps us connected and engaged not only with him, but among ourselves.
When Anthony moved to Chicago to open SoulCycle Old Town, we all missed him. And when the opportunity arose to visit him, we jumped on it. Actually it was Laura (my better half) who gave us the opportunity. She had to fly out to Chicago so we turned the trip to a #SoulFam reunion over three days. Six classes within a 38 hour timeframe: a single on Thursday, a triple on Friday and a Soul Survivor double on Saturday.
Anthony and Rachel were waiting for us at the Old Town studio. When we arrived, it was like we never parted ways. Only a poet could adequately articulate those feelings through words. You almost have to live through such an event to truly appreciate the joy of being together again with close friends.
It's quite remarkable that every week throughout the summer, someone visited Chicago to ride with him. Each visit to Chicago is a testament to how truly special Anthony is as an instructor and person.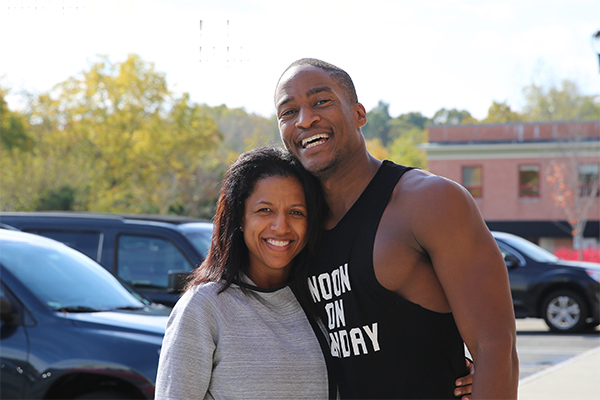 SYMONNE CANTON (above, left)
I started riding with Dave in May 2014 and we have all been riding together since the Summer 2014. Initially, SoulCycle was something that I had discovered when I first started to get back into a regular exercise routine. I would go to class, ride and leave. I did this for almost a year before a friend of mine, who ironically doesn't particularly like indoor cycling, told me that she only goes to SoulCycle for the social connections.
I truly didn't understand what she meant until shortly after I began riding in Anthony's classes in RYBK where I immediately met Dave and a few others who would all share their stories about feeling that riding in Anthony's classes helped heal their respective injuries. Anthony's classes seemed to have so many healing affects, both physical and emotional, on so many people. Riding with Anthony brought us all together.
One ride that I will never forget was the class where I was finally able to achieve one of Anthony's signature choreography, two up/two down no hands. I first started riding with Anthony in DALE in the Fall 2013. Six months later was when he first mentioned his classes in RYBK, specifically suggesting that I try his "doubles." It was after adding these "doubles," several times a week, that I started noticing significant changes in my endurance and strength as a rider. However, this one "move" was something that I shied away from. Anthony noticed my hesitation every class and would sometimes call me out on it. He would say to his class "you try, you fail, you try again." This resonated every time I hesitated to try "no hands" until the one day I went for it and succeeded. What I will never forget that day was my surprised reaction and his nod of approval. After class he told me that he knew that I could do it, but that I needed to trust that I could. His coaching and encouragement have helped every one of us become stronger and more confident riders.
Anthony's departure was crushing for so many riders. Weeks and months after he had left, besides missing his instruction, I found myself missing his riders, so many of whom had become friends. Everyone scattered and found other instructors to ride with. Some of us stuck together and rode as a group from time to time. What remained constant was riding with Dave. When he told me he and his wife, Laura, were going to Chicago because of her job, I jumped at the opportunity to ride with Anthony again in the company of our RYBK SoulFam.
So last August, we went to Chicago and did six classes in three days. Anthony was excited and happy to hear we were all traveling to see him, but I felt that he had a true feeling of gratitude that we would make a special trip to ride with him again. It was an emotional reunion being with Anthony and Rachel in the new studio, meeting their new SoulFam and riding in his front row again with a roomful of new riders. I am so thankful that I could make that trip with Dave, Laura and Anne-Marie, and that we could all ride together again like Anthony had never left for those few days and fall back into the security of his instruction.
I hope that we can get an even bigger group to travel together for our next trip to Chicago. We are all looking forward to riding with Anthony again!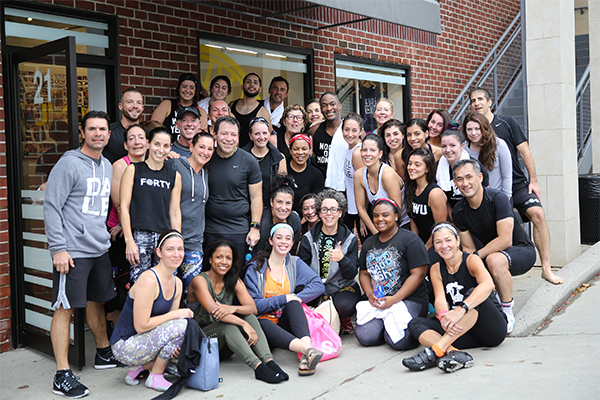 ANNE-MARIE KAVULLA
I have been riding in Anthony's class since August of 2014, and I'm fairly certain I saw Symonne and Dave there that first day! I am newer to SoulCycle and Dave and Symonne are more seasoned riders. I saw them in class all the time and they were always friendly and welcoming. They are very serious about their rides so it was always motivating to see them pushing themselves in class, time and time again.
I have had so many favorite rides! That's why I love him! From the moves, the motivation, the playlist! His class will be so heavy and intense between his words and his music choices, and then all of the sudden a Spice Girls remix comes on — I love that he takes his work so seriously but also makes it so much fun for everyone. He has a way of connecting with his riders. He teaches with passion and purpose and makes it personal.
In Anthony's class, I push myself in a way that I haven't been able to find anywhere else in my life — but I want to. I was devastated when he announced he was moving. I was just getting through some major goals and it was crossing over into other areas of my life. Going to Chicago was a way to check in and focus with a teacher I trust to fail in front of.
In Chicago I had some of the best rides I've ever had. The energy was so high — Anthony was excited, we were excited. The music came on and there we all were, riding in unison, bringing our A game. I had never ridden four times in three days and I was really nervous about that last class (a Soul Survivor the day after riding double). Afterward I was in tears I was so happy and shocked that I did it. Anthony gave me a big hug and said "I always knew you could do it."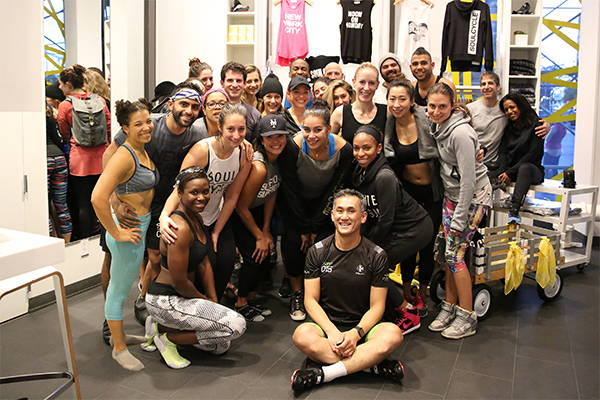 INSTRUCTOR ANTHONY MCCLAIN
When I went back to visit, the experience we shared in that room was truly incomprehensible. The energy, the positivity, the magic, it was like nothing I've ever felt before and we all have been a part of some really special classes. It became about something far bigger than exercise. We collectively had a moment. Some other adjectives used by riders to describe it was transcendent. It was truly remarkable. I thought to myself, this is what Beyoncé must feel like, lol! Being a part of something so warm and so welcoming is something I could have never imagined or even knew existed. We truly turned strangers into family. A big, raucous, happy, supportive family. You say one name and everyone cheers because they are connected to THAT person AND everyone else in the room.
Do you have a Soul Story to share? Email blog@soul-cycle.com! Want to ride at SOUL? Click HERE to grab a series and book a bike!
MORE FROM SOUL