The Music That Motivates Kelly Sheerins
January 29, 2016
Instructor KELLY SHEERINS gives us a peek into how she crafts her playlists and shares the songs that give her strength on and off the bike…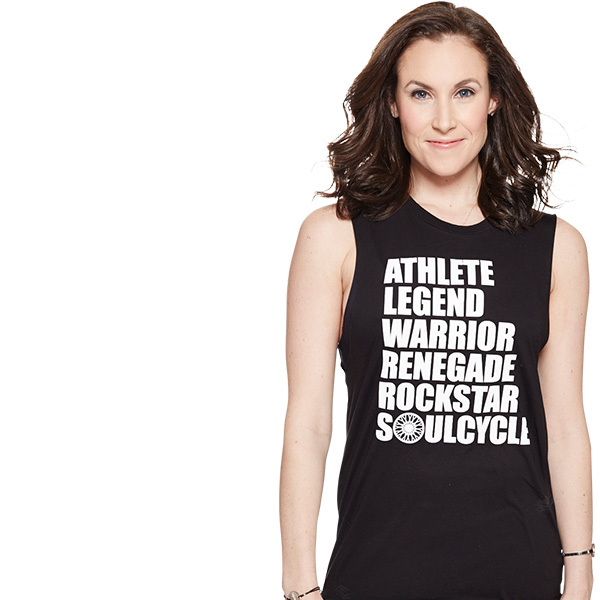 MUSIC. As a SoulCycle instructor, music has a massive impact on my life. I have been teaching at Soul for a little more than two years, but to this day, I still don't know how to answer the question: "What kind of music do you play in your class?"
The short answer is… everything. Does it make me want to move? Playing it. Does it make me feel something? Playing it. Does it make me want to run down the street or bust a move on a crowded subway? Definitely playing it.
I grew up studying dance and dancing six days a week. Besides my family and few close friends, I pretty much didn't care about anything else. I was obsessed with dance, infatuated with the freedom it provided and the way music made me feel. In some aspects, it was an escape. In others, it was simply pure joy.
I was exposed to a lot of different types of music early on but was always gravitated to the lyrics. Don't get me wrong, I love a hot beat, but the fact that some songs told these amazing stories blew my mind.
Tracy Chapman's "Fast Car" — if you have ever taken my class, chances are you have moved to it. I remember my mom playing it and I tuned into the lyrics and felt so connected. Her story had parts that were similar to my story. It was one of the first songs that made me want to cry and I was hooked.
I am not a country gal (although as I get older I am appreciating certain country music more and more) but while driving down to the Jersey shore my mom use to play Garth Brooks' "The River." Actually, she would play the whole album and I think I still know every song. I remember her breaking down the lyrics to "The River" and explaining her interpretation of the song to me. I was fascinated that a song could have so much depth and meaning. That song will always be connected to that memory and every single time I think of it or hear it, it makes me smile.
Alabama Shakes, Missy Elliott, Florence + the Machine, Tracy Chapman, Mumford and Sons, Grace Potter, Michael Jackson, The Fugees, Amos Lee, Kings of Leon, Janet Jackson, Tom Petty, Snow Patrol, Jay-Z, Bruce Springsteen, Muse, Foo Fighters, Phantogram, DMB, Coldplay, Brandi Carlile, Chet Faker the list goes on and on. All of these artists have profoundly and positively impacted my life. There are not many things that are timeless but songs, music, and all the memories attached… they last forever.
Thank you to all the riders who are always up for being creative in class - you rock!
MORE FROM SOUL