Studio Spotlight: Woodbury
November 15, 2014
Our Woodbury warriors are bananas about bringing SOUL to Long Island each day! Learn more about this energetic team in our latest Studio Spotlight…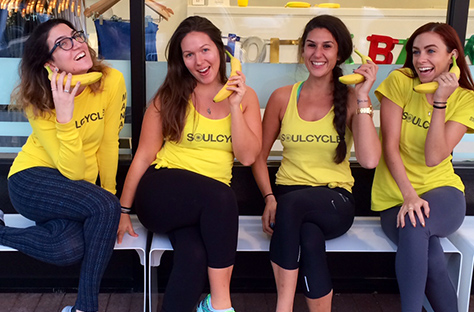 From left: assistant studio manager Jenny Canonico, front desker Amy Klaverweiden, studio manager Lauren Goldberg and front desker Justine Schwarz
What are three adjectives to describe your team?
Talkative, supportive and passionate.
What snacks keep you energized?
Peanut butter-filled pretzels, Greek yogurt and lots of coffee, iced and hot.
Front desk staffers Darlene Basilicato and Krista Oliver
What's your theme song?
Run The World (GIRLS). Because we are a crew of all ladies right now!
Any secret talents outside of tapping it back?
Kelly L. at our front desk is a secret pumpkin carver: Her pumpkin was featured on SC Instagram!
Best part about bringing SOUL to Woodbury?
Bringing SOUL to new riders in a new community and working with new awesome instructors.
Favorite stories so far?
A dance bomb in Austin's class by our front desk staffer Krista... she was cartwheeling and all!
Why are you so SOULful?
We LOVE to ride any chance we can. The staff really enjoys bringing SOUL to the people and watching what it does for peoples' lives.
Swing by SOULCYCLE WOODBURY in Woodbury Common at 8285 Jericho Turnpike! Questions or comments? Email blog@soul-cycle.com!