Studio Spotlight: Williamsburg
June 7, 2014
Meet the dedicated rockstars who add SOUL to Brooklyn seven days a week!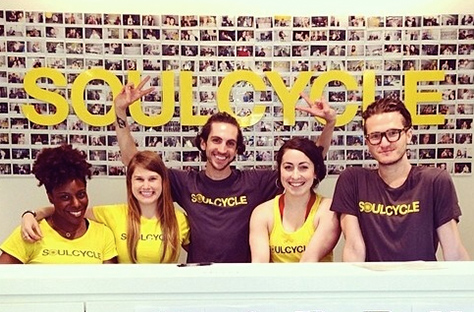 BURG TEAM: (from left) Barb, Ramona, Avery, Stephanie, Jake

Which words would your riders would use to describe you?

Fun, flirty, drama-free dreamboat Angel Bears.
And if you were a TV or movie cast, which would it be?
Saturday Night Live because we're all super random and funny characters, duh.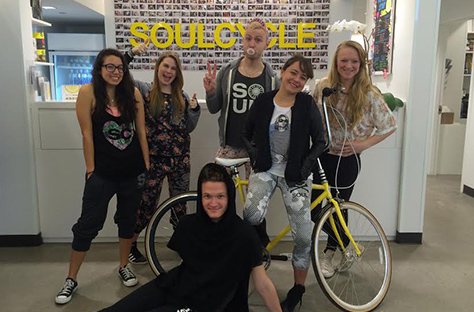 BURG TEAM:
(from left): Yasmeen, Ramona, Jake, Ryan, Beatriz, Toni
Nice. Who would be your musical guest stars?
The Williamsburg studio has a very eclectic taste in music. You will usually hear some Miguel song playing in the background during the downtime. If we're feeling dark and vulnerable then anything off of Alanis Morissette's "Jagged Little Pill" album will be blasting. For moments when we're feeling colorful then expect anything from Kylie Minogue to One Direction. Hi, Niall. Hi, Harry. Hi, Zayn!
What kind of food keeps you fueled up?
Healthy, clean eating is really not a priority for us in Williamsburg unless you're studio manager Stephanie White. You can definitely find staff binging on Pop's and Heaven's Playground, Dos Toros.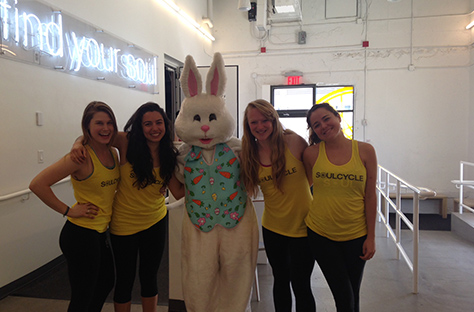 BURG TEAM:
(from left): Ramona, Yasmeen, Easter Bunny, Toni, Beatriz

Where do you like to hang out in BURG beyond the studio?

We're currently loving Y-7 Yoga which is right down the street from the studio. The people and atmosphere there are awesome.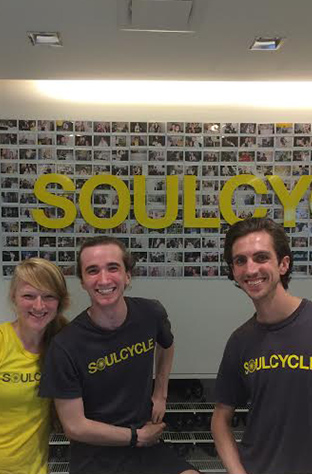 BURG TEAM: (from left): Toni, Garrison, Avery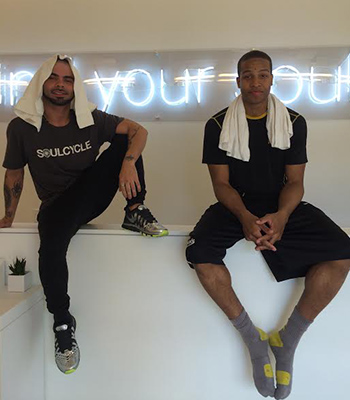 BURG TEAM:
(from left): Victor, Justin
Wow. Zany and zen! Any more fun facts about your team?
Stephanie: Gives you all kinds of feelings through her articles on Thought Catalog!
Beatriz: Has a witty health blog that originally started as a joke! Body tips, anyone?
Jake: Communicates mainly through Snapchat and probably doesn't believe in verbal communication. He's the studio's own Snapchat Influencer.
Avery: He currently is studying to be a chef and makes a mean gnocchi.
Garrison: You may hear him belt a show tune or two if you come to the studio.
Barb: Has a pet turtle named Earl.
Ramona: Was born in a NYC taxi cab.
Keiyanni: She is our studio's most creative.
Yasmeen: Was a resident of Egypt for 5 years.
Nicole: She can speak French fluently.
Toni: Our local soccer sister, Toni has played semi professional soccer for years! She also has a cute British accent.
Ryan: Is Miley Cyrus' new best friend after receiving a special shout-out from her at her concert in April
Priscila: Loves a good cha-cha and merengue moment.
Victor: Has a voice for the Gods.
Justin: He is our studio's budding Michael Jordan.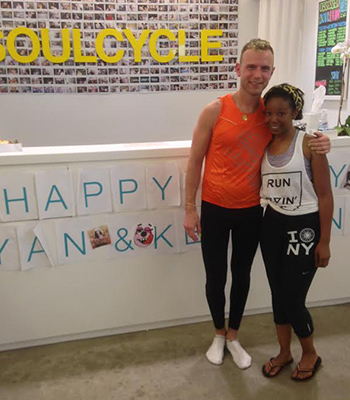 BURG TEAM:
(from left): Ryan, Keiyanni
Questions or comments? Email blog@soul-cycle.com!