Studio Spotlight: West 92nd Street
August 1, 2015
Meet the dedicated rockstars bringing even more SOUL to the Upper West Side! Our W92nd Street team is the focus of our latest Studio Spotlight…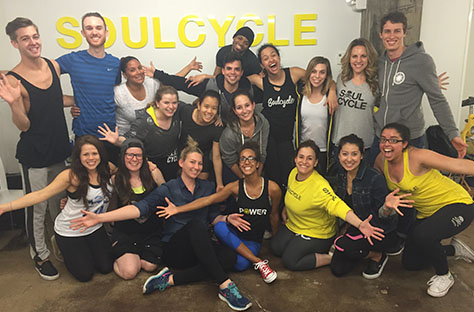 Top row (from left to right): Cameron Benda, Paul Lang, Melissa Suero, Felipe Carrillo, Eddie Corley, Geneva Smith, Sara Marshall, studio manager Ariel Dobshinsky, assistant studio manager Tom Johnson; Middle row: Elspeth Powell, Jessica Chang, Emily Hollender; Bottom row: Mischa Goodman, Sarah DeNight, assistant studio manager Colleen Reilly, assistant studio manager Nicole Padilla, Amy Peck, Katie Chung, Nicole Antonacchio

What's it like bringing SOUL to the way Upper West Side?
It's pretty much the best thing ever! We have been able to meet all of the incredible OG riders who have been riding with Soul since the beginning, and we also have the opportunity to introduce SoulCycle to an entire community who have never ridden with us before! We feel very welcome in the neighborhood. Plus, since most of our team lives uptown, we feel a close connection with the community. It's like being the new kid in town and having a homecoming all at the same time!
Best part about the neighborhood?
The upper, upper West Side is friendly, inviting and has a ton of character. There's a great mix of old school and new school - New York City staples surrounded by gorgeous architecture, balanced with lots of brand new businesses and young families. We also frequent many of the fantastic local restaurants and bars in the area, and we are super close to Central Park! There is truly something for everyone here.
Three adjectives to describe your team are...
Fierce, friendly and fun!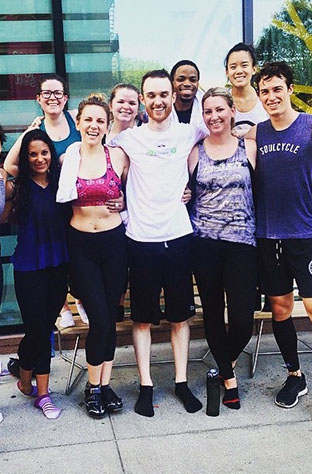 From left: Katie Chung, instructor Anandah Carter, Sarah DeNight, studio manager Ariel Dobshinsky, Elspeth Powell, Paul Lang, Eddie Corley, assistant studio manager Colleen Reilly, Jessica Chang, assistant studio manager Tom Johnson
What music keeps you motivated?
Some of our favorite Pandora stations include "Bachelorette Dance Party Radio", and a close second is "Twerk Radio" — highly recommended for both early morning Rooster classes and bumping evening check-ins. On a more chill afternoon, you find us listening to lots of classic rock and any 90s station we can find (pop ballads, alternative, and Boy Band hits!)
Which foods keep you energized?
We definitely love to eat and we are #blessed to be surrounded by so many awesome restaurants. We are big fans of the sweet potato tater tots from Big Daddy's Diner, across the street from the studio. We drink lots of coffee and eat lots of avocado toast from Le Pain Quotidien, which is right next door. We also love smoothies of any kind. And we are super lucky, because one of our amazing cleaning staff, Carmen, also works at Sullivan Street Bakery... and sometimes she'll bring us leftover treats like donuts and pizza. (You said energized, not healthy!)
If you were a TV or movie cast, which would it be?
We are definitely a mix of Parks & Rec and Full House. We are a quirky, wild, close-knit family, but we know how to take care of business and run an amazing studio!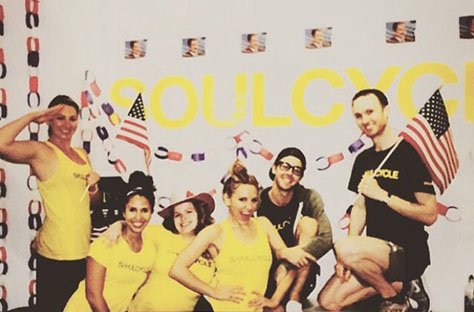 From left: assistant studio manager Colleen Reilly, Jade Lopez, Elspeth Powell, studio manager Ariel Dobshinsky, Cameron Benda, Paul Lang
Why are you so SOULful?
We are truly a part of the community we work in and we love the #westsidebestside. We really value our Soul community and take time to connect with riders (and each other!) outside of the studio. We care, we focus on the details, and we have created a motivating, energizing and inspirational environment for everyone who walks through the door. We genuinely love and support each other - both on and off the bike!
Visit SoulCycle West 92nd Street at 2465 Broadway! To book a bike,
CLICK HERE
or call the studio at 212.579.7685. Questions or comments? Email blog@soul-cycle.com!