Studio Spotlight: W77
January 16, 2014
This Saturday we're spotlighting the staff at West 77th or, as they like to call themselves, A Quirky Bunch. Learn all about their costumes, their chicken cravings and, of course, their commitment to Soul...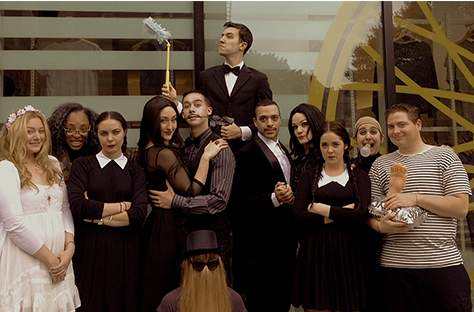 From left: Sofia Langan, Iantha Richardson, Sarah Ferguson, Kiya Schnorr, Austin Cope, Ryan Jones (tall guy), Darius Redfearn, Brooke Wilson, Morgan Brophy, Stacey Kramer, Michael Brooks, Kay Whitney (front row, long hair).

A few words to describe your team.... go!
Where to begin?! Silly, compassionate, empathetic, quirky, hard working (as cliché as that sounds) dedicated and hilarious. Since our staff is pretty small, it's really important that we all get along because that fun, goofy energy is contagious and our riders pick up on it and feed off of it. When we are getting our job done well, we have time to be a little weird (in the best way and maybe more than a little) and that silliness leaps over the front desk and puts a smile on our riders' faces.
Is it true that you call yourselves A Quirky Bunch?
Oh, we are such a quirky bunch. We didn't even make that name up…apparently it's a reputation, which we are all more than okay with. We are literally all just a bunch of weirdos and are so okay with letting our freak flags fly HIGH. Whether it's Sarah is wearing her hair in crazy Princess Leia buns all day everyday or Brooke chanting about waitlists or all of us making up coordinated dances behind the front desk to Panjabi MC, singing songs about setting up riders or having entire conversations in hashtags, we never take ourselves too #seriously. I think this is a testament to how close we all are and the positive environment we try to create at work. You know you're doing something right when people feel comfortable letting their guard down enough to belt out Mariah Carey while cleaning lockers.
And you had a staff lock-in at the studio?
It's always been a personal goal of Sarah's to sleep over at the studio. Not for any reason in particular, but she figured the next best thing would be to lock our staff in, eat pizza with them and watch a movie! We combined this with a staff meeting since we had a lot of new staff members and because it was around the holidays we watched Elf on the projector screen and lived our lives. Next on our list is staff speed dating….with each other.
What's up with your holiday card?
Sarah was inspired by a friend's Christmas card #tbt on Instagram and we last minute decided that it would be epic if we all dressed in white turtlenecks and jeans and took an awkward picture and sent it out to some of our riders and other studios. The card is just strange enough to be funny but if you didn't know us well you may think we were being serious. Not pictured: the fact that we are all wearing Shimanos.
TOP: Miles Johnson, Brooke Wilson, Austin Cope, Darius Redfearn MIDDLE: John Taylor, Michael Brooks, Sarah Ferguson, Morgan Brophy, Emma Jepson, Kiya Schnorr BOTTOM: Kay Whitney, Chelsea Picken
And what about Halloween?
Our Halloween costume was EPIC. I mean….the Addams Family, come on. So good. It's just extremely fulfilling to see your staff want to hang out together, have fun and make any situation light-hearted even when it can get tense.
What makes you so Soul-ful?
We genuinely love what we do and love each other. That sounds so sappy, but hey it's true. We try really hard to hire people who are going to take this job seriously, which paradoxically allows us to be silly since the job is always getting done. Whether it's a keyholder staying until 11 p.m. to hang retail off the clock, bringing in treats when someone is sick, gathering at a lounge to watch Brooke perform on a Sunday night or just going for a walk with one another to see freshly fallen snow in Central Park, we get to have friends that we work with – not work friends.
So sweet! Anything else?
There is so much to add but where to begin? It's hard to build community in NYC and we have not only succeeded in doing that but we have surpassed a sense of community and have created a our own kooky family. We are also all weirdly obsessed with whole chickens from Chirping Chicken.
#WESTSIDEBESTSIDE
#WHOLECHICKENKINDOFDAY
Questions or comments? Email blog@soul-cycle.com!