Studio Spotlight: East 83rd
March 8, 2014
We're showcasing the super-fun, salad-loving stars who make our East 83rd studio so SOULful. Learn more about this cheerful crew you see each day…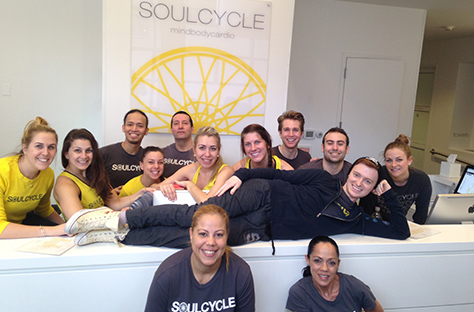 How many rockstars on your team?
34!
Wow, big group!
Although we are one of the biggest studios, the community that we've created feels so small because everyone knows each other and we are one big happy family!
Describe your team.
Extraordinary multitaskers, hard-working, SUPER fun, lifelong friends, passionate, entertaining .. did we mention hard-working?
What makes your studio unique?
It's more like a nightclub with a disco ball and black lights!
What would your theme song be?
"Happy" by Pharrell Williams can spark a spontaneous dance party behind the front desk with no fail.
What's your favorite local spot for food?
Just Salad. We're all addicts. It's convenient, guilt-free, and delish! They even give us SoulStaff extra bread!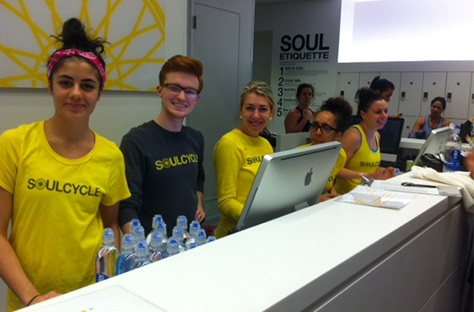 Retail, check-ins, phone ringing off the hook -- any tips for multitasking? How do you handle it all?
We have dual check-ins with Studio A and B running all morning and night, so we like to pride ourselves on staying calm, positive, and smiley, even when things get crazy with hundreds of people in the studio. Saturday and Sunday mornings are when you can catch us at our craziest; we are on fire with 10 classes before noon!
Any favorite moments?
Just last week, we had 1023 riders in a day! Stacey threw us a pizza party for hitting that goal. We also had a staff outing a month ago, where we rented a karaoke room in K-town. It was a total blast, and Matt Shyman stole the show.
So fun!
We've got lots of staff at the studio who have been working for Soul for a few years, others who are brand new! We are so friendly that we tend to become friends with our riders, so come say hi!
Questions or comments? Email blog@soul-cycle.com!