Studio Spotlight: Chestnut Hill
April 19, 2014
Check out our amazing Chestnut Hill rockstars, the energetic, efficient and entertaining team who bring SOUL to the Boston area each day…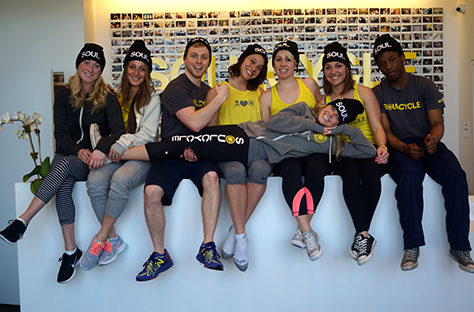 Describe your team in a few adjectives.
Sassy, hilarious, passionate
You've been working together for just about six weeks. How did you bond so quickly?
Love of all things SC, riding together, six degrees of separation throughout the staff.
Favorite snacks?
Anything "Momma" Caroline brings us, juices from Squeeze right upstairs, free cake from Wegmans.
Favorite music?
"Back That Azz Up" radio, "JT" radio, "boy band" radio.
You're in a square of stores. Who are some of your best neighbors?
Starbucks and Equinox, but we can't wait for Sweetgreen and Sweet to open...they might take over.
What's makes Boston area Soul different?
Everything is new and fresh. There's a different feel when 40 out of 55 riders in a class are new, excited, and anxious!
BOSTON STRONG!
If you were a TV or movie cast what would it be?
ALL THAT.
Questions or comments? Email blog@soul-cycle.com