SOULmates: Chris Chandler and Brad Bilanin
February 14, 2016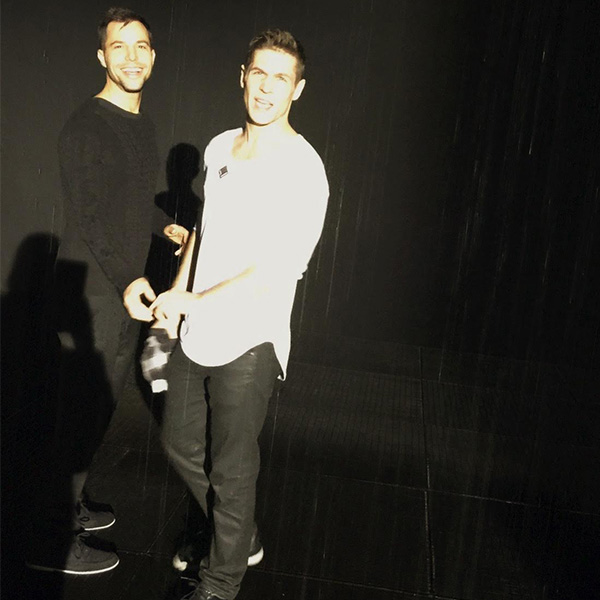 How did you two meet?
Brad: I started training in management at the Pasadena studio in mid-October. We have about 10 instructors at our studio and Chris C. was one of them.
Chris: I met Brad on his first day at SOUL PDNA. I was getting ready to teach when he formally introduced me to a brand new rider. He meant business.
Brad: Ha. It's not "business," but spreading the love! Our instructors are great and I love for brand new riders to get a chat with them whenever possible.
How did you each find SOUL?
Chris: I used to work at lululemon athletica in Glendale, California and found SOUL through riding with my coworkers. Little did I know that riding would then open doors to become an instructor.
Brad: I actually just went through a pretty terrible mid-life catastrophe. I started and grew a successful recording studio in Hollywood, California, and I made the mistake of doing it with someone that I was romantically involved with. Six years later when I decided that I had to leave the relationship, I found out that I had no choice but to also leave the business — and everything I put into it. I was devastated. Ironically, one of the employees at the studio that left as well got hired by SoulCycle and thought that I would be a great fit. He hooked me up with the right people and I was hired. It's funny how the right things find you at the right times. SoulCycle has definitely been a powerful place of healing and has helped me put the pieces back together, in so many more ways than one.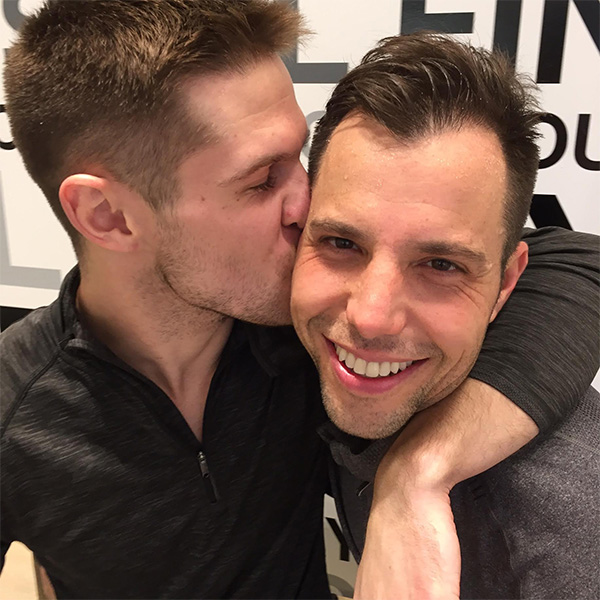 And we're so glad you both found SOUL! So tell us about your first date.
Brad: Well, that was a long time coming. I was already in a relationship when I started at SoulCycle. But being in that positive, team environment every day changed my mood pretty drastically. And actually, I thought Chris was straight, or I guess I just didn't know. But what I KNEW was that I wanted to be with a partner that made me feel the way that Chris made me feel. And so I ended my relationship. Soon after that, on what turned out to be our "first date," he filled me in on the whole story.
Chris: Our "first date" was one that we didn't know was actually a date until after the fact. Brad and I became friends through riding together and hanging out outside of the studio when an attraction grew between both of us. So, we decided to go out to dinner one night and I cleared any confusion of my sexuality with him, opening up to him about my journey through self-acceptance and grief after my dad died in 2013. This deep connection from the start was the platform from which our relationship sprung forth.
That's beautiful! How has SoulCycle impacted you both?
Chris: SOUL has changed my life in so many areas: My career, emotionally, spiritually, physically, etc. We did a SOUL Blog on
my own journey
months ago.
Brad: Whatever happens in that room with some instructors is unparalleled. It's part therapy, part exorcism, all healing. It's definitely given me parts of myself back in such a way that every day I'm continually committed to doing my utmost to provide the possibility of that calibre of experience for every rider that comes into Pasadena. From a cheer of your name at the front desk to your freedom to sweat or sob in the dark, I truly want the everyone to be affected the way that I have been.
Chris: As a couple, SOUL has helped us create transparency through vulnerability in our relationship from an early stage. It's not always easy, but we know the work we put in now will have a powerful effect on our relationship for years to come.
Brad: For me, it's helped me realize that my vulnerability is not my weakness — in fact, it's where we find strength.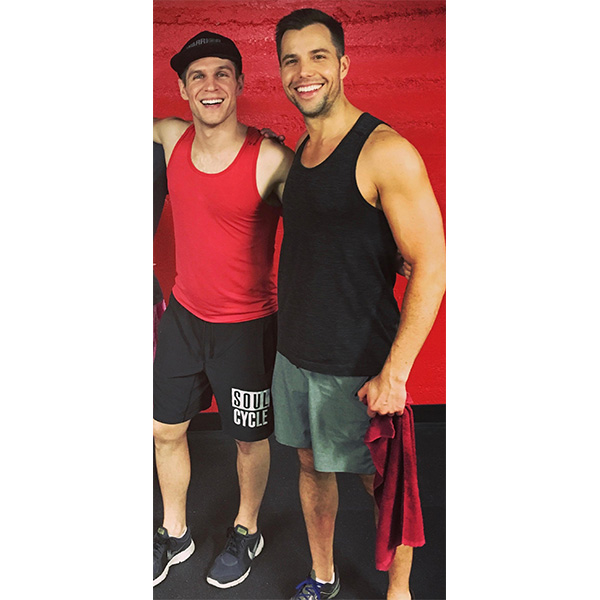 So Brad, do you take Chris's class often?
Brad: *blush* I do. He's sparked my belief that I'm an athlete and I actually feel increasingly like one. He's tough, so I take his class as a rider and not as his boyfriend because I simply like the challenge!
Chris: But when you think back to when you first took my class, what was your original take-away?
Brad: When I first took your class I was definitely broken emotionally. You gave me the space to let the "soul" part of SoulCycle emerge. You made me feel seen in all my vulnerability, failures and disappointments. And then I realized I was stronger than I gave myself credit for. That's actually the moment when I knew that I had fallen head over heels for you.
Chris: Call me cheesy, but my heart explodes every time I hear you say you're head over heels.
Brad: Oh, and my favorite bike is definitely anywhere on the side bar. I prefer the profile view ;-)
That's incredible to have such a strong connection through SOUL. Chris, what is it like to have Brad in your classes?
Chris: To have Brad in class is an experience. Brad brings the energy — YOU KNOW WHEN BRAD IS IN THE ROOM. From singing along to shouting "Okaaayyyy," and "YEAH YEAH," it is the best when Brad rides in class. It also feels safe for me; Brad's presence makes you feel known, seen and heard simply by being around his energy. Plus, he ridddddess that bike, okayyyy!
Brad. Hahaha. I love it when people feel good in that room. And any way I can help be a part of that, I'm down. I know the power of the dance bomb!
Brad, have you made it to the podium with Chris yet?
Brad: No way! First off, Chris never has anyone ride podium, unless it's a super special occasion! Besides, I don't think I'd make it through!
Chris: Stop. Someday we'll make it happen :-)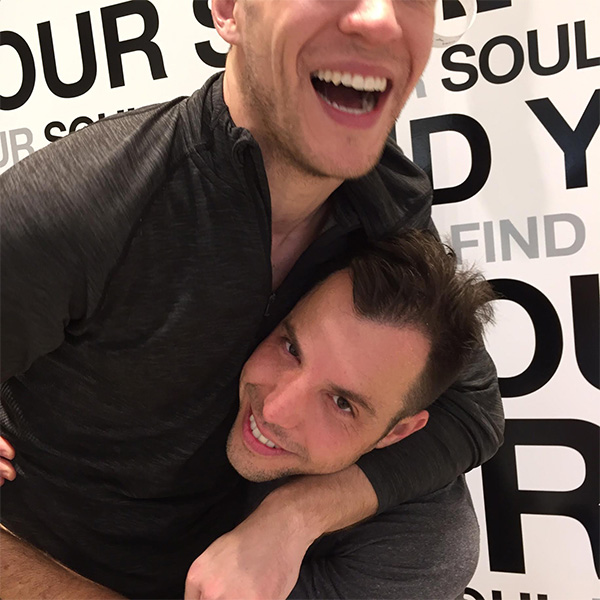 What are your favorite SOUL memories?
Brad: Chris in a fishnet bodysuit and a blond pig-tailed wig, AKA Baby Spice for Spice Girls theme ride? Ha. No, but my favorite memory still was falling in love with Chris after sobbing my eyes out in the dark. Ugh. More snotty than romantic.
Chris: My favorite SOUL moment with Brad is definitely the one he alluded to above. Facilitating space where people have the freedom to feel whatever they need to is my favorite thing about this job. The fact that Brad felt comfortable to express his emotions and allowed himself to share with me on a deep level made me fall even more for him.
Do you have any pre- or post-class rituals?
Chris: Creating space for people to get excited for class while they walk into the room is one of my favorite pre-SOUL rituals. Connecting with the riders, playing music people know and can dance to and cha-cha-ing over to Brad are some of my staples for every class. I usually throw in a song that we love or that reminds me of him, as well.
Brad: Post? Nektar's Peanut Butter Acai bowl with added spinach and kale. YES.
What is a fun fact about each other that not many people know?
Brad: He's gassy and he will NOT wash synthetics and cottons together.
Chris: Brad can eat sautéed spinach for every meal but has zero self control when (vegan) donuts are brought into the equation (think seven in one sitting). #fitness
So how are you celebrating Valentine's Day this year?
Brad: Hiking and picnic in Malibu then down to celebrate his close friend finishing the LA Marathon!
Chris: Then, the world is our oyster and we are keeping plans open :-)
Have a Soul Story to share? Email blog@soul-cycle.com! Want to ride? Grab a series HERE and book a bike!
MORE FROM SOUL