Soul Story: Yvette Manessis Corporon
July 14, 2014
Soul rockstar YVETTE MANESSIS CORPORON just fulfilled her dream of publishing a novel… and she celebrated with a ride and book signing at Soul Bronxville! She shares her Soul Story…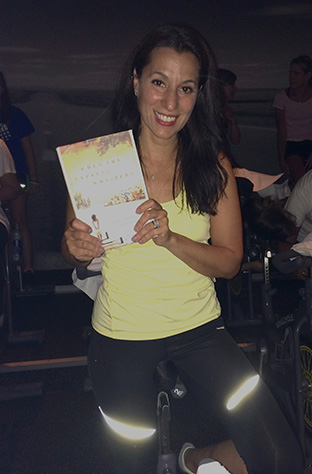 Congrats on your new book! Tell us about it.
When The Cypress Whispers is the story of a young woman named Daphne and the deep and magical bond she shares with her Greek grandmother, her Yia-yia. It's a story about faith and fate, myths and magic, and most importantly, the power of love. Daphne is a single mother who has finally found love again. After several years away, she returns to her family's Greek island home so Yia-yia can witness her walk down the aisle. But when she gets there, things don't go as planned. Yia-yia reveals a secret from her past and inspires Daphne to reevaluate what's really important in life – and, how she wants to live her life. And then of course there's a mysterious and sexy fisherman named Yianni who complicates things….. Foreign rights to When The Cypress Whispers have sold around the world and to date it is being translated into 13 languages.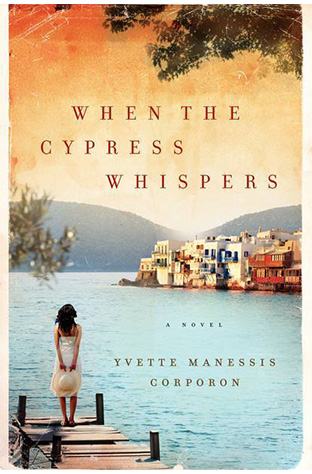 What inspired you to write it?
When The Cypress Whispers is inspired by my own family and Erikousa, the beautiful and tiny Greek Island we still call home. Like Daphne, I grew up spending summers in Greece surrounded by my wonderful and crazy Greek family. The story is also based my own grandmother's life and how she, and our extended family, risked their own lives to help hide and save a Jewish family from the Nazis during WWII.
Wow, that is incredible.
After years of searching for the family that my grandmother helped save, just this summer, I finally located the granddaughter of one of the girls my grandmother helped hide. She lives in L.A. and works in television like I do. When I called her to tell her about our connection, she had no idea what I was talking about. Her grandmother never discussed the Holocaust – how she managed to survive was always a mystery to the family….until I called and told them. Our families will reunite on Erikousa next summer when the island will be given an award by a Holocaust Remembrance Organization for saving the family. We are also working with Yad Vashem towards Most Righteous Nations Status.
And you celebrated the new book with a ride in Bronxville. How was it?
Amazing. It was the sweatiest, most SOULful book signing ever! The room was packed with both die-hard and new riders. Sam taught an amazing class that had everyone dancing, singing out loud and pushing themselves up that hill. And, my 13 year-old daughter, Christiana and her friends really LOVED Sam's playlist. I mean who doesn't love a little One Direction? Seeing those girls singing, dancing and having the time of their lives made the night even more special for me.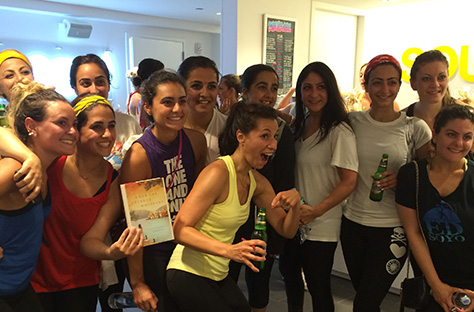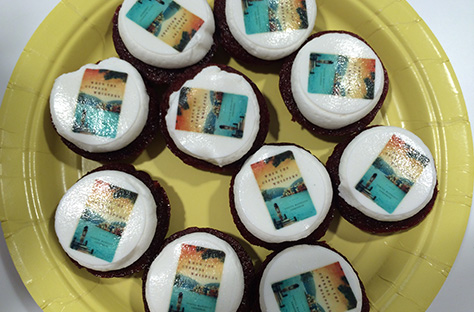 What first brought you to Soul?
The Queen of Soul herself, Julie Rice! Julie and I met years ago on Fire Island. It was the summer before she opened the first studio on the UWS. I remember listening to Julie as she told about her idea of an indoor cycling studio that was about so much more than just exercise. I found her to be so smart and her energy and enthusiasm were infectious I knew this was a woman who would make it happen. I've loved watching as Julie turned her dream into a reality and it inspired me to keep chasing my own dream of seeing my novel published.
What was your first ride like?
I remember my butt hurt – and I remember how happy I was when I discovered gel seats! I also remember the burst of energy and emotion and I pushed through that first ride. As a die-hard runner, I wasn't so sure how I'd feel about indoor cycling… but eventually the music and the efficiency of the workout won me over.
What kept you coming back?
It's a combination of things… the music, the sense of community and also the total body workouts. I love my Bronxville Rooster classes. I have two kids and a demanding job as a producer for Extra. The fact that I can work up a great sweat be DONE by 6:30 AM and get on with my day is a real incentive for me to keep coming back. Plus, I'm always nicer after I work out – just ask my husband… he practically pushes me out the door to get to class.
How often do you ride?
I've been taking classes at least two or three times a week since the Bronxville studio opened in June and I already see a huge change in my body. I'm leaner and stronger, and I am rediscovering muscles I forgot I had. I especially love that last part when the music slows and you've already worked out hard, but the instructors push you to go just a little harder. Those last few minutes of a ride, when you're dripping sweat and the studio is dark, and the candles have been blown out and you lose yourself in the music knowing these may be the last few minutes you have for yourself today. I really savor and love that.
Favorite part about riding at Soul?
One of the things I love most about SoulCycle that it inspires riders to push themselves and be the best they can be both on and off the bike. Every ride pushes us to dig deeper and be stronger. I chased my dream of becoming a published novelist for years before it finally became a reality. When The Cypress Whispers is living proof that anything you set your mind to is possible and can and will be achieved. We just have to keep pushing up those hills…
Do you have a Soul Story to share? Email blog@soul-cycle.com!