Soul Story: Tina Burgos
March 31, 2014
Since our Chestnut Hill, MA studio opened earlier this month, dozens of new riders have discovered their Soul style. We talked to Boston fashionista TINA BURGOS about riding — and her retail obsessions.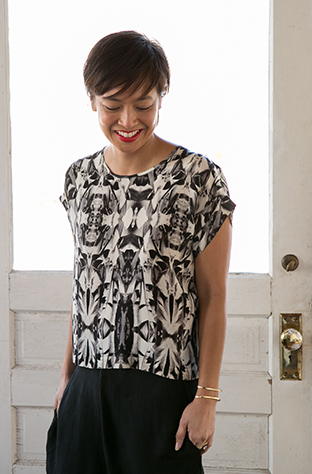 What brought you to SoulCycle?
I first noticed the eye-catching SoulCycle locations during trips to New York and became very intrigued. When my friend invited me to try it during Chestnut Hill's inaugural week, I couldn't resist the opportunity!
What was your first ride like?
I was initially intimidated at first because I hadn't attended an indoor cycling class in months; and, I heard that the SoulCycle workout was pretty intense. Once class began, though, I knew I was going to enjoy myself. The music was bumping, the instructor, Erin Thomas, was motivating, and the atmosphere helped me to focus and stay in the moment of the ride. Afterward, I felt fantastic.
What keeps you coming back?
The class is an absolute blast! And I appreciate the fact that the ride hits all body parts, not just what resides from the waist down. Most importantly, the ride is the rare hour of time that I use to devote utterly to myself and my well-being.
What is your Soul style?
I am a lover of urban street wear, so I express that in my Soul style. I favor baggy sweatpants and muscle tees over yoga tights and torso-hugging tanks.
Speaking of style, tell us about your website, Covet + Lou.
I've been in the retail game a long time. For nearly 10 years, I co-owned a shop in Boston called Stel's. While we closed in 2010 so I could spend more time with my twins, I couldn't escape the industry. I regrouped and developed a tightly curated e-commerce concept. Last October, I launched Covet + Lou as an expression of my own personal style. I sell women's clothing and accessories, as well as home goods. In addition to featuring beloved indie designers (such as Ace & Jig, Objects Without Meaning and Gabriela Artigas), I also have vintage items that I find during my travels.
What are your favorite spring trends?
I think the use of solid white in this season's clothing and accessories is very fresh. It's a minimal but strong color that makes a great statement. I'm also happy to see that the melding of street-wear and high fashion is still evolving and growing. You can add wit and humor to your wardrobe by infusing one or two pieces into your closet. Finally, I am currently obsessed with layering my jewelry. Whether it's a stack of arm candy, a ring for every finger, or draping necklace over necklace, mixing textures is an unexpected way to accessorize.
How would you define your style in a few words?
I have a very androgynous aesthetic. I like darker muted colors, baggy clothes, and menswear inspired footwear. Every so often I will break up this uniform with a whimsical print or pop of color. I get a lot of inspiration from Japanese style blogs because they make the ordinary look extraordinary and effortless.
Who's your fashion icon?
I've always had a thing for Stella Tennant. She is eternally stunning, pulls off short hair like no other, and is flawless in her wardrobe choices. She also carries herself with a quiet self-assuredness. To me that level of self-confidence is very empowering,
What is your favorite piece of clothing?
I live in my Surface To Air boyfriend jeans. Even though they are a very pale blue, I wear them all year round. And I have a Vans fetish. My black Sk8 Hi's are my shoes of choice.
Anything you would you never be caught wearing?
Crocs.
To see more of Tina's style, check out
covetandlou.com
.
Got a S
oul Story to share? Email blog@soul-cycle.com