Soul Story: Steve Meadow
December 11, 2013
A devastating spinal injury made it difficult for STEVE MEADOW to walk much less do his favorite exercise: outdoor bike rides. But after surgery and months of physical therapy, his doctors cleared him to try indoor cycling — and he found SoulCycle, which has helped him gain endurance and drop 30 pounds. Steve recently celebrated his 200th ride at Soul Brentwood and we couldn't be prouder. He shares his Soul story.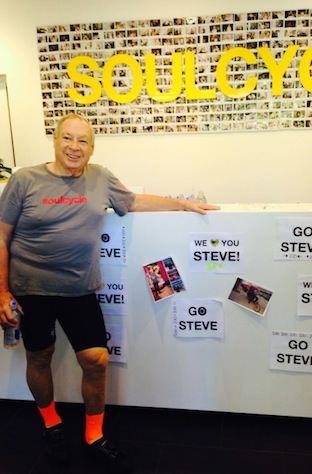 In October 2011, I suddenly woke up one morning in terrible pain. After a visit to the ER at the local hospital in Nantucket where I lived, I was misdiagnosed and, for 10 days, given pain medication. It was only when I flew to New York City and had an MRI at NYU Medical Center that we learned that I had spinal damage from two disks compressing a nerve. I was 70 at the time so it could have been the result of my age or a sports injury, but the doctors were not sure.
I decided to seek medical care at Cedars Sinai Medical Center in L.A., where I'd lived for over 30 years and raised my four children. After consulting with both a neurologist and a neurosurgeon, I learned I needed a spine operation to correct the problem and remove the pain. I already had developed foot drop which they both said might not be correctible. After the surgery, I had 18 months of physical therapy but because the nerve was damaged, I had a foot drop (which makes walking irregular due to muscle weakness). The healing from the operation required me to use a walker at first, then a cane and finally I was able to slowly walk, carefully, wearing a foot brace called an AFO (Ankle Foot Orthopedic).
While living in Nantucket, I rode my Cannondale Carbon Fiber bike 17 miles three to four times a week on our bike path. But after the surgery, I was forbidden to exercise or put any stress on my back or legs while they healed. I followed doctors' orders but I gained weight.
We decided to move back to L.A., and our home is now in Santa Monica, right next to SoulCycle. When I was able to start riding a bike again, I tried a few classes at another studio and then my daughter-in-law, Linda, said, "Steve, you will love SoulCycle." And have I!
I began at SoulCycle Brentwood starting in September 2012 and I still consider it my "home." I have to wear the foot brace to prevent me from falling since while walking I can't raise my left toes or turn that ankle. But indoor cycling doesn't require me to wear a brace. My shoes lock in and off I go.
When I went to my class, I loved it. I had no clue there would be weights and the instructor MB was a riot. Not only did I survive, but I couldn't wait for the next one! My son Cary and his wife ride there often as do my daughter Stacy, her older children and many of our friends. We are a cult, I guess.
I feel so good. I just love the instructors as well as all the studio staff. All are warm, friendly and encouraging. Erin, Melissa, Liza and all the others, and I have so many favorite instructors. MB, Laura, Jenny C, Alba, Gina, Molly, Cole and more. I now choose the class by time and location to work with my day.
I also started to see a nutrition doctor, Dr. Stephen Gullo, to help me lose weight so my diet has changed. For breakfast I have fruit and egg whites or cereal with skim milk. Lunch is always a chopped salad or grilled fish, and I snack on nonfat Greek yogurt. For dinner, I have fish six days a week with lots of veggies, and meat once a week. Over a four to five month period, I have lost 30 pounds. And because Dr. Gullo is in New York City, I now have a great excuse to go to see him and ride at SoulCycle in NYC.
I ride five to seven days per week. Over Thanksgiving, I did a Turkey Burn one day and a double another. I am never out of breath. When my new doctor asked me to get a stress test, I went to UCLA Cardiac Center. There I had to go on a treadmill and have an echocardiogram and the doctors there then asked me what I did for exercise. When I said SoulCycle at least three times a week, they all laughed and told me to come back in seven or eight years! I hope to stay healthy and ride for many more years.
Have your own Soul Story to share? Email blog@soul-cycle.com! Follow Soul on Facebook, Instagram, Spotify and Twitter.