Soul Story: Sarah Herron
August 19, 2014
SARAH HERRON always struggled to find the right workout for her. But when she was cast in TV's Bachelor in Paradise, she began tapping it back at Soul Santa Monica. "SoulCycle has changed my life and given me a more enlightened — and lighter — mind and body," Sarah says. Here's her Soul Story…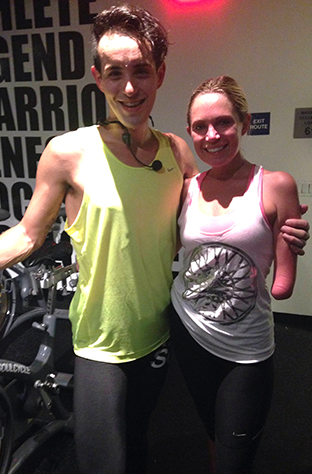 Sarah with Soul instructor Franz Garcia-Chon
In April of 2014, I was invited to partake in a crazy adventure to find love... on television. Yes, I'm talking about The Bachelor. You've probably seen it once or twice considering it's been on the air for nearly 20 seasons now. This was going to be my second time participating in the experience, the first time was in 2013 with Sean Lowe. Pre-bachelor 2013, I was insecure and lacked self-esteem so I approached the show as a way to challenge myself and come out of my shell.
Potentially falling in love with a hunk along the way wasn't a horrible thought either. Terrifying, nonetheless. When Bachelor in Paradise came on my radar, it was a no-brainer that I wanted to participate again. The ROI last time was exponential, so I assumed it could only get better from there. Bachelor in Paradise was a new format where 20, single men and women are picked to live in a tropical locale to see what romances could ensue.

As excited as I was for the second go-around, there was still one major fear I had, and that was being in a swimsuit for 30 days with a group of impossibly good-looking men and women... on TV. It's worth mentioning that when I'm not falling in love on reality TV, I work grueling hours in advertising. I eat, sleep and drink at odd hours and physical fitness usually falls by the wayside. So to say my body was "TV ready" is the biggest overstatement of my life. I immediately started looking into personal trainers, Circuit Works, Cross Fit, Bar Method, Pilates, Yoga, anything I could find to excite me about needing to work out – an activity I've always been lackadaisical about.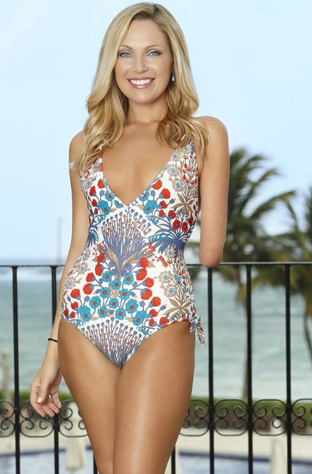 I was born with only one arm as a result of a birth defect called Amniotic Band Syndrome so I've struggled my whole life to find an interest in fitness due to the physical limitations I face. The challenge of finding workouts that I can actually do, enjoy and stay motivated through has always been tough. Indoor cycling, in particular, I had always ruled out. I learned to ride a bike as a kid and have no trouble, but the thought of needing to balance while riding a bike, standing up, has always frightened me.
That is until a friend of mine convinced me I absolutely COULD and would love SoulCycle. So I began my research. Instantly, I was smitten with the website. As a graphic designer, I have a ton of appreciation for the brand's design aesthetic. A+. Based on everything I read, people were raving about SoulCycle, so I decided to give it a shot. Why not, right?
My first ride was, as to be expected... intense. The amount of sweaty bodies pouring out of the studio when I entered was more intimidating than walking into a mansion full of man-hungry females. I'd like to add that several celebrities had just come out of the class before mine, which created a level of anxiety I could barely handle — yet I loved at the same time. I had never felt so "Hollywood" in my life!
As my adrenaline (panic) kicked-in, we were hustled into the studio and set up on our bikes. Alba was my instructor. Her music playlist was top notch, and immediately pumped me up. I loved how loud and dark it was because it really makes you feel like you're in a club. The louder, the better! I was nervous at first to see that everyone knew what they were doing and how to move their bodies – while I was still figuring out how to control my balance. Surprisingly, the class seemed to fly by and I exited the studio just as sweaty as those before me — a sure sign that I had worked my butt off harder than any other 45 minutes in my life. Most importantly, I had a blast! I didn't come up out of the saddle for fear of losing my balance, but I made a goal to try it the next time.
Since that first class, I've been cultish-ly addicted. Now, I ride the entire time up, out of the saddle and I know that you don't need two hands to ride a stationary bike – just a will to do it. Which is another aspect of SoulCycle I'm obsessed with: the motivation and community support. I wouldn't consider myself very spiritual, but the vision at SoulCycle seems to suit my likeness perfectly. I LOVE how the instructors inspire and push you to believe in yourself, your body and your mind without being preachy or making me feel uncomfortable or pressured.
I had a clear goal of going to SoulCycle and that was to 1.) get in shape and 2.) get my head in check for the emotional rollercoaster I was about to endure. Right up until I left to film Bachelor in Paradise, I was going to SoulCycle 4-plus times a week and I had never felt better. I had more energy and was in such a better mood. My stress levels were diminishing; I was focused and had clearer goals for each day. I learned to respect my body and the things I was putting into it. I found myself waking up at 5:00 AM to ride before work just because I knew I'd have a better day. It's changed my perspective on going out Friday and Saturday nights – I no longer enjoy the drinking and late night Del Taco binge because I enjoy my SoulCycle rides on Saturday mornings, more. I look forward to the awesome music and have since made several playlists inspired by the songs we hear in class. (I love how all the instructors have their individual music taste and playlists –— I credit Heather P. for introducing me to Sam Smith #prayerhands).
In the two months I prepped for Paradise, I not only lost five pounds, but also became leaner and firmer in places I never felt before... obliques! SoulCycle has changed my life and given me a more enlightened – and lighter – mind and body.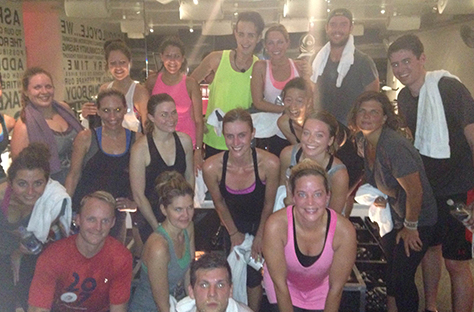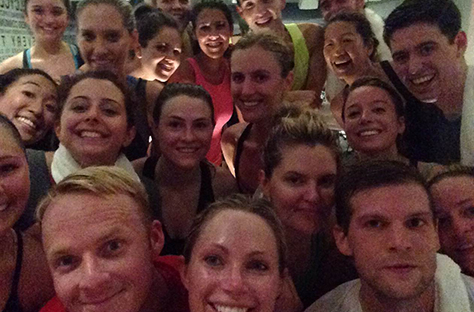 When I returned from filming Paradise, I expected my addiction to SoulCycle to wane. Wrong! I craved it and had withdrawals while I was away. I've since been trying to get everyone I know to join my cult. A few weeks ago I convinced 20, yes, 20 first-time rider friends (guys and girls) to accompany me on a ride at the Santa Monica studio. We took Franz's class on a Saturday afternoon followed up with some pressed juices down the street. It was awesome! We had such a fun day we took an incredibly attractive, sweaty group #SelfWe in the studio. I never thought I'd be the type to write a blog about how a fitness regimen changed my life, but here I am and totally stoked about it! I can't wait to continue riding and making new friends along the way.
You can follow more of Sarah's journey on Bachelor In Paradise (Monday nights at 8:00 PM/7:00 PM Central on ABC) or follow her on Instagram (sarahherron) and Twitter (@sarahherron).
Do you have a Soul Story to share? Email blog@soul-cycle.com!