Soul Story: Sara Williams
November 12, 2015
SARA WILLIAMS dreaded going to her first class at SoulCycle Bethesda eight months ago. But once she clipped in, she never looked back. Now 40 pounds lighter, she opens up about how the community has supported her in her fight against depression…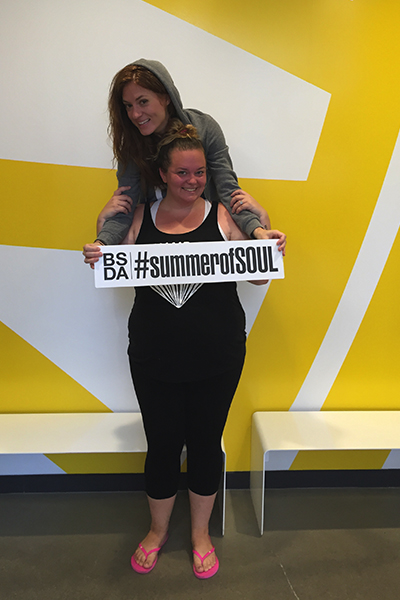 This past March, my family visited, and my cousin, Sadie asked me if I would go work out with her. While faking the best smile I could, I reluctantly said yes. Basically Sadie can get me to do anything and when she saw that there was a SoulCycle in Bethesda, she jumped at the opportunity to check it out… with me in tow.
On top of the fact that I was in the worst shape of my life, I am not a natural athlete. I have to WORK for fitness. Have you ever done a middle school physical fitness test? I have. They're nightmares. I still have flashbacks, but I guess that's what you get for being super into French fries and the first girl in your class to develop boobs.
The idea of putting myself on a bike scared the crap out of me and I was pretty sure I was going to die. So sure, in fact, that when the morning arrived for us to get up at 7:00 AM to make Michelle's 8:30 Sunday morning class, I "overslept" and missed my first planned ride (Sorry, Michelle, you know I love ya!).
Sadie also overslept, but I would put money on the fact that it wasn't for the same reasons as I did. But when she woke up — plans were still on. Unbeknownst to me, I was about to stumble into a Sunday morning Soul Survivor with Lisa. That class, for me, was one pure, amazing, soulful and brutal hour of cardio dancing euphoria. I had no idea what I was in for but all I knew was that when I walked out of the BSDA studio that morning, I was hooked.
Of course before this first class, I was oblivious about what I was about to get into. We roped Sadie's dad and my sister-in-law into coming along as well and the four of us booked it into Bethesda and showed up five minutes before the beginning class. I remember feeling so intimidated but mentally noting that the studio smelled really good and the girl behind the counter had really white teeth. My head was in the game.
We grabbed whatever open bikes were left (there were four, very serendipitous if I do say so) and I ended up in the back row. Bike 50. For a long time that was my bike and I am so thankful I ended up back there because that first ride was a struggle. I was a new rider and literally had taken one indoor cycling class at a crappy gym that I never attended thereafter — New Year's resolutions, say what?! If Lisa instructed us to ride on our right leg, I was on my left. Sprints out of the saddle left me completely winded and cursing myself for getting into this position. I named my pushups, "Gorilla Handlebars." I kept looking over, across the room at Sadie who seemed to just glide on her bike and up at Lisa, who danced on and rode that podium with such amazing energy. Who the hell do you think you are, I kept repeating over and over in between struggled gasps for air.
As cheesy as it sounds, Lisa answered me. I guess when you're exerting yourself like I was; your guard tends to come down. At least mine did. Everything she said resonated in me. Her words, her music, her presence in that room, it all hit me right in my chest. I always knew I wanted to make a change, I was coming up on 29 and I was nowhere near where I wanted to be. Maybe this place was the place I could finally do it, finally make a physical and mental change for the better. By the end of class, I was on cloud nine and excitedly nervous about coming back for another try. My energy was at an all-time high. It was a buzz I hadn't really felt before and I wanted to experience that feeling again.
From day one, I have found so many reasons to keep coming back to SoulCycle. After my first ride, I waited about a week to come back, mostly due to the fact that my butt really hurt, but also the high had receded from that first class and my depression reared its ugly head. My family and I had recently been experiencing a lot of change in our lives; some good some bad — but nonetheless, change. This included a move from our home in North Carolina (Go, Duke!), my husband starting his very demanding dream job (get it, babe!), and my daughter attending nursery school (whoa…). Then there was the punch in the gut that no one expected: My father was diagnosed with pancreatic cancer. He was diagnosed in early November 2014, so by the time I rode in my first SoulCycle class in March 2015, I had reached the peak of my depression.
My initial call to SOUL was the fact that it temporarily alleviated the weight that constantly sat just inside my chest. I literally left the class feeling like I was floating. Class is dark. I could ride in the back and no one could see me struggle or watch me just let go and live on my bike. I could sing along, cry, smile, dance and feel completely free and as I continued to attend class, I found that my depression lessened and lessened.
Shortly after I started, I took the class that really clicked everything into focus for me. I decided to take my first class with Sunny Mae on a whim while my daughter was at school (throw me all the side eye, I'm totally that mom now). There was something about her riding up on that podium that I connected with almost immediately. She felt very safe to me. She seemed like a badass but also incredibly kind and humble, the type of person who made an effort to get to know her riders. I knew that for me to be successful, I was going to need to be accountable, so I went up to her and introduced myself and from that day she has been one of my biggest cheerleaders.
Sunny is an amazing instructor. All you have to do is take her class once to understand just how remarkable she is. She always seems to know just the right thing to say at just the right time and her classes are FUN and TOUGH. In her class, I go places I didn't think my body would take me and, let's just be honest, I've conquered things that probably would have taken me years in therapy. Sunny has become more than just an instructor to me. She's a friend, a shoulder to lean on, an amazing soul with so much love to give it just radiates out of her. Seriously, check her out. #sunnymaeerryday
SOUL has changed me in almost every way. Since starting at BSDA I've lost 40 pounds and I've alleviated a lot of my depression. I've gained confidence that I didn't think I would ever have. I've moved from riding my beloved bike 50 up to the front row as a way to make myself more accountable. I've found my strengths and weaknesses in and out of the studio and have faced them head on, setting goals and meeting them one by one. I know that I excel at resistance in class. It's where I feel most fluid, strong and free. A sprint combined with choreography is constant hard work and make my legs feel like they're going to fall off but because I know that's my weakness in class, I've set my Soul Mission to be completing a full song at a sprint with choreography – no breaks. I'll get myself there and that's not a mindset that I had before I started taking classes.
I look up at myself in the mirror now. Before I started class, I would avoid making eye contact with myself in any mirror, probably in fear that I would see something I didn't like. Now I look at myself and feel proud. I sleep better, eat healthier and have so more patience with my daughter, who has created her own SoulCycle obsession. (Don't get my kid started – she's three and asks daily when it's her turn to ride the bike? Probably about 13 more years and a few more feet, baby girl!) I've made friends that I now hang out with outside of the studio, people I can truly rely and lean on. I still face a lot of hardships, especially in regards to my father's cancer. It has taken a huge toll on my whole family and me but I don't even know where I would be if I hadn't started riding when I did.
Besides my first ride, there are two rides that really stand out in my mind. The first being my 100th ride. That was a goal I had set for myself about 15 classes in. I decided I needed something concrete to work for. Not a goal related to my body's condition, but a goal I could hold in my hand and grasp onto. 100 classes was an attainable and daunting goal for me. Eyes on the prize I started riding three, then four, and finally five to six times a week. As I did, I marked each ride off on my SOUL100, 1-100 chart hanging in my kitchen, my instructors, staff and friends cheering me on every single step of the way.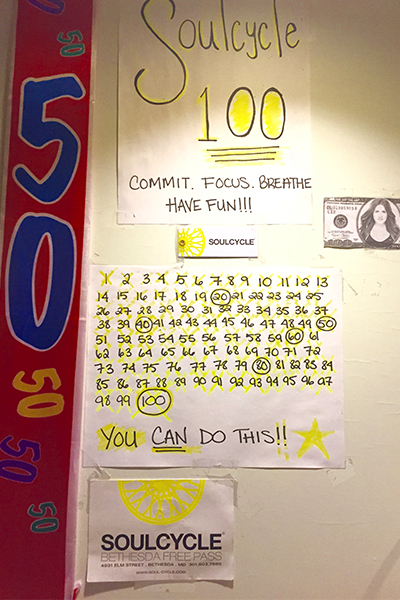 I completed my 100 rides in five months and when that ride came, it was the first time in my adult life that I had actually completed a physical goal that I had set for myself (and trust me, I had set quite a few). I walked into that studio and they had decorated everywhere. My friend Becca had covered my bike with streamers, pictures from my Instagram plastered the walls of the studio, and of course, I got my "100 cupcake." I worked hard for that cupcake and you better believe I enjoyed every single bite.
The other ride that really stands out to me is a theme ride I took with my first Missed Soul instructor, Michelle (see, I came back!). It wasn't your typical ride to EDM/dance/hip-hop. It was a Beatles ride and it was so unbelievably fun. It was one of those classes where you say, "Now THAT was a SoulCycle class." Michelle took something that seemed nearly impossible (Beatles and SoulCycle… there were skeptics) and made it pure fun. People were cheering and singing along to every song. Michelle, as usual, was a dancing and singing machine, and the energy in that room was literally vibrating off the walls. Watching a whole room move in unison to the beat of Hey Jude was just way too cool. She is another instructor that keeps me coming back. Her ability to make me realize my strength while simultaneously enabling me to have an amazing ride is something I don't take for granted. She is funny and strong and makes me feel proud in that studio. I know she's going to challenge me and I know I will love every second of it.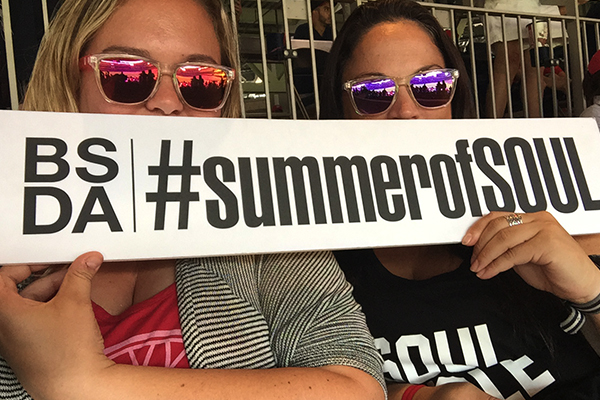 Every SoulCycle is designed in the same way with white walls, yellow citrus scented candles, a dark studio, grey bikes, a white orchid, and the iconic yellow SoulCycle behind the front desk. BSDA is no different. It doesn't boast or claim anything beyond what riders have come to expect from each studio they enter, except for one thing. BSDA is a family. Now I'm not saying that riders don't experience tons of love at each studio and connections with their instructors and fellow riders, but what I will tell you, is that BSDA has something extra special about it. There is a sense of community at this studio that is hard to rival. Every single person at the front desk, and I mean, every single person knows my name. They know my kid and my family. They ask about my dad. It's become a second home for me. The staff and instructors really, really invest themselves in their riders. They become friends with you and care about you beyond their work responsibilities. I feel lucky to have met all these people. People I would have never met if I wasn't dragged into that studio and I would have been too intimidated to approach outside those white and yellow walls. Sunny Mae, Michelle, Lisa, Allie, the front desk staff, they've all changed my life for the better.
To some it may sound extreme, but for me it's a whole new, beautiful world. I'm actively fighting against my depression in a healthy and productive way. I know on days when I need it and even on days when I don't, I can drop it all off inside that studio, walk out to smiling, happy faces and know that I am exactly where I am supposed to be. Okay, SoulCycle, so basically I just wrote you the most epic love letter ever. I guess we're dating now. Pick you up at noon on Monday. K, Bye.
Do you have a Soul Story to share? Email blog@soul-cycle.com! Want to ride at SOUL? Grab a series HERE and book a bike.
MORE FROM SOUL