Soul Story: Sam Baharestani
October 14, 2015
"I always considered myself to be in very good shape, but never as good as I am one year after my SOUL journey began," says SAM BAHARESTANI. Now this Roslyn rockstar shares how tapping it back has strengthened his body and mind…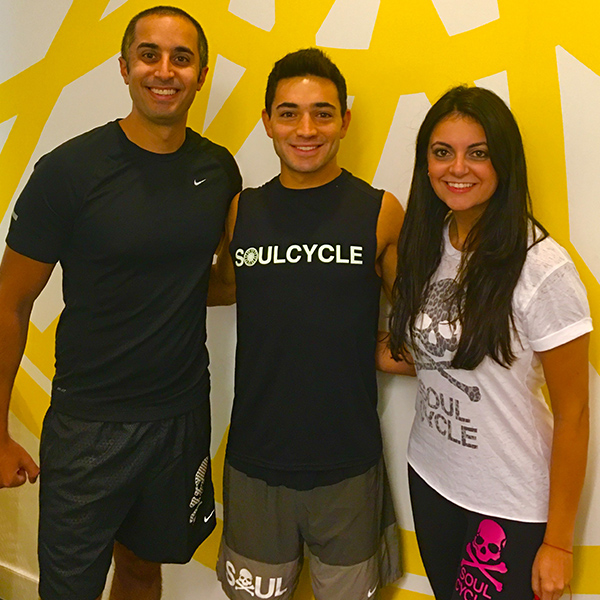 Cosmetic eyelid plastic surgery is the most straightforward part of my day. Once I clip into my bike is when the vulnerability, humility, challenge, strength, power and accomplishment occur. As a physician and surgeon, the idea of hard work for results has never been foreign to me, but it has only been reinforced since I started my SOUL journey.
To celebrate Movember nearly one year ago, my sister invited me to a class at our local studio. A gym member for over 20 years, a scholar athlete in high school, and a self-proclaimed fitness enthusiast, I thought the class would be a nice way to break up my weightlifting routine.
After awkwardly walking to the bike with my cycling shoes and timidly clipping in, I was ready for a new challenge. Half-way through the first song, I was excited to be exercising to the beat. By the time we got to weights, I was gasping for air. And when the class started the last breakaway, I was ready to quit.
Then, our instructor started her inspirational words to keep the class going. She talked about how SOUL was helping her get through the recent loss of her father. Having lost my dad a couple of years earlier, her uplifting message really resonated with me. All I could remember was how great I felt as we stretched.
After I recovered from my soreness, I was ready to experience the vulnerability, humility, and challenge again. I yearned for the strength, power, and sense of accomplishment I had experienced. You could say that I was, "high on sweat and the hum of the wheel," as it is written on the wall inside our local studio. One package of classes led to another and before I knew it I was clearing my patient schedule at noon on Mondays to sign up for my favorite instructors. I now wear my SOUL apparel with pride before and after every class.
I always considered myself to be in very good shape, but never as good as I am one year after my SOUL journey began. Some of my favorite motivational lines from SOUL stick with me throughout my life. Whether in the operating room or on the bike, I think of two of Mark's (our frequent instructor in Roslyn) inspiring phrases:
"If it doesn't challenge you, it won't change you" and "In life we always have two choices. Make the right choice."
It is these words that punctuate my SOUL journey and give me strength inside the studio and outside as I face work and life challenges. I am grateful for having SOUL in my life and look forward to the journey ahead.
Do you have a Soul Story to share? Email blog@soul-cycle.com! Want to ride? Grab a series HERE and book a bike! Questions or comments? Email blog@soul-cycle.com!
MORE FROM SOUL