Soul Story: Rachel Cantor
April 16, 2015
"SoulCycle empowers you and makes you feel like you can do anything," says longtime NYC rider RACHEL CANTOR. Tapping it back — and reading about how Julie and Elizabeth started SoulCycle — inspired her to take a leap, follow her dream and open a dance studio for kids. She shares her Soul Story…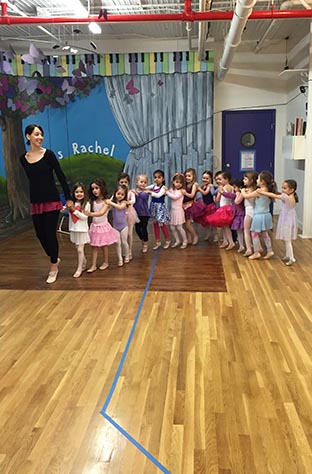 I began riding at SoulCycle at the original studio on West 72nd Street five years ago. As a musical theatre performer, I was always seeking other forms of physical activity to supplement my dancing. I experimented with a bunch of teachers until I found Danny, and once I found him, I never looked back. He was my SOULmate. His energy is off the charts and he makes you believe in yourself in a way I had never experienced.
Before SoulCycle, I had never found a workout that made me feel as physically strong. It was the first workout that I really loved and that had a real impact on me, aside from dancing. Nothing keeps me from a computer when the clock strikes noon on Mondays for sign-ups!
When I first began riding at SoulCycle, I was working in musical theater, touring the country and doing voiceover work. As a side job between gigs, I began teaching ballet to children. Much like when I found SoulCycle, it was an instant connection. Before long, I had my "lightbulb moment." I thought, "If I can get this much happiness and satisfaction out of teaching — plus it seems I have a knack for it — this must be the next step in my journey as an artist."
As I got more involved, I realized that there was a gap in the market and an opportunity to do something different. I thought, "Hey, why can't I be the one to fill it?!" I made the commitment to see this idea though and start my own business and the plans for Dance with Miss Rachel began to take shape.
I read all the stories about how Julie and Elizabeth started SoulCycle and how they wanted to create an experience that didn't otherwise exist — even if it meant they didn't take a paycheck in the beginning. I can't tell you how much inspiration I took from those articles, reading how they stood outside the West 72nd Street studio with a poster directing people to come in and try a class. I knew that's what it would take and I was willing to do the work.
I started very small. I offered free trial classes and rolled a huge suitcase filled with props and music all over New York City, to playrooms, basements, studios, and gyms to get the word out. Not yet having a space to call my own, my living room became ground zero for choreography, writing songs, and even storing recital costumes, while my now-husband worked nights to get our website and other needs up and running and my parents back in the Midwest pitched in with sound business advice. It wasn't glamorous, that's for sure, but it was exciting. One year later, I was lucky enough to open my first Dance with Miss Rachel location in TriBeCa and, I am proud to say, I opened a second earlier this year.
Today, Dance with Miss Rachel is a boutique children's dance studio in TriBeca, NYC with over 50 classes each week for children 18 months to 8 years. More than that, like SoulCycle, we are a community. I strive to create a look and feel that is welcoming, bright, and consistent throughout my studios, just as I have witnessed at SoulCycle. I paid attention and I tried to learn what my community was looking for, and I've done my best to make them feel comfortable, welcome, and at home in our studios. We cater to a community that's a lot like SoulCycle's. It's not uncommon to see a whole class of moms in SoulCycle gear coming or going to class.
Now we have a staff of 12, mostly Broadway performers and talented musicians, all of whom share my passion and vision to create something extra special. Sometimes I think back on the early days of me and my rolling suitcase, hoping to fill one class, and can't believe that today almost every class has a wait list. I've definitely had moments of frustration, but I always remember a quote that now hangs in our studios: "She thought she could and so she did." That's what we tell our little dancers — and I know from experience that it's absolutely true.
It's been an incredible and fast journey, and every time I walk into SoulCycle I am reminded of how I built my business from a dream, just like I saw Julie and Elizabeth do. SoulCycle empowers you and makes you feel like you can do anything. That's exactly what it's done for me. With plans to open even more studios around New York City (and why stop there?!), I am thankful that I decided to walk into West 72nd Street one day five years ago and of where this journey has led me to today. And this is only the beginning!
Do you have a Soul Story to share? Email blog@soul-cycle.com!