Soul Story: Nicole Desuasido
July 30, 2014
Bay area rockstar NICOLE DESUASIDO just celebrated one year of tapping it back. "Because of this journey, I have found my soul," she says. "I challenge myself each day and build a better version of myself, one pedal stroke at a time." She shares her story…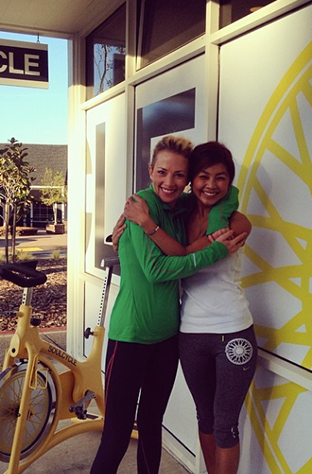 Nicole (right) with fellow rider Tiffany Lyon
I just celebrated my one year SoulCycle Anniversary, and I couldn't be more proud of the journey I've embarked on. I was first introduced to SoulCycle by my boyfriend's sister, Holly — a New Yorker, who was obsessed with this particular workout.
My first class was in Marin and I consider myself lucky for having Ian as an instructor. I have been indoor cycling for more than five years and nothing has compared to the caliber of SoulCycle. This is not your average indoor cycling class. I was immediately impressed by the cleanliness of the studio, how friendly and welcoming the staff was, how awesome I felt after an incredible workout, and how centered I left after walking out those doors — it truly was a memorable experience.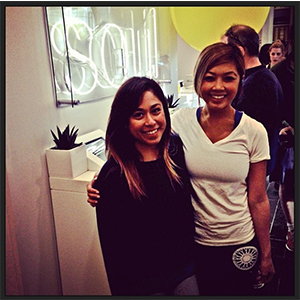 Nicole with rider Joanna Gonzalez
I enjoy Ian's music, the empowering mantras, and his ability to constantly acknowledge the progress of the class — both individually and as a pack — it's extremely motivating. Watching him ride is really entertaining: my favorite move is when he unclips one foot (while cycling), places it on top of the other, and dismounts by perching on top of the handle bars. I have never seen an instructor rock a bike the way he does. Occasionally, he'll throw in the push-up-with-one-rear-leg-lifted-in-the-air-while-cycling — it's quite the performance. I was so infected by his sass that I HAD to tell everyone that a fun workout like this existed!
I recommended his class to basically everyone I knew or met, promising they'd feel amazing and guaranteeing they'd be hooked like I was. I sold it as a high intensity workout with a spiritual component all combined in one; I often described it as a cardio/yoga/dance party! I'm pretty sure I also mentioned the harmless crush I developed for him in the process. I was so inspired one class after the other, I felt like an ambassador with the strongest desire to convince everyone who I loved to take these classes.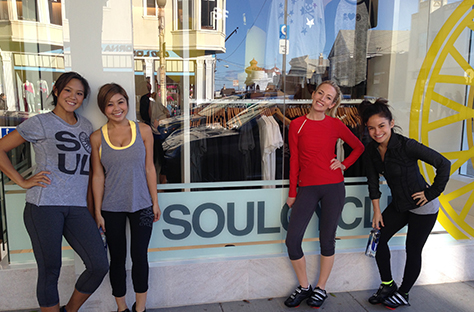 Nicole with her friends at Soul
I tweeted non-stop about SoulCycle, sported all the cute gear, participated in the 90-minute challenges, joined theme rides, Soul Survivor rides, and routinely took double classes. I spent my 30th birthday in a dark candlelit room full of sweaty people that rode with positive intentions and good vibes, followed by the anticipated coconut water treat. I even got Super Soul just to avoid the Monday 12:00 PM sign-ups that can literally feel like the Hunger Games. My heart sinks every time Bike 6 is taken and being on the wait list only raises my anxiety levels.
One of my favorite memories was signing up for the Valentine's Day "Theme Ride" with my boyfriend of three years. I've seen how festive these rides can get so I thought it was only fitting to make us matching cheesy shirts that read "SOULmates" in the front and "Together Since 2011" in the back. I didn't realize until the day before that the "Theme Ride" was actually a "Heartbreak Hotel Ride." Oh, and did I also mention that we sat on Bikes 6 and 7 (front row and center)! It was so embarrassing (but also very awesome).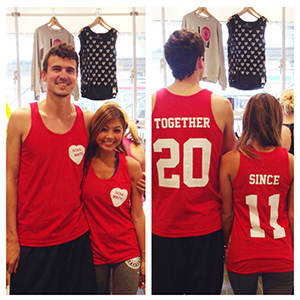 Every time I travel, I look forward to visiting other studios. I've have tried a wide range of instructors: Danny and Parker in New York City; Angela, Lauren, and Pixie in L.A.; and just about everyone in Marin and San Francisco.
A few of those rides stand out: I remember when Danny visited San Francisco and all the instructors took his class, including myself, and it was very exciting to be a part of that group, all together. The next day, Ian taught a class where Kaili rode the podium with him and for some reason the spirit of that ride was very special.
And last but not least, I will never forget the way I felt when I took Angela's class for the first time. It was a mixture of cardio fitness and motivational sayings at it's finest. The positive energy produced in that room had a texture so thick, you could physically feel it. I was so affected by the power of her affirmations and overwhelmed with wonderful feelings just from her presence. It was an extraordinary SoulCycle class.
I have immersed myself in this community and have embraced all the wonderful benefits of putting my health as a priority and meeting all the lovely people along the way. A lot of my friends ask me how I'm able to do these classes so frequently and religiously, and the biggest motivating factor is that it's something I know I'm good at and can succeed in. I take pride in my form, tap back with confidence, and take satisfaction in my strength. I even got to ride with the founders, Julie and Elizabeth and join them for brunch, and for that experience I'll forever be grateful. These little victories produces the esteem to challenge myself each day and build a better version of myself, one pedal stroke at a time.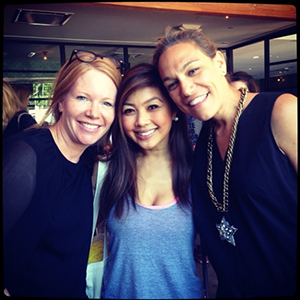 As far as my goals and aspirations, the goal has always been to not only change my body and the way I feel, but to spread the good news to as many people as I can and encourage others to believe they can take the same control.
After one year, over 115 classes in locations all over California and in New York, and spending more time on a stationary bike than I'd ever imagine, the most valuable incantation that stays with me is something that's been instilled by Ian: "Never apologize for who you are. You are more than enough and are exactly where you need to be at this time."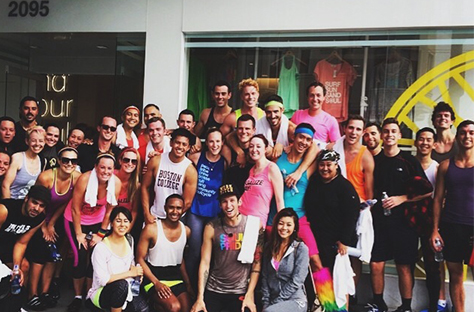 So here's to one of the most rewarding years of my life and although there are many more side stories to tell, I can certainly say because of this journey, I have found my soul.
Do you have a Soul Story to share? Email blog@soul-cycle.com!