Soul Story: Nicole Cogan
October 15, 2014
NICOLE COGAN suffered from severe food allergies that made her chronically sick and affected her job. To cope, she created a blog about finding gluten-free meals at NYC restaurants, and it became an invaluable resource for people who face similar struggles. She shares how SoulCycle inspired her to pursue her passion full-time and help others with allergies…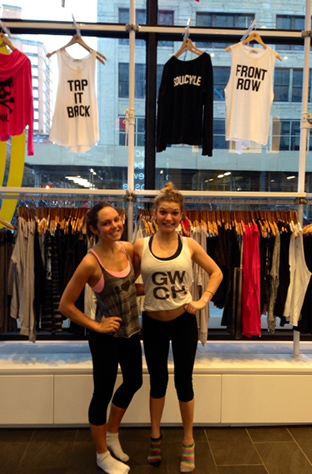 Nicole (left) with instructor Becca Raphael at Soul NoHo
I first came to SoulCycle about a year and a half ago. I was very apprehensive about taking my first class and I was convinced that there was no difference between SOUL and a standard indoor cycling class at a local gym. My friends, however, were quickly becoming SOUL obsessed, and I initially did SoulCycle as a way of seeing my friends post-work and connecting with them over something they loved.
My first ride at Soul was tough! I was definitely out of sync with the class, but I loved it; I walked out of the class and bought a package for five more classes. Olivia was my instructor, and when she was motivating the class, she brought up her past struggles with weight loss and her experience on The Biggest Loser. I was completely empowered by her and her passion to succeed.
The amount of times my friends and I say, "Ugh I'm so stressed, I'm going to Soul" is crazy. There is something about that dark little room that makes you feel safe and makes you want to work as hard as you can. When I go to a local gym on my own, my workouts aren't intense, and I'm not motivated to be at the gym. SOUL makes me excited to work out, and it completely clears my mind so I can focus on the day ahead. I try to go to SOUL every few days... and on the occasions where I have to take a week off, I definitely feel it both mentally and physically!
Growing up, I was always sick. I got the flu once a year, strep throat once a season, and "seasonal allergies" seemed to plague me all the time. Then, five years ago, a flu gone-wild resulted in hives, vomiting, and several other bizarre symptoms. The result? My gluten allergy had finally presented itself and I was forced to go gluten, dairy, and soy free.
At the time, I was working in equity sales. I had a great job and I did well, but finance wasn't my passion. Client entertaining was a huge part of my job, and I soon realized that I was only genuinely happy when I was out with clients or out at a restaurant. But I never knew what I could and couldn't eat! Often I would be dining with a large group, and I was too embarrassed to tell my waiter about my allergy. Worse was when food was ordered by one person for the entire table and I wasn't given the chance to make sure my dietary needs were met. I was suffering at each dinner and event I went to, and I wanted to save others in my situation the aggravation of wondering "What can I eat here?"​
That's when I decided to start
NOBREAD
. At first, it was simple blog and really just a way I could creatively remind myself what I could and could not eat at restaurants. Now it's a full-blown website and my Instagram account 'nobreadnyc' has nearly 10,000 followers. My custom gluten-free menus have been a hit, and n
othing makes me happier then when someone says my menu made their dining experience better.
The impact
NOBREAD
has had on NYC has been amazing, and I look forward to bringing
NOBREAD
to other cities soon, too!
Now I have left the world of finance to pursue my passion full-time… just like one of my close friends who also worked in corporate world and shocked us all when she decided to quit her job and work at SoulCycle. She was the first person I knew to leave her comfort zone, and she always told me you have to do what makes YOU happy regardless of what others might think or say.
Today, that friend, SOUL instructor Becca, is killing it and I'm so excited for her! I, too, share Becca's belief that if you devote yourself to a career that makes you happy, you will be successful. So many instructors that I've met have had similar stories as Becca, and it's been so encouraging to hear everyone's backgrounds. Everyone at SOUL is incredibly passionate about what they do, and it motivated me to make a change in my life, too.
I have a few instructors who I love and I've definitely become regulars at their classes. What sticks with me the most is when I hear an instructor say "do this for you." Life isn't about making other people happy, it's about doing what makes YOU happy.
Do you have a Soul Story to share? Email blog@soul-cycle.com!