Soul Story: Melissa DeSalvo
January 5, 2015
Struggling with an eating disorder, MELISSA DESALVO lost her sense of self as she dropped to 83 pounds. During her recovery, she began riding at SoulCycle Short Hills — and the messages of strength and inspiration helped her "find the happy, energetic, loving Melissa again." Now, this incredible rockstar says, "I am a healthy, happy and proud SOUL warrior." Here's her story…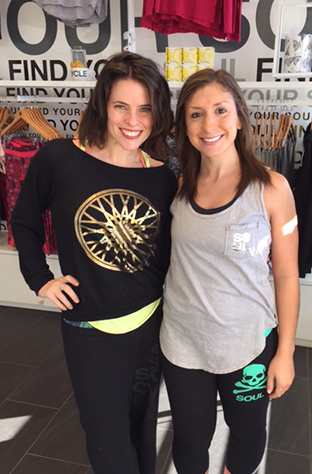 Melissa (right) with instructor Erika Shannon at Soul Short Hills
SoulCycle has helped shape the "new Melissa."
I was lost for a while — one year and three months to be exact. While I was lost, it wasn't one of those phases people go through where they don't know what they want out of life so they get a new job or move somewhere exotic or do something drastic to their hair; this was an actual fight for my life.
I was lost and in a dark place because "Ed" took over the Melissa I knew and loved. Who is Ed? Ed was my eating disorder. Ed was my battle with anorexia that I fought (and won)...and this is my story.
I grew up dancing since age three and danced competitively throughout high school. I danced on the dance team at college and always had a great group of friends and my loving family to support me. I always considered myself pretty fortunate, as I lived a great life, had all I could ask for, and was always happy with my body image.
But after I graduated from college in May 2011 and started in the workforce, I slowly began losing the Melissa I knew for the past 22 years. In January 2012 at age 22, I was diagnosed with anorexia and it changed my life completely.
I fought my battle with anorexia from January 2012 through March 2013. My anorexia made me an angry and selfish person and I was closed-off to the world. It forced me into a hole where I would tell lies to the people closest to me. I missed out on so many opportunities people in their early 20s experience and I lost friends and created tension within my family. All I was focused on was counting calories, exercising, what I was going to do for my next meal and how to get the number on the scale lower and lower. It was a terrible, debilitating lifestyle I had spiraled into, but as with many eating disorders and diseases, my anorexia consumed me and it was just my new "normal."
I fought anorexia for fifteen months. In March 2013 when I was just not getting better, despite all forms of treatment and support, I was faced with a tough choice and had to decide the path to follow next: Did I want to recover or not? I had my full-time job and career on the line as well as an additional part-time job teaching at the dance studio I grew up dancing at. Above all, I had my life on the line.
With the help of my family, best friend and therapists and psychologists, I started my journey into recovery! I was I trying anything and everything. I was actually forced to try everything and anything to help me recover, but nothing seemed to really do the trick. I tried a nutritionist, therapy sessions, meditation, talking to someone my age who was a recovered anorexic, going for walks with my parents... and so on. I even started dating a guy friend from college thinking that would give me some sense of the "old Melissa" again.
Some of these things were great but not for me at that point in my recovery. I was struggling because certain recovery methods were working in one way or another but it all seemed like a temporary solution and I was scared that I was never really going to fully recover. I needed something more.
I learned quickly that recovery wasn't "just eating again." Re-feeding my body that was so malnourished for so long was extremely difficult, especially mentally. Re-feeding meant ensuring I didn't gain weight too quickly by starting to binge eat. It meant my body was going to swell due to edema. It meant visits to the hospital and new doctors, such as a cardiologist to ensure I hadn't done damage to my heart. It meant growing my hair back out because it thinned so much while I was ill. It meant referring to myself as a recovered anorexic and getting prescribed medication for anxiety. Recovery was essentially a full-time job, but my type-A personality kept me determined. I was not giving up on myself.
I tried SoulCycle for the first time in February 2014, a couple of months after it opened in Short Hills, New Jersey with two friends who didn't even know about my eating disorder or recovery. I tried it just because I heard it was fun. They invited me to take Erika's 10:45 AM class on a Sunday with them. I was placed on bike 33 in the middle row and nervously waited.
I was terrified at first. I had taken indoor cycling classes before and I had grown up dancing and learning choreography, but how was I supposed to dance and cycle simultaneously? It took but one song for me to catch the beat, and learn what a "tap back" was and before I knew it, it was 11:30 and I found myself craving more!
I had heard from my friends that SoulCycle easily would become addictive. This scared me. During the time I was sick, I was not only extremely restrictive in anything and everything I ate and drank, but I was also exercising excessively everyday, sometimes more than once a day and under any means or circumstances that it took. I was addicted. I can recall during the height of my eating disorder, sneaking out of my house at 6:00 AM after it had snowed heavily and running the 3-mile path across from my neighborhood. I bundled up with layers of clothes that inevitably were falling off of my frail, fragile, malnourished and sickly 83-pound body. I ran on top of layers and layers of snow and ice. I couldn't stop. "Ed" was screaming at me… I had to get my run in or else I would be a failure. This was one of many times that winter that this occurred, but Ed was my addiction and I was under his control, so I had to keep going.
After my first SoulCycle class with my friends, I took some time to think about whether SoulCycle was something for me or not. I did not want it to become obsessive in a negative way, as I had done before with other forms of exercising, considering at this point I had been in recovery for 11 months and I refused to go back down that dark road.
On a Monday morning in March 2014, I woke up to the voice of John Mayer singing as my 5:00 AM alarm. I got up, drove 20 minutes to Soul Short Hills, and got on that bike and rocked that 5:45 AM rooster class in the front row! Gunner had told us to dedicate our ride to someone else who needs it today. Sure, I could have dedicated it to my loving family, my best friend or whomever; but I dedicated it to all those people fighting for their lives. I wanted to be a strong front-row rooster rider for all those people still fighting their battle that couldn't be there that day. I wanted to prove to myself that I could do this and could continue being a fighter… so I did!
Since then, SoulCycle has opened new doors for me and most importantly, it has kept me and my mind in just the right place where I have found balance. Gunner's 5:45 AM classes on Mondays and Wednesdays are what really did it for me. No matter what was going through my mind, what had happened the day before at work, or what I knew I had to eat for a snack to hit my proper calorie intake for the day, SoulCycle and Gunner were always there for me.
One of my favorite places is bike 6, front and center at Short Hills. On Monday, December 29, 2014, I rode in Gunner's class for the last time, as she will only be teaching in NYC from now on. During a moment of reflection after that last class with Gunner, I realized that it was time to share my story. I shared with Gunner and told her how much of an inspiration she was to me and how she helped me find happy, energetic, loving Melissa again. Gunner has helped me to realize that I, too, am strong and can be an inspiration to others. My struggle with anorexia is something that will always be a part of me, but I can now use it to help me continue to grow stronger.
Instructors Erika and Christina P. both have also played such a significant role in my life and why I am the stronger person I am today. It's not easy to put your vulnerability out there for all to see. Erika and Christina help me to remember at each and every class that it's okay to be vulnerable and weak sometimes, but each time I'm on that bike, I'm gaining more and more strength and that I have to just keep pushing. In the words of Gunner, "The word of the day is strong."
The decision to share my Soul story and open myself up was a well-thought out choice. My struggle with my eating disorder is a part of my life that I never shared with many of my close friends, peers or family members before now. Opening up about that part of my life seemed risky for so long. Recovery really is a life-time affair, but SoulCycle, Gunner, Erika and Christina have helped me to be in touch with myself in a way that now allow me to share my story and view what I once thought was a risk as an opportunity.
You can catch me in the front row at 5:45 AM rooster classes and on the weekends dancing with Erika and Christina P. for Survivor classes. SoulCycle has given me the push for peace I had been looking for in my recovery. I am now fully recovered (for what will be two years at the end of March 2015) and I am a healthy, happy and proud SOUL warrior. Best of all, I'm back to being Melissa. Thanks SoulCycle for helping me find myself again.
Do you have a Soul Story to share? Email blog@soul-cycle.com!