Soul Story: Mauricio Morato
December 3, 2015
When MAURICIO MORATO found himself in a fitness rut last August, his wife invited him to try a class at SoulCycle. Soon he was tapping it back five times a week and discovered new strength and motivation. On the heels of finishing Turn It Up 20 (a week early!), Mauricio shares his Soul Story…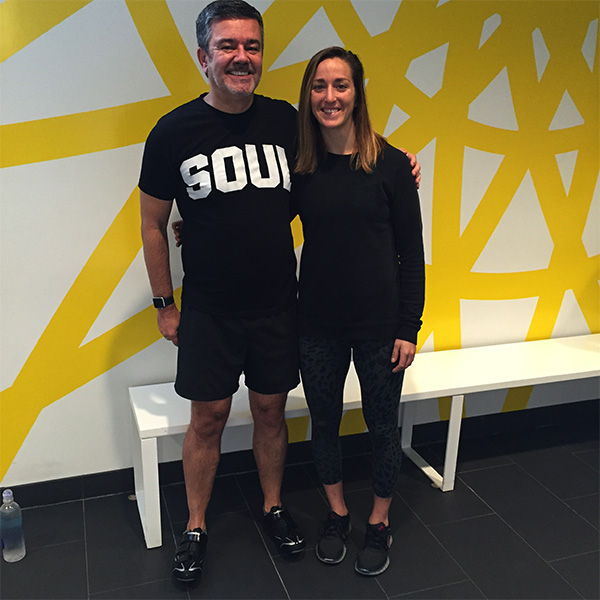 Last month I completed Turn It Up 20, a week ahead of the deadline. I'm sure that in itself is not much; certainly there was a bunch of riders who did it in 10 days, logging double after double. The great thing about it, apart from my accomplishment, is that on that very day I also completed my third month as a SoulCyclist. Besides, I'm not the youngest (at age 53) or the fittest (although that's changing, for sure).
It all started in the summer. I went away on vacation and, looking at pictures of the trip afterward, I was not happy with the way I looked. Not that bad, but not that good either. I've been a long-distance runner for over a decade, marathons and all, but in the last couple of years I slowed down, and during the summer I was really lazy. I packed on a few extra pounds, mostly around my waist, and I decided I had to do something about it.
Going back to running was an option, of course, but the results would take long. So I started to look for a harder workout, and my wife said that SoulCycle might be a good fit. I like biking, she and daughter take classes occasionally, and so I decided to give it a try. In the second week of August I went to the studio and signed up. I had my first class on 8/13, a Thursday. I liked it, even though it was really hard and I had to sit down a few times, and I booked another bike for Saturday. I was so invested that I even invited my wife to come along. (Our teenage daughter would have none of it, thank you very much).
Then I got out of bed on Friday morning and my whole body hurt. Going up and down the stairs was an ordeal, and even walking around wasn't very easy. Holy cow! I started to have second thoughts. I texted my wife, saying I was thinking about canceling the Saturday class and rescheduling for Sunday, maybe? She replied, "If you want to, ok. But I'm going." That was the push I needed, and I decided to keep on. And on it went.
I remember my first instructor telling me that I might need a few months' worth of classes to get the hang of it. Well, I'm happy to report that I got bitten by the bug, and sooner than later I was going from three classes a week to four and then five.
I found another great instructor whom I liked a lot, Sam Scaffidi, a fellow marathoner. She helped me along by giving me the occasional shout out, which kept me honest and made me try harder. Among all the shout outs she's been giving me, almost every class, one stood out. On a particularly hard class, she said "Mauricio, I just love it that you always have a smile on your face, no matter what's going on!" From that day on, I always made sure to make eye contact and smile a few times in every class, regardless of who was the instructor. I guess it helps them — and me, for sure. After about a month of classes, I was able to do everything, and I "promoted" myself from the third to the second row, and from one- to two-pound weights.
I also found Janine, whose class was particularly appealing to me because every now and then she programs music from the '80s and '90s, which I love. Tears for Fears, The Police, The Coors, and so on. Plus, she's a stickler for form and I found myself paying close attention to the way I was doing things, not only in her class but in the other ones too.
And then I received the email about TIU20. At first, it seemed an impossible task. Then again, sitting on the bike for my second class was impossible too. As was going through a whole class without sitting. And doing push-ups with hand claps in between. You get the idea. Of course, there was a little carrot as well, and I thought it'd be pretty cool to walk into the studio carrying the exclusive bag. One of the few guys around, middle-aged, among all the fit moms, and with that bag? Hard to beat.
I took the challenge very seriously. I figured my four to five classes a week would be enough, as the full period was almost five weeks long. But I decided I'd finish sooner, and booked six classes right away. Almost a whole week, with just one break. Then I did it again. I slacked off a bit in the next two weeks, but still completed my 20 classes with a week to spare. Very proud of myself, and I also have to acknowledge Ashley, Sam and Janine, who pushed me throughout it. Plus the girls at the front desk, who always have a smile on their faces — and provide extra motivation by joining us on the bike from time to time.
Next up, I'm planning to come up with a personal challenge. No prizes involved besides the satisfaction of something achieved, which is more than enough. I'm thinking of changing the weights again, or tackling a double, or venturing into the first row. Maybe all three, who knows?
But I have to say that I wouldn't be thinking of this if it weren't for the TIU20 thing to begin with. I think it's a wonderful idea, and I hope you come up with other challenges like that in the future. I'll be definitely in!
Do you have a Soul Story to share? Email blog@soul-cycle.com! Want to ride at SOUL? To book a bike, grab a series
HERE
then book a bike!
MORE FROM SOUL