Soul Story: Lisa Silvera
October 17, 2013
After a sudden and painful breakup, LISA SILVERA was looking to transform her life. She moved across the country, discovered SoulCycle and found more love and happiness than she ever thought possible. She shares her Soul story.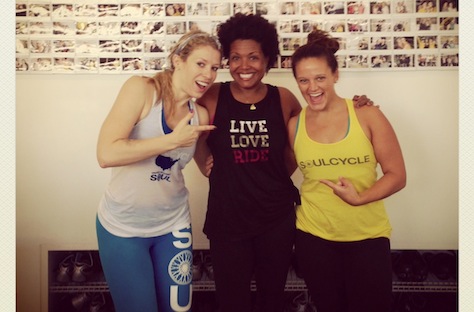 My Soul journey began after I moved from Miami to L.A.

I was healing my heartache and poised to reinvent myself - at 47. My best friend, had two sons and twins soon to follow, called me and said "I could really use your help here." She knows me so well. Consciously or subconsciously I think she knew that asking for help was the only way to help me "make a move" because I was emotionally and physically paralyzed. So within five days I donated most of my furniture to the local women's shelter thrift store, put work stuff in storage, donated my vintage Range Rover to charity, shipped 40 (now clearly unnecessary) boxes to Hancock Park and I lived with her family. I needed my heart to be held while I cried & healed - they did just that.
Eventually I unfurled, blossomed and starting living again. I moved to Santa Monica. Here, it's all about your body, healthy food, and HOW you work out. I have done every possible type of exercise — I was a track runner and skied a lot as a kid — but I am unable to run because I have a tender knee. I was searching for a workout that would give me that deep, sweat-drenched burn while allowing me to feel the cadence and rhythm you get with some cardio. I am a deeply spiritual being, so was I was looking for more than just a gym class.
Then I got a social post from a dear, fabulous NYC girlfriend, telling me that I HAD to try SoulCycle. I wrote her back this sort of terse, dismissive reply, which basically said, "why would I ride inside when I have a new bicycle and I live a few blocks away from the Pacific Coast Highway?" And she replied, "just go and afterwards, if you want to tell me I am wrong, that's fine, but you should go."
Shortly thereafter, something about Soul Cycle Santa Monica came across my desk. (I am an independent publicist and marketing consultant.) So I decided to go and it happened to be opening day. When I got there, everyone was unbelievably nice and it felt like a "good gym" but with the spirituality of a yoga studio. It was PERFECT. I took one class and I have never looked back. I make sure to get my classes in, whether it's two times a week or six.
In those 47 minutes, along with the other SOULjers, I make myself better. At SoulCycle, there is unbridled, positive camaraderie. One of my clients is really "complex" and with one SoulCycle class, I can undo all the negativity and drama. It has also changed how I think about ME time. There has got to be something in your life besides your work and your obligations. You have to know how to make time for yourself and this has given me yet another constructive ways to make 'me' a total priority. Nothing else except SoulCycle can get me to leave my house 5 minutes before Scandal is on. When I go to SoulCycle, everything can happen afterward.
I am 49 and even though I don't have wrinkles or cellulite, I was having issues with not feeling lean before I tried Soul. But since I started riding, I have lost 15 pounds. I'm a size 6 or 8 now and my clothes fit GREAT – I am ready to rock the leather pants may BFF who saved my soul in Hancock Park gave me yearrrrrrs ago!

Now that Soul is part of my life, my family says I am a different person. I take classes with Heather, Sunny, Ben B, Angela, Gina H & hot newbie Lindsay, and it has shifted everything for me. And I have to mention the Soul SaMo team: Caitlin, Elayne, Katie, Hunter, Tara and John and Katie – the reason we know all their names is because we are compelled to - because of the experience and the care.

They have become part of my family — and I feel better than ever. I AM BETTER THAN EVER. I have met an amazing man who loves and nurtures me and his 9-year-old daughter is MAGICAL - I am so blessed. I am getting happier by the day, and SoulCycle is one very vital reason why.

SoulCycle empowers me to WANT to be better, stronger and BE MORE. I am so grateful to the SaMo Soulsters.