Soul Story: Katie Dalton
September 4, 2015
A painful knee injury derailed her hopes of running a marathon, but when KATIE DALTON clipped in at SoulCycle, she found a challenge that strengthened her body and mind. She shares her Soul Story…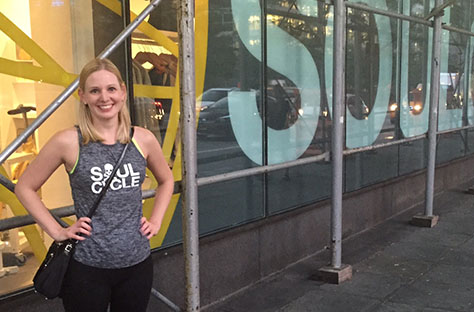 I've always liked a challenge. As a kid, ballet was boring — I wanted gymnastics. After college, I ran around the block as a cheap way to exercise, and quickly set my sights on a marathon.
So in 2008, when a knee injury derailed my training, I fought it. I saw doctors, spent months on crutches, committed to physical therapy, endured dozens of injections… all to learn that it would never get better. At age 27, I faced an injury that would forever dictate what I could and couldn't do.
For years, I dabbled with activities that wouldn't aggravate my knee, and some that did: Swimming (hated it), the elliptical machine (boring), water aerobics (just no), kickball, zumba and gymnastics (all painful). Spinning at the gym was the closest I came to re-creating the heavy cardio I craved.
Fast forward to my first ride at SoulCycle this spring. After several years of indoor cycling elsewhere, I was terrible: I couldn't clip in, didn't catch the pace, bombed the choreography, and ended class stuck to the pedals. And I was hooked. It was just what I'd been looking for: a challenge.
This past Wednesday was my 50th class, and I'm ahead of schedule to meet a personal goal of 100 rides in a year. I'm stronger and healthier than I was five months ago. I can keep pace and hit choreography even during an especially difficult ride. And most importantly, I've come to terms with a frustrating setback. I might never run a marathon, but every day I'm proud to cross the finish line on my bike.
Do you have a Soul Story to share? Email blog@soul-cycle.com!
Want to take a ride? Grab a series HERE and book a bike!
MORE FROM SOUL