Soul Story: Karen Elizaga
January 7, 2014
Rides with Stacey and Rique helped inspire NYC executive coach KAREN ELIZAGA to write her first book, a motivational guide to help readers reach their goals. (She even quotes them!) Karen shares her Soul story...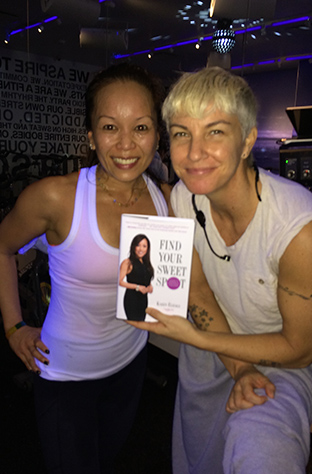 In 2009, I met someone poolside in Costa Rica who told me that SoulCycle was phenomenal and that she was obsessed, riding at least five times a week. At the time, I was running a lot and training for a half marathon. I was dubious. I tried Spinning in 1995, and I thought to myself, "How could SoulCycle be any different from any other indoor cycling class that I'd taken?" I mean, I liked it and all, but really? Phenomenal? Obsessed?
Very soon after we'd met, this new friend invited me to ride at SoulCycle TriBeCa with her. I loved the clean space, the candles and the pounding rhythm — and that was before class started. Then we began to pedal, and I was hooked. I love Soul (and think it's phenomenal, and I am obsessed) because it's a tremendous, sweaty workout, but I simultaneously feel like I'm dancing on the bike and being inspired – all in 45 minutes. I rarely go clubbing anymore, so to have this shot of hip hop and funk in the mornings is awesome. I have a go-to, happy, healthy cardio workout now. I know with 100 percent certainty that I can get a stupendous sweat on any time I want. Whereas when I was running, I was constantly nursing injuries, I now feel great everyday.
Just in time for the New Year, I launched a new book called Find Your Sweet Spot. It's a guide to a renewed you and it helps readers to dig deep and find their inner strength, joy, peace and confidence in every day. It's a practical guide for personal and professional excellence that walks them through how to love what they do at work, and to love and appreciate who they are and how they live.
I've been coaching executives and non-executive individuals for the last 10 years, and I've witnessed many significant transformations. They have transformed their ways of thinking, perceiving their world and approaching life, from work to love to family to fitness. Thankfully, I have done the same with my own life.
Like many of my clients, I went from a pretty negative mindset to an optimistic and energetic one. I wrote this book because I want so many others to experience that same transformation — to live from the strength of their sweet spots and to love themselves, their lives and those around them. Throughout the book, I share client stories and some of my own to keep readers engaged — to let them know that all of it is possible. I feel great and grateful everyday, and I want as many people as possible to feel the same!
I take the opportunity to learn with every chance I get. To me, everyone's a teacher. When I'm on the bike at SoulCycle dancing and sweating, I'm also listening to the inspiration that the Soul instructors provide. There's so much of it! First of all, as I describe in my book, exercise is a fundamental part of finding your sweet spot, and Soul is one excellent place to do that! Second, these instructors bring so much color and life to our classes, and they share themselves so wholly. I always appreciate that. And finally, they are smart and evolved. Their exhortations in the mornings often inspire a thought or an idea that I will expand upon and bring to my practice or to the book. In fact, I quote both Stacey and Rique in the book! I'm hoping to have a Find Your Sweet Spot-themed ride at SoulCycle soon — stay tuned!
My favorite, happiest rides are to 80s music mashed-up with some funk from today. I always love a Stacey double or a 90-minute ride or a firecracker ride with Jenny. And what I also love about Soul is that it's like that bar on Cheers, where everybody knows your name, the loving and supportive community that is Soul. It's such a warm place to walk into on any morning of the year.
But the best thing about my Soul experience is that for years now, my husband I have had a Friday morning ritual of 8:30 a.m. ride with Rique. It's a date, a fantastic way to set us up for the weekend, both physically and emotionally. I love that we have this shared, euphoric, and not to mention butt-kicking, experience. Thank you Soul and to the Soul community for being such an inspiration to go for it all!
Learn more about Karen's book at forwardoptions.com or find it on amazon.com. Have a Soul story to share? Email blog@soul-cycle.com! Follow Soul on Facebook, Instagram, Spotify and Twitter.